Buy Bridge Over Troubled Water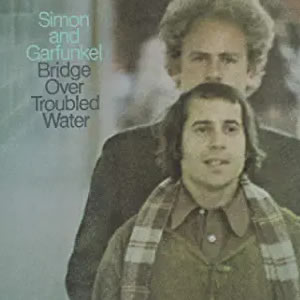 Simon & Garfunkel saved their best for last with the early 1970 release of Bridge over Troubled Water, the fifth studio album by the New York based folk duo. The record shows the artists branching out to new musical avenues with smooth production featuring warm sonic elements to showcase the exquisite compositions of chief songwriter Paul Simon. Despite the breakup of Simon & Garfunkel later in 1970, the album's success reverberated for several years as it received multiple Grammy awards and even briefly became the best selling record of all time as it topped album charts worldwide.
The duo's highly successful third album, Parsley, Sage, Rosemary and Thyme was issued in October 1966 and followed by a series of non-album singles including "A Hazy Shade of Winter" and "At the Zoo", both of which made the Top 20 on the pop charts. However, Simon developed a bout of writer's block which delayed any follow-up album in 1967. Then Hollywood came knocking as director Mike Nichols, a big fan of Simon & Garfunkel's previous records, sought the duo to record some songs for the soundtrack to his new film, The Graduate, in 1968 with the single "Mrs. Robinson" becoming the first rock n' roll song to win the Record of the Year Grammy. Simon & Garfunkel's fourth studio album, Bookends was also released in 1968 and reached the top of the album charts. Both Simon and Art Gurfunkel were invited to audition for acting roles in Nichols' next film, Catch 22, but only Garfunkel got the role. This caused a bit of a rift between the two musicians, especially as filming took up much of 1969 with much taking place in Mexico.
Production of Bridge Over Troubled Water took place in New York and Los Angeles studios with the help of producer Roy Halee, who Garfunkel once referred to as the third member of the group. This album also partly abandoned their traditional style by incorporating further elements of rock, R&B, gospel, and world music as well as using more singular lead voices by each singer, rather than the traditional blended harmonies.

Bridge Over Troubled Water

by

Simon & Garfunkel
Released: January 26, 1970 (Columbia)
Produced by: Paul Simon, Art Garfunkel & Roy Halee
Recorded: Columbia Studios, New York City & CBS Columbia Square, Los Angeles
Side One
Side Two
Bridge over Troubled Water
El Cóndor Pasa (If I Could)
Cecilia
Keep the Customer Satisfied
So Long, Frank Lloyd Wright
The Boxer
Baby Driver
The Only Living Boy in New York
Why Don't You Write Me
Bye Bye Love
Song for the Asking
Primary Musicians
Paul Simon – Vocals, Acoustic Guitar, Percussion
Art Garfunkel – Vocals, Percussion
Fred Carter Jr. – Guitars
Larry Knechtel – Piano, Keyboards
Joe Osborn – Bass
Hal Blaine – Drums, Percussion
Like most previous material by Simon & Garfunkel, the songs here were initiated by Simon and next he would work on the harmonies with Garfunkel. However, with the title track "Bridge Over Troubled Water", Simon basically gave the song as his acoustic composition was transformed with Garfunkel on solo vocals and Larry Knechtelon piano dominating most of the recording. The payoff does come with the exquisitely harmonized third verse followed by the orchestra crescendo to close out this opening title track, which topped the Pop charts and won a Grammy for Song of the Year in 1971. "El Cóndor Pasa (If I Could)" follows as a traditional Peruvian instrumental, centuries old onto which Simon added lyrics on top< This interesting track starts with a distant flamenco guitar with the verse proper containing a European waltz beat and a flute mimicking the lead vocals throughout, an arrangement that carries an air of psychedelia.
The inventiveness continues with "Cecilia", a low-fi dance song driven by the harmonized vocals over a totally unique percussion arrangement that was recorded at home and placed on a loop. "Keep the Customer Satisfied" is an upbeat, acoustic-driven pop song with rich harmonies and a later horn section to complete to fine effect. "So Long, Frank Lloyd Wright" hearkens back to their early sixties folk style, but with just a touch of mellotron to give it a "modern" edge along. "The Boxer" is another gem of production, from the perfectly Travis-style finger-picked acoustic guitars by Simon and Fred Carter Jr to the contra bass and tuba by Bob Moore to the wild percussion effects recorded on location at a cathedral at Columbia University by the legendary Hal Blaine.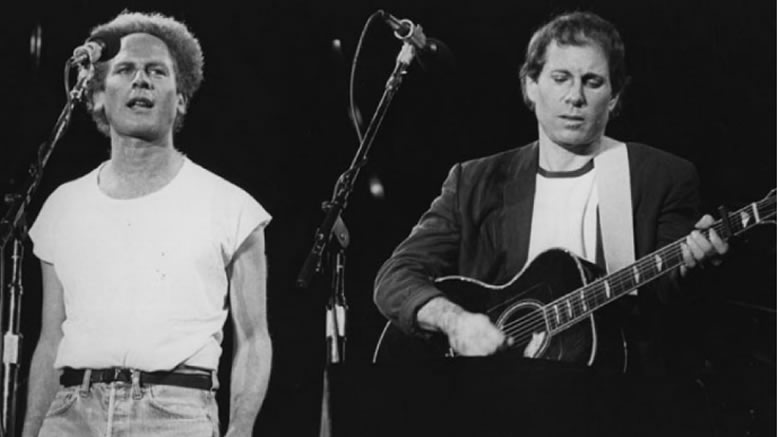 While not quite as interesting, the latter part of the album does include some unique moments. "Baby Driver" is a bluesy acoustic folk track in a style later mastered by Jim Croce, while "Why Don't You Write Me" is upbeat acoustic folk with Joe Osborn laying down some excellent bass. Osborn also shines on "The Only Living Boy in New York", a song written by Simon about Garfunkel flying off to Mexico to film Catch 22 and featuring a chorus of backing vocals recorded live in an echo chamber in Los Angeles. The Everly Brothers' "Bye Bye Love" is an odd live inclusion here with some treated hand clapping by the audience, recorded at multiple gigs, before the closing "Song for the Asking", a pure Paul Simon style folk with an edge to become a very short soliloquy to complete the duo's final studio album.
Bridge Over Troubled Water topped the charts in ten countries around the world and was on the best-selling album list for the years 1970, 1971 and 1972. With this massive success, both musicians decided to pursue independent projects and ultimately solo careers as Simon & Garfunkel dissolved into musical history.
~

Part of Classic Rock Review's celebration of 1970 albums.