Buy Layla & Other Assorted Love Songs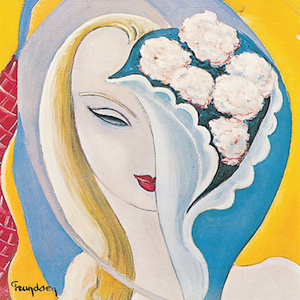 Layla and Other Assorted Love Songs was the sole studio album by super group Derek & the Dominos. A double length LP, the fourteen tracks on the album included a few traditional blues jams along with original compositions written mainly by Eric Clapton and Bobby Whitlock. Although the album was originally panned by critics and record buyers alike, it has deservedly grown in stature over the decades as a bonafide classic rock gem. In Fact, it may be the best overall effort of Clapton's long career.
Clapton's 1969 super group, Blind Faith, lasted less than a calendar year. Late in that year, the legendary guitarist joined Delaney & Bonnie and Friends because he desired the relative anonymity of this group. However, Clapton soon discovered that three of his fellow bandmates had planned to leave Delaney & Bonnie and, after an extended tour into 1970, guitarist Clapton, keyboardist Whitlock, bassist Carl Radle and drummer Jim Gordon formed the core of Derek & the Dominos.
The first project by the quartet was actually Clapton's self-titled debut album, released in August 1970. Whitlock and Clapton began jamming and composing as early as April 1970 and, starting in May, all four members did session work on George Harrison's All Things Must Pass album. The group then toured, with the band's name being spontaneously conjured backstage before their first gig in June. That same month, band members along with Harrison and Dave Mason recorded a single produced by Phil Spector. However, the group was not thrilled with Spector's method and decided to pursue other recording arrangements.
The band flew to Miami to record with producer Tom Dowd at Criteria Studios. Dowd, who was also producing the Allman Brothers Band's album Idlewild South, took the Dominos to an Allman Brothers concert and Clapton and Duane Allman formed an instant bond that resulted in Allman contributing to the majority of the album as a second lead guitarist. Although Allman declined to join the group outright, he played a few gigs with the band while they were in Florida.

Layla & Other Assorted Love Songs

by

Derek & the Dominos
Released: November 9, 1970 (Atco)
Produced by: Tom Dowd, Derek & the Dominos
Recorded: Criteria Studios, Miami, August-October 1970
Side One
Side Two
I Looked Away
Bell Bottom Blues
Keep On Growing
Nobody Knows You When You're Down and Out
I Am Yours
Anyday
Key to the Highway
Side Three
Side Four
Tell the Truth
Why Does Love Got to Be So Sad?
Have You Ever Loved a Woman
Little Wing
It's Too Late
Layla
Thorn Tree in the Garden
Group Musicians
Eric Clapton – Guitars, Vocals
Bobby Whitlock – Piano, Keyboards, Guitar, Vocals
Duane Allman – Guitars
Carl Radle – Bass, Percussion
Jim Gordon – Drums, Percussion, Piano
Although the song that gives the album its name is on side four, near the end of the running order, the heart and soul of the album may very well be right up front on side one. "I Looked Away" is a melodic song built on a potpourri of guitar riffs and a distinct southern rock aesthetic. Both Clapton and Whitlock trade lead vocal lines on the song which is the first of several to reflect of Clapton's obsession with Harrison's wife, Patti Boyd. In fact, it may be the case that every song on Layla illustrates all the different sides of love, with Boyd being the consistent protagonist. Without a doubt, "Bell Bottom Blues" is the best and most emotional of these, as authentic, bluesy, and soulful, the song's post-chorus has an extraordinarily brilliant progression that, when played over and over creates a recursion of emotion that never dulls nor wares. It also sounds like the perfect culmination of everything Clapton did to that point in his career and his finest vocal performance with its melancholy desperation of unrequited love;
"Do you want to see me crawl across the floor to you?
Do you want to hear me beg you to take me back?
I'd gladly do it because I don't want to fade away…"
"Keep On Growing" has more traditional blues riffing but with a touch of harder edge rock and upbeat rhythms. The vocals are harmonized by Clapton and Whitlock with about four or five distinct guitar tracks, making for a carnival of sound. Jimmy Cox's "Nobody Knows You When You're Down and Out" is the first traditional blues cover, as well as the first track on the album where Clapton and Allman have room for their blues chops, with great slide techniques being employed throughout this song. Side two begins with "I Am Yours", a changeup in feel and style with acoustic guitars, Hammond organ, hand percussion and just the slightest touch of electric lead guitar. Clapton gave co-writing credit to Nizami Gəncəvi, a 12th century Persian poet whose story of Layla and Majnun gave this album its title track and whose poem was used for the lyrics of this track.
"Anyday" returns to the core style of Clapton and Whitlock, with each trading lead vocals and joining together for the melodramatically exciting choruses. Musically, this song contains frenzied guitars and fantastic rhythms with drummer Gordon adding frenzied energetic fills during the more excited parts of the song and Radle adding his share of funky bass. "Key to the Highway" is a nine-plus minute impromptu jam of a song by Big Bill Broonzy that was not intended for the album but recorded on the fly by Dowd (hence, the fade-in). "Tell the Truth" sounds like a pure pop/soul/funk compositional approach but with lead guitars giving it all an edge that makes it unique to this group, while "Why Does Love Got to Be So Sad?" is a showcase for bassist Radle as it has the most upbeat rhythm of any song on the album. It also features a souped-up jam with melodic hook and fantastic energy, making it, perhaps closest to an Allman Brothers track than any other on the album.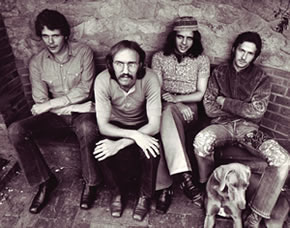 We swing back to the classic blues jam on "Have You Ever Loved a Woman", where Clapton gets to showcase his skills both instrumentally and vocally. Then comes the fantastic rendition of Jimi Hendrix's "Little Wing". The arrangement here makes it almost a completely different song than the original featured on Axis: Bold as Love, as this one has vocals up front and extended jam in middle, with dual vocals and dual lead guitars throughout by Clapton and Allman. In a tragic coincidence, Hendrix died just days after Derek and the Dominos recorded this song.
Of course, the climax of the album comes with its title song and classic rock radio staple, "Layla". Inspired by the tragic poem by Nizami, the song is a funk/rock rendition of Clapton's growing friendship and infatuation by the wife of his friend and musical collaborator, George Harrison, who turned to Clapton when Harrison all but abandoned her for Indian religion. Originally written as a ballad, Allman brought it into the hard rock realm with the signature riff, while the rest of the group plays tighter and more focused during the song proper than on any other part of the album. The ending was developed independently by drummer Jim Gordon, who Clapton heard playing a piano piece before one of the sessions and convinced him to allow it to be used as part of the song. The second movement of Layla was recorded a week after the first and concatenated to the end of the track, making its total length of seven minutes. This turned out to be a brilliant move, as a crescendo ending, constantly building with the dual whining guitars simulating the wailing emotion that underlines the song's theme. The album concludes with "Thorn Tree in the Garden", a short and sad acoustic ballad by Whitlock (and only track where he performs sole lead vocals), which serves as a final ode to lost romance.
Layla and Other Assorted Love Songs originally peaked in the Top 20 of the Pop Albums chart and made reoccuring appearances in the Billboard 200 in 1974, 1977, and 2011. Although Derek and the Dominos were poised to record a follow-up album in 1971, because of tensions and drug abuse among the band members, along with the tragic death of Duane Allman later that year. In the end, this was a unique snapshot of serendipitous music that still sounds brilliant 45 years later.
~

Part of Classic Rock Review's celebration of 1970 albums.