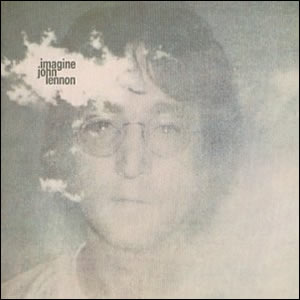 Imagine, the second full post-Beatles album by John Lennon, kicks off with an idyllic song envisioning a utopian world where there is no conflict and everyone agrees. Sounds pretty good on the surface, but this is where the art of making a album comes into play. The title song taken on it's own may lead the listener to believe that this is how Lennon wished the world would be some day. But listening to the album as a whole completes the picture of how Lennon really seemed to view his world.
In many ways, the album was a musical continuation of Lennon's 1970 debut John Lennon/Plastic Ono Band, which also featured Phil Spector as producer and a heavy presence by Klaus Voormann on the bass guitar. Many songs from Imagine (especially those on the "second side") feel like they could have been left over from that previous album. However, there is a clear and distinct departure on Imagine towards a more cerebral and measured approach to these deep, inner subjects as opposed to the raw "primal scream" method on Plastic Ono Band.

Imagine

by

John Lennon
Released: September 9, 1971 (Apple)
Produced by: Phil Spector, John Lennon, & Yoko Ono
Recorded: Ascot Studio (John Lennon's Home), Tittenhurst Park, England,
Record Plant, New York, June-July, 1971
Side One
Side Two
Imagine
Crippled Inside
Jealous Guy
It's So Hard
I Don't Wanna Be a Soldier
Gimme Some Truth
Oh My Love
How Do You Sleep?
How?
Oh Yoko!
Primary Musicians
John Lennon – Guitar, Piano, Harmonica, Whistling, Vocals
George Harrison – Guitars, Dobro
Klaus Voormann – Bass
Nicky Hopkins – Piano
Alan White – Drums, Percussion
The song "Imagine" is perhaps the most recognizable and universally appealing song John Lennon ever released. It has become the anthem of "peace" for generations, with it's Garden of Eden-esque quality and a child-like or even animal-like interaction with the surrounding environment, where there is no danger and nothing to fear. It is technically stunning in it's simplicity but not as deep as the rest of the album.
"Crippled Inside" is where we begin to peel back the pretty scenery to find the dirt and rocks beneath the surface. The song has an earthy, country vibe. You can picture the good old boys sitting around on a porch jamming out this tune. All that is missing is the jug and washboard.
A personal statement in the form of an honest and heartfelt apology and asking for forgiveness, "Jealous Guy" is a pleasant song. Spector's presence is obvious, with the trademark strings building behind the fine ballad. Spector-ization of this album is a double edged sword – the simple, honest themes are probably best in their stripped down version, but Spector's production does add a bit of richness and commercial appeal
Despite the strength of "Imagine" and "Jealous Guy," The first side of the album is bogged down with much filler and is ultimately much weaker and less interesting than side two, where the action is. From the simple love song, "Oh My Love" to the deep, introspective "How?", which includes perhaps the best lyric on the album-
"How can I go forward when I don't know which way I'm facing?"
The second side also includes a very personal dig at Lennon's former bandmate and songwriting partner. Earlier in 1971, Paul McCartney had released his second solo album Ram, which contained the opening song "Too Many People" that had some harsh lyrics directed at John and his wife, Yoko Ono. "John had been doing a lot of preaching", McCartney admitted in 1984. "I wrote, 'Too many people preaching practices,' that was a little dig at John and Yoko". "How Do You Sleep?" was a direct response, with even less veiled criticism that directly took on McCartney with clear references and double-entendres.
"Gimme Some Truth" is the best song on this album. It is a rant expressing John's frustration with the general bullshit of life and society. It features scathing lyrics delivered in a syncopated rhythm against a background heavy with bass and drums –
"I'm sick to death of seeing things from tight-lipped, condescending, mama's little chauvinists All I want is the truth Just gimme some truth now I've had enough of watching scenes of schizophrenic, ego-centric, paranoiac, prima-donnas"
It is a precise statement about politicians lying and propagandizing – cut the crap and just tell the truth.
Although the album features Beatles band mate George Harrison as lead guitarist, he does not shine too brightly at any one moment. Pianist Nicky Hopkins, however, provides some great virtuoso and memorable playing, especially on "Crippled Inside", "Jealous Guy", and the upbeat pop song, "Oh Yoko!". Alan White takes over for Ringo on drums and there are many guest musicians, including several members of the band Badfinger.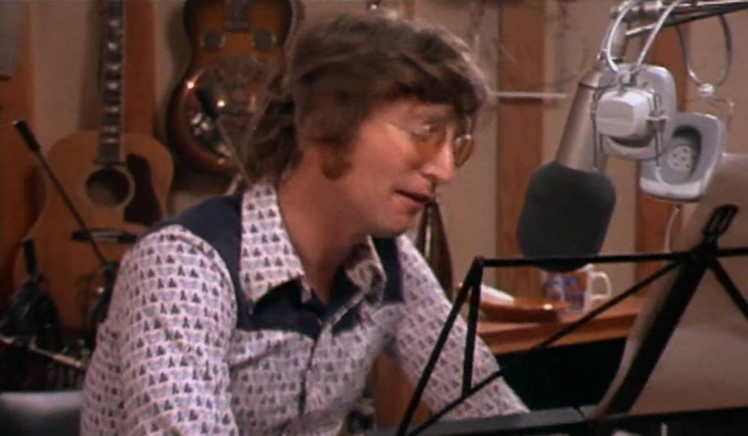 On Imagine, John Lennon slides from themes of love, life, political idealism, to raw emotion. Honesty is an ongoing theme in his lyrics, especially after he descends from the polyanic vision of the theme song. It settles on the more realistic theme of life is not perfect, but if one lives honestly, loves fully and rises above the conflicts, it's pretty close.
~
Part of Classic Rock Review's celebration of 1971 albums.