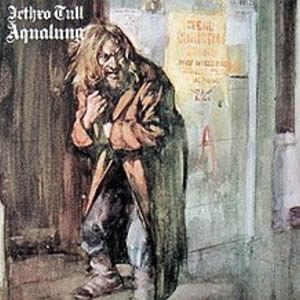 Aqualung, the fourth album by Jethro Tull, was recorded at the same time and in the same studio (Island Studios, December 1970) as the fourth album by Led Zeppelin. While recording a section of the album's title song, "Aqualung", lead guitarist Martin Barre was moved to impress his counterpart, Jimmy Page and laid down a solo that was totally unorthodox for his style. The result is now an indelible part of Jethro Tull's legacy, as "Aqualung" the song and Aqualung the album are among their most famous works. This little example of Barre's guitar work is one of the things that, for better or for worse, make Aqualung one of the most unusual (top-notch) albums in rock history.
The album feels like a concept album and I suppose you can claim that it is. Except there is not a single concept to tie everything together, but rather three or four disparate concepts. So is it a concept album at all? Further, this album is loaded with quality, original material that entertains, enlightens, and intrigues. But it also contains a large amount of "filler" material that does little more than annoy, and possibly discourage the less dedicated listener from discovering the more brilliant moments of the album.

Aqualung

by

Jethro Tull
Released: March 19, 1971 (Island/Reprise)
Produced by: Ian Anderson & Terry Ellis
Recorded: Island Studios, London, December 1970-February 1971
Side One
Side Two
Aqualung
Cross-Eyed Mary
Cheap Day Return
Mother Goose
Wond'ring Aloud
Up to Me
My God
Hymn 43
Slipstream
Locomotive Breath
Wind Up
Primary Musicians
Ian Anderson – Acoustic Guitar, Flute, Vocals
Martin Barre – Electric Guitars, Recorder
Jefferey Hammond-Hammond – Bass, Recorder, Vocals
John Evans – Piano, Organ, Mellotron
Clive Bunker – Drums, Percussion
As with all of Jethro Tull's material, Aqualung's driving force is guitarist, flutist, and lead vocalist Ian Anderson. At their core, during their heyday in the early to mid 70s, Jethro Tull was an English folk band. Anderson's acoustic backbone, lyrics, vocals, and flute, "decorates" their material with elements of contemporary rock. On this album, that order is turned inside-out as the most up-front and most recognizable material ("Aqualung", "Cross-Eyed Mary", "Hymn 43", "Locomotive Breath") is electric and riff-centric.
Photographer Jennie Franks Anderson, then wife of the lead singer, had taken a series of photos of homeless men, which inspired her to write the bulk of the lyrics of the opening title song. The title "Aqualung" was coined by Ian Anderson after the gurgling sound of underwater diving gear, which described the wheezing of the song's character. While that character definitely possessed some perverse (or worse) characteristics in the opening song ("eyeing little girls with bad intent"), the inverse is explored in the second, companion song "Cross-Eyed Mary" ("gets no kicks from little boys, would rather make it with a letching gray"). Together, this pair makes a fantastic, albeit slightly deceptive, opening to the album.
"Mother Goose", a pleasant and playful acoustic diddy, is a radical departure from the riff-driven rock that is established on the first two songs. However, it is sandwiched between two other short, acoustic fillers that seem out of place and unnecessary, as they do nothing more than confuse the listener further. The first side concludes with a return to the riff-driven rock, albeit in a calmer tone in "Up to Me".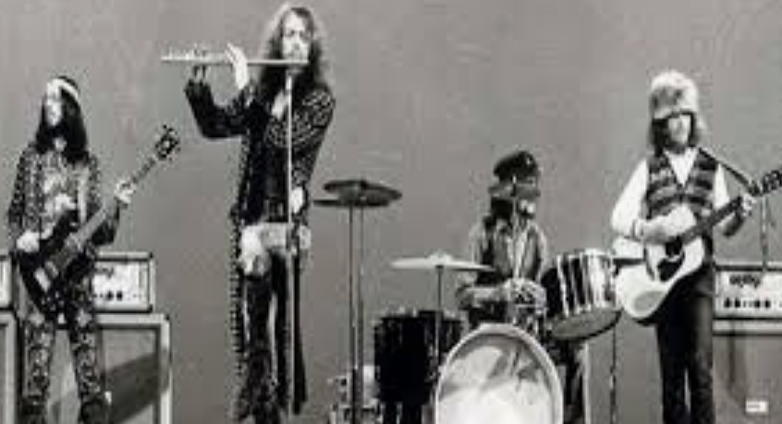 Another extended concept on God and religion is spread out through the second side of the album . "My God" is an alternative rock song, two decades before its time. It is a melodramatic and acoustic intro that takes a while to develop into deliberate, tense piano riff that gives way to booming electric guitars during the verses and later contains a long and bizarre trade-off between flute and choral interlude in the mid section. "Hymn 43" is a more upbeat, traditional rock song but with equal scorn at religion, especially Christianity. The album's closer, "Wind Up", again picks up this theme as a dramatic, theatrical piano piece with vocals in the same styling as "Aqualung".
The piano of John Evans is featured more on this album than any other, especially with the long intro to "Locomotive Breath", a song that deviates into a more traditional theme of broken relationships.
On their next two albums (Thick As a Brick in 1972, A Passion Play in 1973), Jethro Tull would create full-fledged, unambiguous, concept albums that would be well-regarded by prog rock enthusiasts but panned by more tradition rock fans. With Aqualung, they come pretty close to satisfying both of these camps, whether intentionally or not.
~

Part of Classic Rock Review's celebration of 1971 albums.