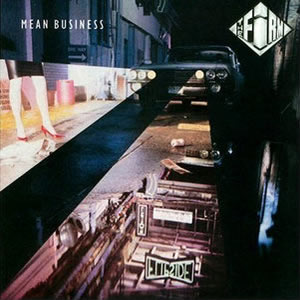 After the big success of their eponymous 1985 debut, the super-group The Firm followed up with their sophmore release in early 1986 called Mean Business, which would end up being the short-lived super-group's final album. At first listen, this album seems to be sub-par to the debut, or at least much more under-developed at best. But, upon each closer and subsequent listen, one discovers that this album is actually quite good and original in its own right.
Unfortunately, not many people have taken this closer listen and the album had a short ride to the proverbial dust bin. This was due, in part, to the actions taken by the band themselves as The Firm suddenly decided to call it quits just a few months after Mean Business was released, signifying their own apparent disapproval of this work.
Musically, the album is filled with spastic and rudimentary riff lines from Jimmy Page, odd but solid musical timings from the rhythm section of Tony Franklin and Chris Slade, and powerful, nearly strained vocal performance by Paul Rodgers. It is an uneven album, with heavy influence from Page here and heavy influence from Rodgers there, along with some experimental pieces by the band as a whole. There are a few songs that feel under-developed and a few that feel over-produced. But with every listen, they all seem to get better and better.

Mean Business

by

The Firm
Released: February 3, 1986 (Atlantic)
Produced by: Jimmy Page, Paul Rodgers & Julian Mendelsohn
Recorded: 1985
Side One
Side Two
Fortune Hunter
Cadillac
All the King's Horses
Live in Peace
Tear Down the Walls
Dreaming
Free to Live
Spirit of Love
Musicians
Paul Rodgers – Lead Vocals, Guitars
Jimmy Page – Guitars
Tony Franklin – Bass, Keyboards
Chris Slade – Drums, Backing Vocals
The album begins with the only survivor from the short-lived XYZ project. In 1981, following the death of drummer John Bonham and the disbandment of Led Zeppelin, Robert Plant and Jimmy Page decided to join forces with Chris Squire and Alan White, formally of Yes. The would-be super-group was to be called XYZ (for ex- Yes and Zeppelin), but fell apart within a year and yielded no recorded material. "Fortune Hunter" is a reworked song from that project, written by Page and Squire. Through the first three verses, the song displays many of the characteristics that will be found throughout this Firm album – a frenzied and frantic riff with strained vocals – but then it suddenly deviates sharply into a "quiet" middle section before quickly rebounding and building back to the fast pace.
To close the album, a near-opposite song "Spirit of Love" was chosen. Driven by Franklin's piano riffs, this quasi-epic is probably the song that Page had the least influence on, as it is pure pop and even incorporates a full chorus towards the end, which makes one believe it was inspired by Foreigner's "I Want to Know What Love Is". The deviation between the opener and closer, while adding to the overall oddness of the album, also puts into context the diverse material in between.
"Cadillac", with its slow, trance-like blues, fueled by the excessively long, droning guitars by Page, is one of the more interesting songs on the first side. The song is held together by the methodical rhythm of Franklin and Slade, and contains just enough skipping in time to make it quite interesting.
Paul Rodgers contributes the next two songs – the synth-driven pop song "All the King's Horses", which was ill-advisedly slated as the emphasis single from Mean Business, and the darker. message-driven "Live In Peace". This latter song has a very Bad Company-ish vibe, with Page adding a nice guitar lead.
The second side contains, perhaps, the best three songs on the album. Tony Franklin contributes the jazzy "Dreaming", a unique and off-beat, gem which contains some very surprising turns. The other, collaborations by Rodgers and Page, offer some insight of what could have been had this group stayed together a while longer. "Tear Down the Walls" is a good, catchy pop-rock song that could've (and should've) been a hit in 1986, while "Free to Live" contains another rudiment-driven riff, that is accented brilliantly by some excellent vocals.
While this may not quite rise to the level of The Firm's 1985 debut (although a strong case may be made that it does), Mean Business is well worth the listen.
~

Part of Classic Rock Review's celebration of 1986 albums.