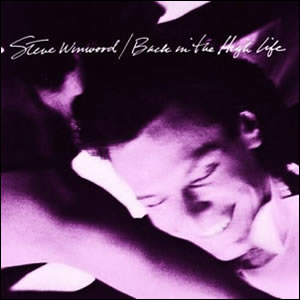 Steve Winwood is an artist who has had two major phases of his professional career. Starting as a teenager with the Spencer Davis Group, he was thrust into the international spotlight with a pair of mega-hits "Gimme Some Lovin'" and "I'm a Man". This kicked off the first phase of his career playing and fronting several progressive rock bands including Blind Faith and, more prominently, Traffic throughout the late sixties and early seventies.
Then, in the 1980s, Winwood came back with the second phase of his career which was more distinctly pop and blue-eyed soul. He scored some minor hits from the albums Arc of a Diver in 1980 and Talking Back to the Night in 1982. These albums set the stage for the most successful album of his career – 1986's Back In the High Life. Here, Winwood took some of the styles and methods that he had developed on the previous two albums and brought it to a whole new level.
The album achieves that elusive goal of combining great songs that will stand the test of time while also catering to the commercial appeal of the day. As we mentioned earlier in other reviews, this was no easy task in 1986 when the prevailing pop "sound" was at a nadir. Winwood and co-producer Russ Titelman sacrificed nothing here. The entire album managed to encompass the sounds of the eighties, as it uses its share of synthesizers and modern fonts without sounding dated. This was achieved by counter-balancing the "80's" sounds with some traditional instruments, styles and Winwood's distinctive and emotive vocals. There is also excellent songwriting, with most songs co-written by Winwood and Will Jennings and all including some cool lyrics and catchy melodies.
1986 is the third year overall that this new 2011 enterprise called Classic Rock Review has examined, the first two were 1971 and 1981. It may seem like we choose these years at random, there is a method to our madness as we choose to review years with significant anniversaries (that is anniversaries divisible by '5'), and it is the 25th anniversary of the music of 1986. With each of these review years, we choose an Album of the Year to review last, and for 1986 that album is Back In the High Life.

Back In the High Life

by

Steve Winwood
Released: July, 1986 (Island)
Produced by: Russ Titelman & Steve Winwood
Recorded: Unique Recording & The Power Station, New York, Netherturkdonic Studio, Gloucestershire, England, Fall 1985-Spring 1986
Side One
Side Two
Higher Love
Take It As It Comes
Freedom Overspill
Back In the High Life Again
The Finer Things
Wake Me Up On Judgment Day
Split Decision
My Love's Leavin'
Primary Musicians
Steve Winwood – Guitars, Keyboards, Synths, Lead Vocals
Phillipe Saisse – Bass
Jimmy Brawlower – Drums & Percussion
For a pop-oriented album, Back In the High Life is unique. Each of its eight tracks exceed five minutes in length which is something not seen much outside of prog rock, art rock, or dance tracks. This may be a further testament to the thought and effort put into these compositions. The album also contains some cameo appearances by popular contemporaries, diversely spread throughout.
The album kicks off with the song which would become Winwood's only #1 hit of his long career, "Higher Love". This nicely sets the pace for what we'll expect from the rest of the album – Caribbean rhythms with synth, horns, funky bass, and the distinctive, upper-range vocals. This song is awash in good feelings; "Let me feel that love come over you…", almost a gospel-like song, and it features soul star Chaka Kahn singing high background harmonies.
On the other end, the album concludes with a couple of interesting songs with very different co-writers. "Split Decision" was co-written by the legendary Joe Walsh and begins with a distinctive, crunchy riff from Walsh and then smoothly works towards a more Winwood-centric riff with organ and reggae beat in the verse and a soul-influenced chorus. The lyric is another take on the influences of good and evil on a person;
"One man puts the fire out, the other lights the fuse…"
"My Love's Leavin'" was co-written by British eccentric artist Vivian Stanshall of the Bonzo Dog Doo-Dah Band, and contains stark soundscapes which are ethereal and haunting, about facing reality and singing of hope and faith in the face of a loss.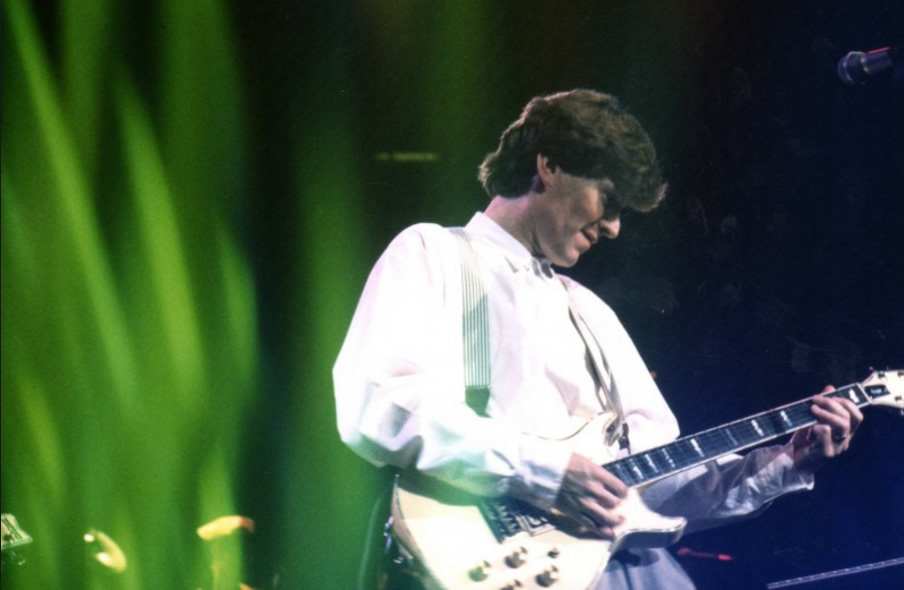 "Freedom Overspill" contains some rewarding instrumentation with an edgy, whining guitar providing some of the best licks on the album above a masterful arrangement of synths, organ, horns, and rhythm. It is very funky and very eighties, but somehow it is not a caricature. The lyrics paint a picture of a couple up all night hashing out their differences – "Coffee and tears the whole night through/Burning up on midnight oil/And it's come right back on you".
"The Finer Things" was another radio hit from the album, with its misty opening, bouncing, Police-like rhythms, and lots of changes throughout. The song rolls along like the river, at some points calm and serene while at others rough and tumbling rapids. This metaphor is explicit in the lyrics;
"So time is a river rolling into nowhere, I will live while I can I will have my ever after…"
"Wake Me Up On Judgment Day" is a song about wanting to avoid struggle – to get to the good stuff without all of the pitfalls – "Give me life where nothing fails, not a dream in a wishing well". The song kicks in like a sunrise, the burst of light then explodes from the dawn. Ironically, this song talks of "horns" but actual "horns" are used sparingly with a heavy bass line and much percussion.
But the single element that makes Back In the High Life a truly great album is the title song "Back In the High Life Again". According to co-writer Jennings, the song was one that Winwood seemed to have little interest in developing when recording began on the album. Until one winter day Winwood returned to his mansion after his divorce to find everything gone except for a mandolin in the corner of the living room. Jennings said, "He went over and picked up the mandolin, and he already had the words in his head, and that's when he wrote the melody." The recording of this song for the album includes a lead mandolin along several other ethnic instruments such as acoustic guitar, accordion, bagpipes, and marching drums, with guest James Taylor on backing vocals. This is all as a backdrop for the excellent vocal melody by Winwood, which portrays the feeling of hope and optimism.
The song was later covered by Warren Zevon, whose bare-bones, emotional delivery has an entirely different mood from Winwood's original release, mournful and melancholy, almost satirical. This despite the fact that Zevon did not change the key or melody for his recording. Perhaps the truest test for a quality song is when it can have several interpretations and "faces", depending on its delivery, and "Back In the High Life Again" is truly a great song.
Back In the High Life was the final album Winwood would do for Island Records, a label he had been with for 21 years at the time of the album's released in July, 1986. Despite this longevity, Winwood was still relatively young at 38 and he would go on to do more interesting things in the subsequent years; signing with Virgin Records and producing a few more hit albums in the late eighties, reuniting the band Traffic in nineties, and most recently working with former Blind Faith band mate Eric Clapton, with whom he toured in 2011.
~

Part of Classic Rock Review's celebration of 1986 albums.