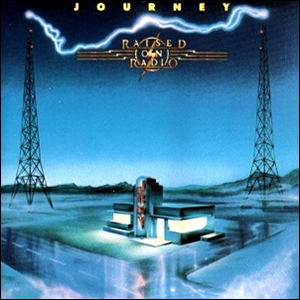 Following the most commercially successful era for the band, lead singer Steve Perry firmly took control over Journey's musical direction. The ultimate result of this new direction was this 1986 album Raised On Radio, an album which would (at least initially) become just about as popular as their biggest earlier albums, but ultimately would symbolize the decline and fall of Journey's successful run in through the late 1970s and early 1980s.
After the 1983 album Frontiers and the subsequent stadium tour, the band took a bit of a hiatus to pursue different projects. Guitarist Neal Schon made the second of his two "experimental" solo albums, which prompted Perry to pursue his own solo album. Street Talk, released in 1984, contained the pop-rock and ballads that seemed a little too close to Journey's signature sound for the other band members, causing some tension within the band. The five members of Journey, including Jonathan Cain on keyboards, Ross Valory on bass, and Steve Smith on drums, did re-convene to record a couple of songs for movie soundtracks later in 1984, but took virtually all of 1985 off.
Finally, the band wanted to record a new album, but Perry was hesitant to do so because his mother was ailing. When she convinced him to do the album, Perry was more determined than ever to take the reigns on the musical direction, something that he had slowly been doing as early as 1980, when founding member Greg Rollie departed. Perry's idea for Raised On Radio (a title which he insisted on over the band's original title of "Freedom") was to forge a new sound that was a hybrid of traditional Journey and his solo own work. When early session work did not go over well, Perry convinced Schon and Cain to back him in firing Valory and Smith and Journey continued on as a trio.

Raised On Radio

by

Journey
Released: May 27, 1986 (Columbia)
Produced by: Steve Perry
Recorded: Fantasy Studios, Berkeley, CA, Autumn-Winter 1985
Side One
Side Two
Girl Can't Help It
Positive Touch
Suzanne
Be Good to Yourself
Once You Love Somebody
Happy To Give
Raised On Radio
I'll Be Alright Without You
It Could Have Been You
The Eyes Of a Woman
Why Can't This Night Go On Forever
Primary Musicians
Steve Perry – Lead Vocals
Neal Schon – Guitars, Vocals
Jonathan Cain – Keyboards, Vocals
Randy Jackson – Bass
Larrie Londin – Drums & Percussion
Much of the album has a feel similar to Perry's Street Talk. However, there is one element that makes this definitive Journey (and, in reality, saves the album from musical oblivion) and that element is Neal Schon's guitar work. Mainly floating above the rhythm, Schon's excellent guitars add the only truly interesting and uplifting sonic value to this album, with the exception of a few songs with great vocals such as on the opening classic "Girl Can't Help It".
Raised On Radio does get off to a very good start. "Girl Can't Help It" is the best song on the album, with a direct and crisp sound with a just slight flange, a simple but memorable piano riff, and some counter-harmonic guitars to accent it all. The song morphs from the simple, melodic first section to a more intense second part with some excellent harmonies. "Positive Touch" follows with a definite 1986 sound that is still quite entertaining. Guest Dan Hull adds a great saxophone and the song also contains an entertaining outtro section, highlighted by Perry's majestic high-pitched melodies. To this point Raised On Radio still feels like the natural progression of the Journey sound.
Unfortunately, the album then takes a serious downward turn. Although both were significant pop hits, "Suzanne" and "Be Good to Yourself" are sub-standard to most of the vast radio hits of Journey's past. These are mostly disposable songs, with just small sprinklings of guitar excellence and vocal harmonies. The greatest disappoint here is Cain's keyboard work, which has really fallen off from the bluesy piano ballads of Escape and Frontiers towards a cheap and cheesy synth sound on this album.
The rest of Raised On Radio is high-end mediocre at best. "Once You Love Somebody" contains a nice funky bass by future American Idol host Randy Jackson and the title song opens with a nice blues harp by Hull, but both of these are really average songs on the whole. "I'll Be Alright Without You" is the best song on the second side, as a soft-rock adult contemporary ballad with harmonized vocals nicely complemented by Perry's crooning and Schon's slow walk-up to the signature guitar riff in the outro. "The Eyes of a Woman" is a little doomy with deep, long string synths and the closer "Why Can't This Night Go On Forever" is an attempt to replicate past ballad smashes such as "Faithfully" that falls far short.
Following the release of Raised On Radio, Journey embarked on a tour which was initially very successful, but in early 1987 Perry suddenly and unexpectedly pulled the plug and the band was forced to cancel the rest of the tour and went on an indefinite hiatus. Neal Schon and Jonathan Cain teamed up with Cain's ex-Babys' band mates John Waite and Ricky Phillips to form Bad English in 1988 while Ross Valory teamed up with Gregg Rolie to form The Storm. They would not again reconvene as a band for nearly a decade, when the five members who made up Journey prior to Raised On Radio had a short-lived comeback. But the classic band was never again the same.
~

Part of Classic Rock Review's celebration of 1986 albums.