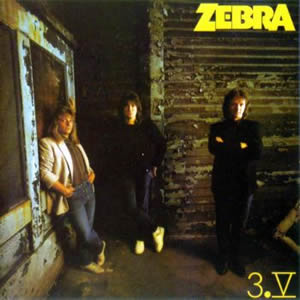 The three-piece rock band Zebra did not spend a long time on the national scene, nor did they have tremendous success while they were on that scene. But there is no doubt that they made some unique and original music while they were there. They are, in a sense, a rare and secret gem of a band which fewer have enjoyed than legitimately should have, due mainly to the lack of the support which they legitimately earned and deserved. That being said, there are some striking fouls and unforced errors that the band made once they did reach the national stage and it cannot be denied that, to a small extent, they had a hand in their own professional demise.
By 1986, the band was facing pressure from Atlantic Records to produce a hit album. Zebra's self-titled debut album was released in 1983 to critical acclaim and moderate sales. They followed that up with the Jack Douglous-produced No Tellin' Lies in 1984, but unfortunately this sophomore effort had weaker sales and a Luke-warm reception. For their third release, the band made a concerted effort to create a more widely-accepted pop-rock album and to this end, Zebra succeeded. However, by the time 3.V (pronounced "three point five") was put on sale, the record company had all but pulled support for the project, dooming it to obscurity despite the fact that includes some of the band's finest work. It would be the their last album for 16 years, a swan song of sorts as they spent their last creative energy on this final run at fame.
But back to the flaws and fouls committed by the band themselves. Although 3.V contains no terrible songs, the sequence of songs is suspect, such as opening with the uninspiring "Can't Live Without" while burying the fine gem "About to Make the Time". The album is plagued by clusters of both mediocrity as well as pure brilliance, which makes it feel unbalanced to the listener. Also, the confusing title – using mixed media to resolve a nonsensical phrase – was a serious faux pas for a band who really needed to hit this out of the park commercially. Finally, there is the production quality, something that had hampered the band's sound on all of their recordings.

3.V

by

Zebra
Released: November, 1986 (Atlantic)
Produced by: Zebra
Recorded: 1986
Side One
Side Two
Can't Live Without
He's Making You the Fool
Time
Your Mind's Open
Better Not Call
You'll Never Know
About to Make the Time
You're Only Losing Your Heart
Hard Living Without You
Isn't That the Way
Band Musicians
Randy Jackson – Acoustic & Electric Guitars, Lead Vocals
Felix Hanemann – Bass, Keyboards, Vocals
Guy Gelso – Drums, Percussion, Vocals
There is a surreal quality to the Zebra sound, a distance and narrowness which makes it either sound like it comes from some exotic, unidentified place or sound like it's not quite professional. The truth is, it is a bit of both. Despite the band's concerted effort to make a more pop-friendly album and the corresponding adjustment in production technique, 3.V still possesses this quality for better or worse.
On the downside there is "Can't Live Without", the opening song and emphasis single from the album. After starting with a nice acoustic under some scat vocals, the song kicks into a full-fledged 80s sound, with an over-processed snare drum, saturation of keyboards, and a weak bass presence. The vocals stay mainly in the high register, which gives it a bit of monotony vocally. On most of this album, lead singer Randy Jackson alternates between the standard and falsetto voice, providing dramatic contrast in the process. But not on this opening song.
On the higher end, there are the songs which follow in sequence on the first side. "He's Making You the Fool" contains some real sonic treats during the bridge and in the coda, with entertaining and alternating vocal motifs. This then fades into the real classic of the album, "Time". Containing a pleasant 12-string acoustic throughout, which even allows bass player Felix Hanemann to get in some rare features of that instrument, this is perhaps the best piece that the band has ever recorded. Even with a heavier chorus, "Time" maintains a melancholy mood throughout and it contains a brilliant ending addendum section which really brings the whole piece home.
Next comes a 180-degree mood shift with the inspiring and uplifting "Your Mind's Open", a great song fueled by good keyboards (also played by Hanemann), just the right flavoring of acoustic and vocal effects, and some vivid lyrics such as "taking safaris right up into the sky…"
The true highlight of the second side is "About to Make the Time", a very interesting, acoustic-driven song with steady bass riff and good bass presence throughout. It is a philosophical song which establishes a long pattern that works very well with repetition and should have been placed as the last song on the album – it would have been a gem of a closer.
The rest of 3.V contains mostly adequate but unspectacular songs, all within the Zebra style and musical direction, but in no way furthering the band's quest to remain any longer with a major label. It is really a shame because this band had the potential to create much more quality material.
~

Part of Classic Rock Review's celebration of 1986 albums.