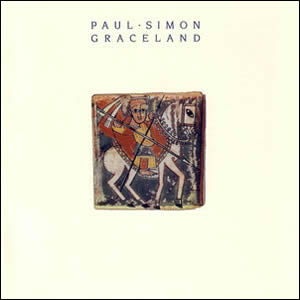 In some of our previous reviews from the year 1986, you've probably already heard us mention several times our distaste for the slick sound that was predominant throughout releases issued that year. We've also lamented the fact that even established acts like Genesis and Journey seemed to fall into the "group think" of replicating this uninspired, artificial, "modern" sound to some extent or another. In the midst of all this, comes a breath of fresh air in Paul Simon's Graceland, a true original.
The album contains a wide array of styles and sounds from vast corners of the globe, often intermingled together in ingenious ways by Simon, who was also the album's producer. He enlisted over 50 musicians and singers to perform on this album, with a vast amount coming from South Africa and receiving their first exposure to a western audience. But African music is just one element on this diverse album which also includes a healthy mix of country, Tex-Mex, and reggae influence throughout, while also maintaining some of the signature Paul Simon styles that he had developed throughout his long career.
But simply throwing together all these elements is not, in of itself, enough to make a great album. It takes a bit of musical genius as well as the courage to take chances and go against the musical mainstream. Simon surely does this on Graceland. He uses the bass guitar as a lead instrument throughout, he adds the world elements strategically and in judicious doses perfectly straddling the line between the deep, philosophical artist and jocular clown to reach a notch of originality which is truly his and his alone.

Graceland

by

Paul Simon
Released: August 12, 1986 (Warner Brothers)
Produced by: Paul Simon
Recorded: Johannesburg, London, & New York, February 1985 – June 1986
Side One
Side Two
The Boy In the Bubble
Graceland
I Know What I Know
Gumboots
Diamonds On the Soles of Her Shoes
You Can Call Me Al
Under African Skies
Homeless
Crazy Love, Vol. II
That Was Your Mother
All Around the World
(or Myth of Fingerprints)
Primary Musicians
Paul Simon – Lead & Background Vocals, Acoustic Guitar, Bass
Ray Phiri – Guitars
Adrian Belew – Guitars, Synths
Bakithi Kumalo – Bass
Ladysmith Black Mambazo – Vocal Ensemble
Isaac Mtshali – Drums
Ralph MacDonald – Percussion
Paul Simon's previous album was 1983's Heart's and Bones, which has since been praised by critics (including this one), but was a bitter commercial disappointment at the time of its release. Simon felt that he had lost his popular momentum and that his commercial fortunes were unlikely to change. So for the album which would become Graceland, he decided to be highly experimental since he had nothing to lose. After hearing a cassette recording of a song called "Gumboots" by Boyoyo Boys, he traveled to South Africa to embrace the culture and find a suitable place to record the album. For this particular song, Simon wrote the lyrics and melody but pretty much left the rest of "Gumboots" in tact – a fast-paced accordian-driven song that sounds like a warped version of polka.
The popular South African choral group Ladysmith Black Mambazo play a big part in two songs – "Diamonds On the Soles of Her Shoes" and "Homeless" – the latter being completely a capella with much of the lyric in Zulu. The group was founded by the legendary Joseph Shabalala who co-wrote both of these songs with Simon. The final South African influence comes from the female vocal group The Gaza Singers who co-wrote and sang backup on the song "I Know What I Know".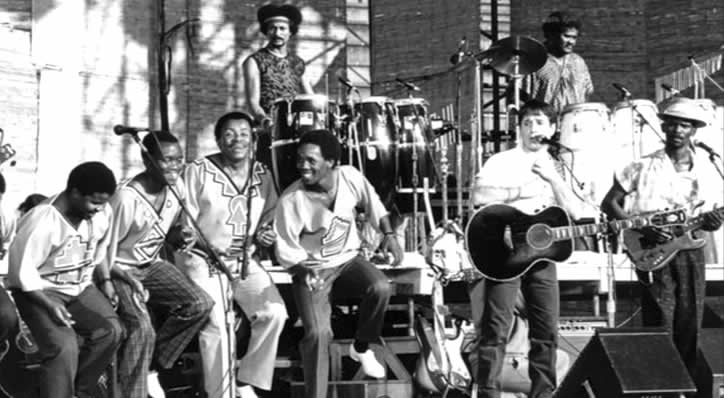 The catchy and upbeat "You Can Call Me Al", with lyrics describing a mid-life crisis, became the biggest hit from Graceland. Musically, the track features a penny whistle solo by Morris Goldberg and a palindromic bass run by Bakithi Kumalo. But the most memorable impression left by the song was the popular music video starring Simon and comedian Chevy Chase, in which the 6'9″ Chase lip-syncs the vocals while an annoyed-looking 5'3″ Simon mimics various instrumental sections, including the above-mention penny whistle and bass as well as percussion and horn parts. The video introduced the 45-year Simon to a whole new generation on MTV.
Graceland also contains several songs on which Simon collaborated with some of his American counterparts. He sings a beautiful duet with Linda Ronstadt in the calm and thoughtful "Under African Skies" and enlists Los Lobos as a backup band for the closer "All Around the World or The Myth of the Fingerprints". But, by far, Simon's most rewarding collaboration came in the album's title song "Graceland".
While still teenagers in the Bronx in the late fifties, a young Paul Simon and Art Garfunkel (who at the time called themselves "Tom & Jerry") would spend hours trying to master the harmonies of Phil & Don Everly. For the song "Graceland", these same Everly Brothers provided background harmonies for Simon nearly three decades later. The song at once contains an upbeat, almost country & western sound, while also providing ethereal and deliberate lyrics on top. Simon would later say that this was the best song he ever wrote. While that may be a stretch, we do agree it is a great song.
Warner Brothers almost didn't release this album because they thought it was too far "out there" for a mainstream audience to accept. When they finally relented, they were surely glad that they did as Graceland went platinum five times over. In the end, Paul Simon provided yet another example of the wonderful things that can be created when a talented musician strips away all commercial concerns and just lets his talent and instinct take over.
~

Part of Classic Rock Review's celebration of 1986 albums.