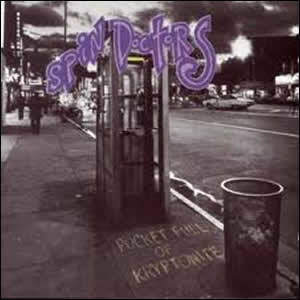 As the Grateful Dead's long career began to wind down in the early nineties, there were many pseudo-hippie, jam-oriented bands that emerged to fill the void for the "dead heads". Although many would ultimately have long and successful careers (i.e. Phish, Widespread Panic), none would achieve greater concentrated commercial success than the Spin Doctors. The band's debut album, Pocket Full of Kryptonite, released in 1991, became a huge (albeit belated) commercial success through 1993 and 1994. This was fueled by some catchy and concise pop songs, starting with "Little Miss Can't Be Wrong" followed by "Two Princes" and "Jimmy Olson Blues".
Pocket Full of Kryptonite languished for nearly a year as the band embarked on nearly non-stop touring of small and medium clubs in the Northeast. Then some of the songs were finally picked up by radio, and once in the rotation, these songs stuck around for a long time. The catchy, repetitive, three or four chord riffs and funky rhythm were perfectly suited for radio in the early nineties and Spin Doctors soon became a sensation, selling millions of albums around the world. Ultimately, the multi-platinum album sold millions world-wide and Spin Doctors looked poised to launch a long and successful career. But this was not to be, the band's fame seemed to decline nearly as rapidly as it rose, by 1996 they were no longer a major label act.

Pocket Full of Krypotonite

by

Spin Doctors
Released: August 20, 1991 (Epic)
Produced by: Frank Aversa, Peter Deneberg, Frankie La Rocka, Spin Doctors
Recorded: Power Station & RPM Studios, New York, August-December 1990
Track Listing
Band Musicians
Jimmy Olsen's Blues
What Time Is It?
Little Miss Can't Be Wrong
Forty or Fifty
Refrigerator Car
More Than She Knows
Two Princes
Off My Line
How Could You Want Him
Shinbone Alley/Hard to Exist
Chris Barron – Vocals
Eric Schenkman – Guitars, Piano, Vocals
Mark White – Bass
Aaron Comess – Drums, Vocals
There is something really cool about the tie-in of the album's title with the opener "Jimmy Olsen Blues". This catchy song tells the story of an alternate universe where young Jimmy Olsen plots the destruction of the ultimate superhero to win the affection of Lois Lane. Like most of the hits, the song is fueled by the riffs of guitarist Eric Schenkman which cut through the moderate and measured vocals of Chris Barron.
"Two Princes" would ultimately become the band's biggest ever hit, not just through radio and commercial channels, but also in pop culture. It was used as song of celebration by the 1993 National League Champion Philadelphia Phillies, as a theme on several television shows including the children's show Sesame Street and an Israeli TV comedy, and has been featured in several movies as well as covered by many bands.
While most of the tracks on Pocket Full of Krytonite are short, pop-ready hits, the band does takes some different approaches. The nearly pure funk "What Time Is It?", is led by the slap-bass of Mark White while their "jam band" core seeps through in songs such as the ten minute closer "Shinbone Alley/Hard To Exist".
Although, Spin Doctors would go on to record and release five more studio albums through 2005, none of these would achieve any critical recognition or commercial success of note.
~

Part of Classic Rock Review's celebration of 1991 albums.