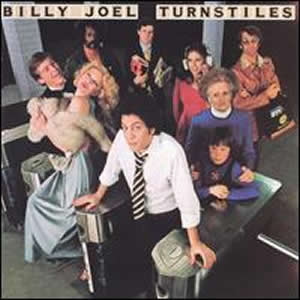 Turnstiles is , in a lot of ways, the "growing up" album for Billy Joel. Even though he was only in his mid twenties at the time of its production (which was also his debut as a producer), it is the most reflective and nostalgic album that he would ever make. Further, it came at a time when he had decided to return to his native New York from a three year exile to California where he cut his teeth in piano bars and wrote and recorded his initial two albums for Columbia Records. This additional element played a large part in constructing this collection of songs which focus on the past and present in a deep and philosophical way.
This geographic shift by Joel is evident on several levels, lyrically as well as stylistically on Turnstiles. Both Hollywood and New York are explicitly and implicitly referred to in several songs, with the rest comparing and contrasting the past and present through specific issues – music ("All You Want To Do Is Dance"), careers ("James"), and politics/ideology ("Angry Young Man"). The album's cover shows Joel at a subway turnstile with eight others, each representing a central lyrical characters in each of the album's eight songs.
Stylistically, Joel abandoned the softer "California" sound, for more raw, albeit diverse, rock using his new touring band in the studio. This also migrated his sound more towards that of fellow east-coaster Bruce Springsteen, who had just released his masterpiece, Born to Run. The decision came after Joel fired the original producer of the album, James William Guercio, after being dissatisfied with the initial recordings. He then and took over as producer himself and moved production to a studio in his native Long Island to make the album his way. The result was a very musically diverse and satisfying gem.

Turnstiles

by

Billy Joel
Released: May 19, 1976 (Columbia)
Produced by: Billy Joel
Recorded: Ultrasonic Studios, Hempstead, NY, January 1976
Side One
Side Two
Say Goodbye to Hollywood
Summer, Highland Falls
All You Want To Do Is Dance
New York State of Mind
James
Prelude / Angry Young Man
I've Loved These Days
Miami 2017
Primary Musicians
Billy Joel – Piano, Keyboards, Harmonica, Vocals
Russell Javors – Guitars
Richie Cannata – Saxophone, Guitar
Doug Stegmeyer – Bass
Liberty Devitto – Drums
"Say Goodbye to Hollywood" launches the album with Spector-esque percussion effects and a great overall sonic aura. Here, even the "stylish" strings are held to a minimum, so the song resists the urge of being forever "dated" in the mid-seventies. The vacillating between a slow and calm beat in the verse and a driving rocker during the chorus is a good testament to the songwriting genius of Billy Joel. The song was a celebration of his life back in New York, breaking from the culture of Hollywood.
"Summer, Highland Falls", a true gem of a Billy Joel song, philosophically deep yet a pleasant and melodic listen. The piano definitely leads the music but does not dominate, as Billy Joel the producer allowed much room for his fine backing band. This is followed up by another reflective song, but of a sharply contrasting genre called "All You Wanna Do Is Dance". With a consistent reggae beat and Caribbean overtones, this song fuses in some artistic nods to Paul McCartney and Joni Mitchell as well as Bob Marley.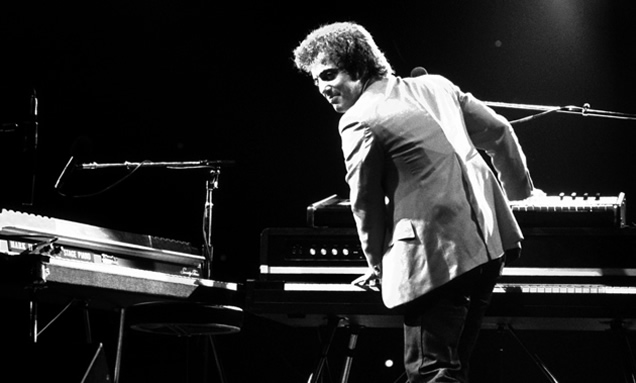 Billy Joel describes "New York State of Mind" as rebellious against those ex-New Yorkers who seemed to celebrate the city's demise during the mid seventies. It would go on to become a standard, especially after September 11th, being played at all kinds of ball games and events. The song showcases Joel's technical proficiency on the piano as well as the fine sax playing of Richie Cannata. It is an early impersonation of Ray Charles, something he would revisit ten years later with "Baby Grand".
The second side of Turnstiles starts with "James", a song that is a bit corny and seems like a knock-off of Elton John's "Daniel", with the electric piano and all. Exploding from this calm serenity comes the "Prelude" to "Angry Young Man", the most technically proficient, wildly entertaining, and lyrically deep song on the album. The long, multi-part "Prelude" is a jam that Joel and his band would use to start live shows for decades to come, and is a testament to the fine skills of guitarist Russell Javors, bassist Doug Stegmeyer, and drummer Liberty Devitto. The fantastic lyrics are a biting and self-effacing;
"…and there's always a place for the angry young man,
with his fist in the air and his head in the sand…"
It is also a prelude to later extended classics like "Scenes from an Italian Restaurant" from The Stranger and "Zanzibar" from 52nd Street.
The two moody and beautiful "I've Loved These Days" is again about growing up and feels almost too sentimental to be lamenting the end to days of indulgence and partying, presumably during Joel's California days. This may have been a smash hit were a more traditional ballad about love or broken relationships. "Miami 2017 (I've Seen the Lights Go Out On Broadway)" is a dystopian ballad, which borders on the absurd, probably as a satire on the doom and gloom attitude about New York. The song is narrated by a senior citizen in Florida during our present decade, who recalls a "celebration" concert held as sections of New York City were systematically destroyed. The music starts as a ballad, launches into a rocker and then ends the album in nice way, with fading piano riff.
Turnstiles would become the first of the three finest albums by Billy Joel, which were released in consecutive years starting in 1976. While it did not achieve the commercial success of its successors, 1977's The Stranger or 1978's 52nd Street, Turnstiles may well be the most cohesive album of the trio.
~

Part of Classic Rock Review's celebration of 1976 albums.