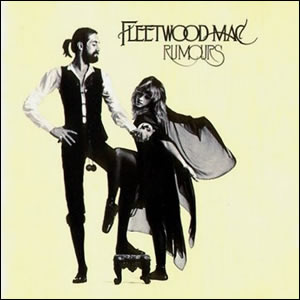 It took the band Fleetwood Mac ten albums and many lineup shifts to achieve mainstream commercial success, but the group got there with their 1975 eponymous release. This was the first album to feature songwriters and vocalists Lindsey Buckingham and Stevie Nicks, who joined the band following the departure of Bob Welch. Cashing in on that success, the band expanded the formula with their eleventh album, 1977's Rumours. Produced by the band along with Ken Caillat and Richard Dashut, this album would become not just the band's top seller, but one of the highest selling albums ever up to that point in time.
Much of the album was recorded in a small cabin north of San Francisco's Golden Gate in Sausalito, CA. Although Rumours is filled with pleasant, easy-going, and melodic pop/rock throughout, the album's creation and production was anything but cool and steady. All five members of the band, which included two married couples, struggled with relationship breakups around the time. Buckingham and Nicks were having an on and off relationship with constant fighting. The band's other primary writer and keyboardist Christine McVie and bassist John McVie had recently divorced after eight years of marriage and refused to speak to each other except when working on songs. Drummer Mick Fleetwood faced his own domestic problems after discovering his wife had an affair with his best friend. It was later revealed that Fleetwood and Nicks started a relationship around this time. Further, there was much press intrusion into the member's lives as well as unsubstantiated rumours (giving the album its name). This stressful situation and internal strife influenced many of the album's lyrics but, to the band's credit, this strife did not adversely effect the quality of the album or its production.
The album has high quality harmonies among three vocalists and was inspired by many different genres. Buckingham took charge of the musical directions of the sessions as the record had an original working title of "Yesterday's Gone". During the formative stages of compositions, Buckingham and the classically trained Christine McVie played guitar and piano together to create the basic song structures. They were latter joined by the rhythm section of Fleetwood and John McVie, who were the last remaining members of the original blues band which was formed in the late 1960s. Nicks believed that Fleetwood Mac created the best music when in the worst shape and her lyrical focus allowed the instrumentals in the songs that she wrote to be looser and more abstract. The goal of the band and their producers was to have a completely "no-filler" final product, with every song having the potential of being a single or radio hit. They would come remarkably close to reaching this goal.

Rumours

by

Fleetwood Mac
Released: February 4, 1977 (Warner Brothers)
Produced by: Fleetwood Mac, Ken Caillat, & Richard Dashut
Recorded: Record Plant Studios, Sausalito and Los Angeles, CA, 1976
Side One
Side Two
Second Hand News
Dreams
Never Going Back Again
Don't Stop
Go Your Own Way
Songbird
The Chain
You Make Lovin' Fun
I Don't Want to Know
Oh Daddy
Gold Dust Woman
Band Musicians
Lindsey Buckingham – Guitars, Vocals
Christine McVie – Keyboards, Vocals
Stevie Nicks – Vocals
John McVie – Bass
Mick Fleetwood– Drums

The moody and complex song "The Chain" originated from a pair of demos by Christine McVie and Stevie Nicks which were fused together. The tempo is increased starting with a bass solo by John McVie through the song's coda. "The Chain" is the only collaborative song on the album, composed by every member of the band, as the rest of the compositions were made solely by one of the band's three primary writers.
Buckingham's songs include the album's opener "Second Hand News", a Celtic influenced rock song with "chair" percussion for effect. It is not the strongest opening number, but it does set up the later pop tracks nicely. "Never Going Back Again" is much better, a largely overlooked classic on Rumours. It is a pleasant and melodic guitar diddy done nearly entirely by Buckingham, with just the slightest backing vocals during the shortest durations, This really should be out of place on this album of pop songs, but it works nevertheless.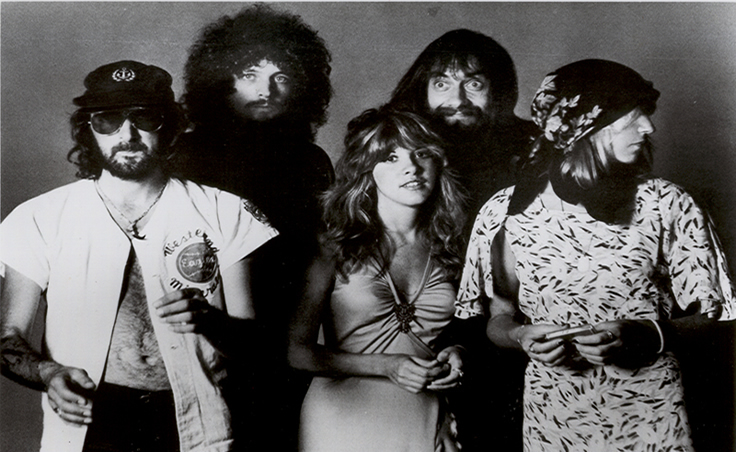 "Go Your Own Way" is the most popular song on the album written by Lindsey Buckingham. It was released as the album's first single and became the group's first top ten hit in the U.S. The song's lyric offers a pessimistic view of his complicated relationship with Stevie Nicks. Nicks offered her own view of that relationship in "Dreams", which would go on to become the band's only number one Billboard song.
From first listen, "Dreams" is an instant classic. The minimal backing rhythm provides a perfect canvas for Nicks to paint her vocal masterpiece masterpiece. Nicks claims she wrote the song in Sausalito in "about ten minutes" and the band started recording it the very next day. Some of the more complex guitar and bass patterns were later added in Los Angeles. Although incredibly simple, the song's arrangement gives it an air of complexity which makes it sound fresh decades later.
Nicks' other two compositions appear late on the second side. "I Don't Want to Know" is leftover from the pre-Fleetwood Mac, "Buckingham and Nicks" days and contains harmonized vocals throughout. The album's closer, "Gold Dust Woman" features some cool sounds from a dobro, percussive instruments, and several acoustic guitars. This song about cocaine addiction is haunting but never tragic as the soundscape sets a dreamy scene with a tinge of hope.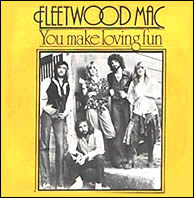 Christine McVie composed four songs on Rumours, starting with the smash hit "Don't Stop", which has become one of the Fleetwood Mac's signature songs. Trading lead vocals with Buckingham, Christine's lyrics offer an optimistic view following her divorce from band mate John. "It seemed to be a pleasant revelation to have that 'yesterday's gone'," she remembers. "You Make Loving Fun" is a much better song, perhaps the best pure pop song that the band has ever delivered. The verse is driven' by a Soul-inspired clarinet, which backs McVie's calm crooning. During the chorus, Christine is joined by some complex harmonies by Buckingham and Nicks during a beautiful arrangement which puts the song over the top.
Christine McVie's other two contributions are calm piano tunes. "Songbird" was performed and recorded in a concert hall to capture the ambiance perfectly. With introspective, almost prayer-like lyrics, the song has been covered several times, primarily by folk singers. "Oh Daddy" is a more complex theme which directly references Mick Fleetwood, who the band nicknamed "The Big Daddy". A founding member, Fleetwood had much influence in the band's direction and seemed to always turn out to be right, especially during this time of great success.
Fleetwood called Rumours "the most important album we ever made" (and he was there for there for each and every album). With its success, the group would continue recording for years to come through many changes in the pop and rock world. By the album's tenth anniversary in 1987, it had sold nearly 20 million copies worldwide.
~

Part of Classic Rock Review's celebration of 1977 albums.