Buy Even In the Quietest Moments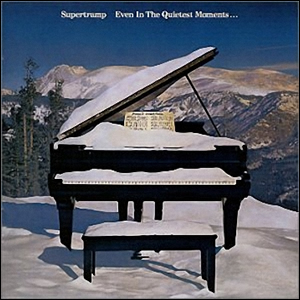 Even In the Quietest Moments was the third of four consecutive great albums produced by Supertramp in the mid to late seventies. However, this album was unique in many ways especially musically. The album includes a couple of acoustic-fueled songs by co-songwriter and vocalist Roger Hodgson, both of which would climb the pop charts. Released three years after the band's art-rock breakthrough, Crime Of the Century, and two years prior to their popular smash, Breakfast In America, 1977's Even In the Quietest Moments acts as a nice bridge between two corners of the band's evolving sound.
Supertramp alternated between two distinct singers and songwriters. Hodgson has a high-pitched, child-like voice which contrasts sharply with Rick Davies, who has a more distinctly masculine, baritone voice. Still, it all seemed to work well through their career as they constructed distinct music that was elegant, witty, obscure and entertaining. This album is laid out with each taking alternate turns with the seven tracks, starting with Hodgson, whose four songs included the most popular, recognizable, and accessible. Still, Davies' three contributions are the glue which holds the album together and makes it a very interesting piece for the critical listener.
Produced by Supertramp, the band employed famed engineer Geoff Emerick, who had worked on much of the Beatles recordings. The album was mainly recorded at Caribou Ranch Studios, a converted barn in a remote area of Northern Colorado. The cover photo of a snow covered piano was taken outside near the studio.

Even In the Quietest Moments

by

Supertramp
Released: April, 1977 (A&M)
Produced by: Supertramp
Recorded: Caribou Ranch, Nederland, CO & Record Plant, Los Angeles, CA
December 1976 – January 1977
Side One
Side Two
Give a Little Bit
Lover Boy
Even In the Quietest Moments
Downstream
Babaji
From Now On
The Fool's Overture
Band Musicians
Roger Hodgson – Guitars, Keybords, Vocals
Rick Davies – Piano, Vocals
John Helliwell – Saxophone, Clarinet, Melodica
Dougie Thomson – Bass
Bob Siebenberg – Drums, Percussion
Roger Hodgson's songs include the title song with a picked acoustic guitar line that paints a deep rural scene. This is nicely accented by the melodica of John Helliwell and later by the other instruments as the song gradually builds to add more intensity and vocal parts. The song, which was a hit on both sides of the Atlantic, is a beautiful journey to a simple place where the noise of life is filtered out and the purest emotions take center stage. It is hard to tell if this is simply a love song, a spiritual song or a combination of both.
On the second side of the album are the Indian-yoga influenced "Babaji", a strange anthem true Supertramp fans may enjoy but may be more difficult for the novice listener, and the epic closer "Fools Overture". A long instrumental intro complete with sound collage starts this song, with the vocals not beginning until 5 ½ minutes in. The song tells of World War II, particularly The Battle of Britain and Winston Churchill; in a reflective way;
"History recalls how great the fall can be
While everybody's sleeping, the boats put out to sea…
Too late the prophets cry, the island's sinking let's take to the sky…"
In all, the song is over ten minutes long and, despite its length and parts that seem unfocused, it was a Minor hit for the band commercially.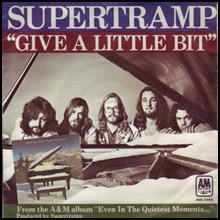 With a hook that never seems to go out of style, the folksy, acoustic pop song "Give a Little Bit" kicks off this album in a fresh and upbeat (albeit deceptive) way. After a verse and chorus with just Hodgson and his 12-string, the perfect rhythm and tempo of bassist Dougie Thomson and drummer Bob Siebenberg provide the engine that pulls the song through some nice deviations. While the song seems simple on the surface, these subtle changes give it a more epic and edgy feel, especially during the coda. The song reached #15 on the Billboard charts was included in the first Supeman movie in 1978.
Davies contributions to the album are less accessible on the surface, but much more deeply rewarding overall. "Lover Boy" is almost like a show tune but with an edge. It has a bouncy intro hook and return line but then deviates off into a more surreal tangent with a slow and methodical piano riff that sells the drama with a gradual buildup. Just as the song appears to be completed with a fadeout, it re-emerges for a stronger, more rock-oriented conclusion. "Downstream" is a very simply arranged and romantic piano song that nicely ends the first side.
Davies tour de force, not just on this album but probably for his entire career is, "From Now On". It is a bittersweet, almost melancholy song about the mundane routines of life but it never feels abrasive or excruciating. With an excellent, linear progression that goes through some interesting vocal and instrumental parts, the song concludes with a more uplifting coda section. It kind of feels like emerging from a good cry to a more optimistic feeling.
With the fairly good success of Even In the Quietest Moments and its hit songs, Supertramp set themselves up for their blockbuster commercial breakthrough, which would be the absolute peak of their success. The band would fade after Hodgson's departure in 1983, but all seemed to have a good perspective on fame and how it fits into the bigger picture. When asked about the constant complaints of certain musicians in a recent interview, Davies simply put it; "We live a life of privilege, we should never forget it, really."
~

Part of Classic Rock Review's celebration of 1977 albums.