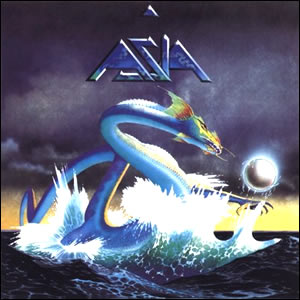 Asia was a short-lived "supergroup" which existed primarily in the early 1980s. Their debut eponymous album was wildly successful commercially, reaching #1 in the US on the Billboard album charts and the top selling album in the States for the year 1982. However, the band also tended to be a letdown to progressive rock fans who were eager to hear the sound forged by former members of some of the top groups in that genre during its heyday of the 1970s. However, the output on Asia, produced by Mike Stone, was distictly pop-rock with only minor nods towards the instrumental flourishes that identified progressive rock.
Guitarist Steve Howe had spent 11 years with the band Yes, playing on all the essential albums that made up the band's early sound. Howe continued with the band until Yes officially split up (for the first time) on April 18, 1981. John Wetton had done extensive work as a session musician with acts such as Brian Eno, Bryan Ferry and with legendary Beatles producer George Martin. Wetton also lead the prog-rock staple King Crimson for several years during the early 1970s, replacing founding member Greg Lake when Lake went on to form Emerson, Lake, and Palmer. That trio's drummer Carl Palmer got his start in the mid 1960s with The Crazy World of Arthur Brown. With Emerson, Lake, and Palmer, he played on some of the most acclaimed progressive rock albums ever. Keyboardist Geoff Downes was a virtual newcomer to the scene starting with the new wave band The Buggles in 1979 and joining Yes for one album, 1980's Drama.
In 1981, Howe, Wetton, Palmer, and Downes formed the band Asia, an apparent "marriage made in Heaven" for prog rock fans. But this new band did focus on a more distinct 1980s sound, which focused less on musical virtuosity and more on sonic accessibility.


Asia

by

Asia
Released: March, 1982 (Geffen)
Produced by: Mike Stone
Recorded: Marcus Studios & Virgin Townhouse, London, June-November 1981
Side One
Side Two
Heat Of the Moment
Only Time Will Tell
Sole Survivor
One Step Closer
Time Again
Wildest Dreams
Without You
Cutting It Fine
Here Comes the Feeling
Band Musicians
John Wetton – Bass, Lead Vocals
Steve Howe – Guitars, Vocals
Geoff Downes – Keyboards, Vocals
Carl Palmer – Drums, Percussion
If there is any place on Asia where a hardcore prog rock fan can find some solace, it is on the second side. "Wildest Dreams" contains some abrupt changes between verse and choruses and provides an extensive drum showcase for Palmer. "Without You" is a pleasant ballad, mellow throughout with interesting, moody parts. "Cutting It Fine" is the most interesting here with an acoustic beginning and an extensive piano instrumental by Downes in the coda.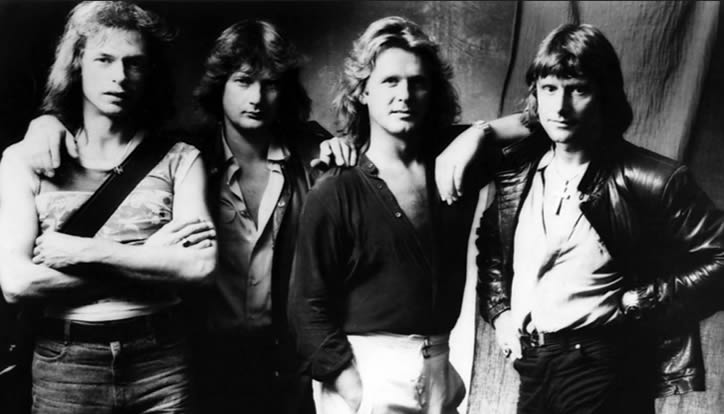 On the first side, "Sole Survivor" displays a definite 80s sound, but with an interesting build in the beginning and a flute-like keyboard solo during the middle part. "One Step Closer", co-written by Howe contains a good beginning which is a hybrid between the Yes and Kansas sound. With the harmonized verse vocals, this song is a true showcase on the album.
"Heat of the Moment" employs several basic rock techniques including the overused Phil Spector drum beat and a subtle building throughout. This opener was the signature song on the album and its biggest hit, reaching #1 on the pop charts.
The other major hit, "Only Time Will Tell", is the best song on the album. Although song was composed by Downes and Wetton, the mocking guitar by Howe throughout makes this a real centerpiece for the former Yes axeman. The song contains instrumental rudiments and the guitar licks all above and almost-Barry-Manilow-like ballad somehow makes this a very interesting listen. The biggest flaw of this song is that it fades out way too soon.
Asia released a follow-up, Alpha in 1983 and a third 1985 album, Astra, each to less critical and commercial acclaim and this supergroup fizzled soon thereafter. Steve Howe went on to form yet another supergroup with ex-Genesis guitarist Steve Hackett called GTR. Wetton released several solo albums and Palmer later rejoined the newly reformed ELP in 1992.
~

Part of Classic Rock Review's celebration of 1982 albums.