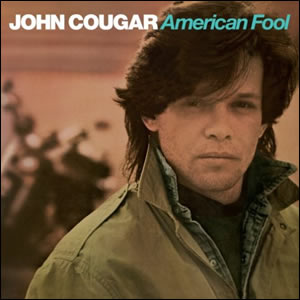 American Fool may mark the midway point of the artist's evolution from the stage name "Johnny Cougar" back to his given name John Mellencamp. The differing names (of which there are four distinct) mirrored the change in musical style and image from the slick, glam-like pop star of the 1970s to the earthy, folk singer of the 1980s. This album straddles the line between the two, with a slight edge to the former as it tends to get quite formulaic as it progresses. In 1974, when Mellencamp was struggling to break through in the music industry, his manager suggested that his given name was too hard to market and concocted "Johnny Cougar" for the artist. The name used on American Fool, his sixth overall, was simply "John Cougar" the last of three to use this name.
Although his previous album, 1980's Nothin' Matters and What If It Did yielded two Top 40 singles, Mellencamp hated that album, dismissed its material as "stupid little pop songs", and derided its outlandish cost of production of about a quarter of a million dollars. So it was clear that he wanted to move in a different direction with this album, and he accomplished much with a more authentic sound throughout. Still, American Fool is an uneven album with the bulk of the good (and popular) material on its first side and much repetitive filler on the second.
Also, there are, unfortunately, a bunch of interesting performances on this album that have gone un-credited. A record of who performed on the keyboards, accordion, harmonica, and who were female background singers, have been hard to discover. These are apparently session performances, but they all enhanced the album above the very basic core sound of the five credited musicians.

American Fool

by

John Cougar
Released: July 10, 1982 (Riva)
Produced by: Don Gehman & John Mellencamp
Recorded: Cherokee Studios, Los Angeles & Criteria Studios, Miami, 1981-1982
Side One
Side Two
Hurts So Good
Jack and Diane
Hand To Hold On To
Danger List
Can You Take It
Thundering Hearts
China Girl
Close Enough
Weakest Moments
Primary Musicians
John Mellencamp – Lead Vocals, Guitars
Mick Ronson – Guitars, Vocals
Larry Crane – Guitars
George Perry – Bass
Kenny Aronoff – Drums
The album opens with "Hurts So Good", co-written by George S. Green, a childhood friend of Mellencamp's who would go on to collaborate on some of his most recognizable songs. This song is as pure a rocker as you can get. Its sonic boundaries combines a Lynard-Skynard-like-70s guitar riff with the most modern 80s drum sound (a potent formula) and it follows the common rock arrangement of Intro/Verse/Chorus/Verse/Chorus/Bridge/Chorus/Outtro. "Hurts So Good" would be Mellencamp's biggest hit to date, reaching #2 on the Billboard charts.
A couple of other songs on the first side stick to this same basic formula, including the pleasant and melodic "Hand to Hold on To" and "Danger List", a song composed by Mellencamp and guitarist Larry Crane. This latter song contains some harmonized guitars over an acoustic intro, returning to simple riff intermediately throughout the verse and chorus. It is reserved and quiet through most of its duration but gets louder and more rock-oriented as it approaches the end. According to Mellencamp, he recorded about 30 different improvised verses for the original demo and weeded out the ones he didn't like for the final cut.
As much as "Hurts So Good" and the rest of the first side stick to convention, "Jack & Diane" is completely original in arrangement, using all kinds of instrumentation. "Hand claps" were added to the sparse, main electric riff to help keep time with the intention of removing them on the final cut, but it was just too empty without them so this distinct sound was kept in the mix. The acoustic verses and choruses are accompanied at different times by nice little flourishes of piano, organ, bass, and percussive effects. The song was recorded at Criteria Studios in Miami and Mellancamp gave the credit for the arrangement to the legendary Mick Ronson, who salvaged the song after Mellencamp had thrown it on the "junk heap".
The second side of the album is much less rewarding with the bulk of the material being lesser songs that strictly follow the same formula as the hits on the first side. Ironically, the strongest moment on this side is the closing song "Weakest Moments", a moody ballad with nice lyrical motifs. The song is acoustic throughout and also contains an interesting flute-like organ lead, an accordion, and a female backing chorus. Cougar's vocals are a bit exaggerated in their melancholy, but otherwise this a fine tune to close the album.
With the commercial success of American Fool under his belt, Mellencamp had enough clout to add his real surname, going as "John Cougar Mellencamp" on his next album, 1983's Uh-Huh. Eventually, the evolution would be complete and this artist would simply become John Mellencamp.
~

Part of Classic Rock Review's celebration of 1982 albums.