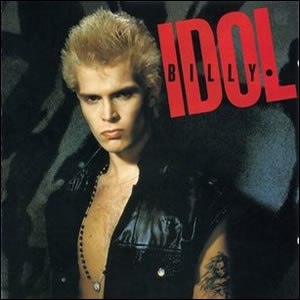 The debut album by Billy Idol is amazingly diverse and mainstream-leaning for an artist supposedly fresh off the punk scene. In fact, Idol today admits that his late seventies outfit, Generation X, differed starkly from other acts on the scene like The Clash or The Sex Pistols; "They were singing 'No Elvis, Beatles or the Rolling Stones', but we were honest about what we liked." Generation X was inspired by mid-Sixties British pop and were one of the first "punk" acts appear on the BBC. When the band broke up in 1981, Idol transitioned nicely to his own sound. This self-titled debut album was produced by Keith Forsey through 1981 and early 1982 and is confluent with Generation X's final 1981 LP as well as Idol's initial EP Don't Stop that same year.
American guitarist Steve Stephens would become as much a part of the solo act as Idol himself, forging a slick rock sound to canvas the Elvis-like vocals of Idol. Stephens' slashing guitar chords became as identifiable as Idol's melodic choruses and sneering postures. This album eventually became Idol's breakthrough in America, a place Generation X had struggled to find any audience. It took over a year beyond June 1982 until some of Idol's videos began  breaking through to the MTV audience.
With Forsey's production, the album was given a "modern" sound for the time which employed piano, synthesizers, saxophone, and background singers. This sweetened the sound enough for the mainstream audiences on both sides of the Atlantic. The LP peaked at number 45 on the Billboard 200 and was certified Gold by RIAA in 1983.

Billy Idol

by

Billy Idol
Released: June 16, 1982 (Chrysalis)
Produced by: Keith Forsey
Recorded: London, 1981-1982
Side One
Side Two
Come On, Come On
White Wedding (Part 1)
Hot In the City
Dead On Arrival
Nobody's Business
Love Calling
Hole In the Wall
Shooting Stars
It's So Cruel
Congo Man
Dancing With Myself
Band Musicians
Billy Idol – Vocals
Steve Stephens – Guitars
Phil Feit – Bass
Steve Missal – Drums
The album starts with "Come On Come On", a very pop-rock dominated song with driving bass and choppy guitars. This sets the pace for several songs with a definite 1980s sound. These include the guitar-centric, straight up rocker "Dead On Arrival" and the almost-hair band "Nobody's Business"
"White Wedding" contains a much darker sound. One of his most recognizable songs, Idol claimed in later years that this song actually had nothing to do with his "little sister", but he just found the concept interesting. The song was a hit upon its original release and charted even higher several years later in the UK, following rotation of its famous video. The song is titled "White Wedding (Part 1)" on the album due to the release of a synthesizer based dance version on 7″ vinyl called "White Wedding (Part 2)".
"Hot In the City" was the initial single from the album. The song has a moderate, melodic tempo and some sweet pop hooks. It gained more popularity as the decade progressed and was an even bigger hit when released as a single from the compilation Vital Idol in 1987.
The second side of the album starts with "Love Calling", driven by the drumming of Steve Missal, along with some odd chanting between verse lines. It gives off a trance-like vibe except during the breaks when Idol screams "if you want to rub-a-dub, rub-a-dub". "Hole In the Wall" and "Shooting Stars" each contain cool guitar textures by Stevens and a very animated bass by Phil Feit in the fashion that U2 would eventually make very popular. "It's So Cruel" starts calm with liberal use of synthesizers, almost a ballad, until it eventually builds with stronger tones.
Modern versions of the album conclude with "Dancing With Myself", a song originally recorded for the final Generation X album in 1981, then co-opted by Idol for his Don't Stop EP, when he remixed it and gave the song an overall brighter, poppier finish. When Idol started to break through with MTV videos in 1983, one was made for "Dancing With Myself" and the song was added to the Billy Idol LP, replacing a short percussion filler called "Congo Man".
Idol was born William Michael Albert Broad and got his stage name in grade school from a teacher who nicknamed him "Billy Idle" in a degradng fashion. Billy took this name as a badge of honor and, with some minor re-spelling, used it to launch himself to international stardom.
~

Part of Classic Rock Review's celebration of 1982 albums.