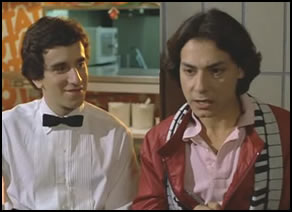 The movie soundtrack has become a great source for discovering music. Many dramatic scenes are fully augmented by appropriate audio, which in turn drives sales of the songs themselves. It is a nice cross-marketing scheme, but as far as top quality works of new original music by various artists. there are surprisingly few of these albums that actually hold up well over time.
We've decided to this feature while our regular reviews look at the year 1982, because that was the year when, in our opinion, the best of these movie soundtracks was released, Fast Times at Ridgemont High. The soundtrack features songs of many of the eras quintessential rock artists, most of which were not released elsewhere on conventional artist album. Both this movie and album soundtrack ushered in a heyday for such movie soundtracks (as well as copycat movies) through the early and mid 1980s. But before we delve into the merits of this particular soundtrack, let's look at some other important soundtracks throughout the years.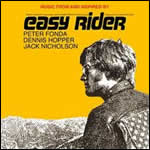 A significant early soundtrack is that for the 1969 cult film Easy Rider, a film often remembered for its late 1960's rock music. The album was a surprise chart hit, peaking at #6 on the Billboard album charts, and is most associate with a sub-genre known as "biker music". Steppenwolf is featured most prominently, as "Born To Be Wild" is played during the opening scene and another song, "The Pusher" leads off the soundtrack itself. Other songs featured on Easy Rider include The Byrd's "Wasn't Born to Follow", "Don't Bogart Me" by Fraternity of Man and If 6 Was 9″ by The Jimi Hendrix Experience. The producers of this soundtrack also utilized a practice which is prominent to this day. When they encountered problems in licensing the original recording of "The Weight" by The Band, they commissioned the artist Smith to record a cover version for the soundtrack. A couple more covers of Bob Dylan were recorded by Roger McGuinn for the album.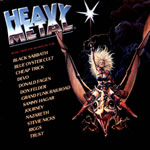 Heavy Metal was a 1981 rotoscoping-animated film, which employs various science fiction and fantasy stories adapted from Heavy Metal magazine. Due to many legal wranglings involving the copyrights of some of the music, the film and soundtrack were unavailable, except through underground, pirated copies. It was finally released on CD and videocassette (along with a simultaneous re-release in theaters) in 1996. Although the film is called "heavy metal", the music itself includes original music from various rock genres. This includes songs by Sammy Hagar, Blue Öyster Cult, Cheap Trick, Devo, Donald Fagen, Journey, Grand Funk Railroad, Cheap Trick, Don Felder, and Stevie Nicks. Probably the only true "heavy metal" band represented is Black Sabbath, whose song "The Mob Rules" is featured.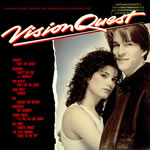 The 1985 soundtrack to the movie Vision Quest includes a nice mixture of pop and rock tunes and featured some high charting hits. These include the Madonna ballad "Crazy for You" and the song "Only the Young" by Journey, the last release by that band's classic lineup. Other highlights from this soundtrack are "Change" by John Waite, "Hungry for Heaven" by Dio, "Lunatic Fringe" by Red Rider and "I'll Fall in Love Again" by Sammy Hagar, one his last solo releases before joining up with Van Halen.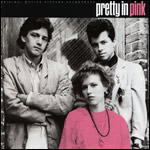 The 1980s were, by far, the heyday for soundtracks, many more then we could possibly cover here. A series of teen-oriented movies by director John Hughes including The Breakfast Club, and Pretty In Pink. The music from these focused primarily on new wave artists such as Orchestral Manoeuvres in the Dark, Simple Minds, The Psychedelic Furs, New Order, Echo & the Bunnymen, and The Smiths. Several other 1980s soundtracks includes the songs by Kenny Loggins, a seventies folk singer who basically made a career out of movie soundtrack songs in the 1980s. Loggins wrote and performed "I'm Alright" from Caddyshack, the title song from Footloose, and "Danger Zone" from Top Gun, all of which were the most prominent songs from those respective films.
We've decided to use a rather narrow definition of this category which we're focusing on for this profile. Basically, the main criteria is original music, recently produced, by various artists. Since this excludes, many fine soundtracks, we'll look at some of the better which fall outside our criteria.
Artist Centric Soundtracks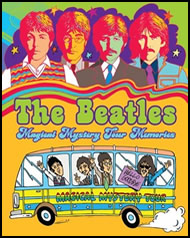 Movies which were built around the music of a specific artist have been around almost as long as there have been movies and recorded music. During the classic rock era, this was made most prominent by The Beatles, who made four movies with accompanying soundtracks of their original music. Of these, Magical Mystery Tour is the most interesting, primarily because the music is so excellent while the film itself is so terrible (later this year, we will do a regular review of this album).
Following in the Beatles footsteps were scores of these types of soundtracks for films at all different levels of production from major Hollywood worldwide productions to documentaries. Some of the best of these include David Bowie's 1973 Ziggy Stardust movie, Led Zeppelin 1976 rendition of The Song Remains the Same (something we've touched on during a previous special feature on The Live Album), The Bee Gees-centric soundtrack to Saturday Night Fever, Prince's 1984 blockbuster Purple Rain, and U2's 1988 Rattle and Hum, another one where the music is far superior to the film.
Of course, tribute movies to specific artists will also fall in this category (as well as the next), and there have been several standouts here, from Oliver Stone's The Doors to the Johnny Cash bio Walk the Line to the bio on Ray Charles. There are hundreds more of these films, television series, and documentaries.
A unique type of these are those films that feature fictional bands but still produce interesting music. Prominent among this category are Eddie and the Cruisers from the 1980s and Tom Hanks' That Thing You Do! from the 1990s, both of which focus on the early to mid 1960s era.
Soundtracks of Music from the Distant Past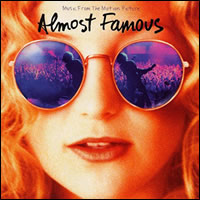 Along with some of those mentioned above, there have also been some great movie soundtracks that include past music using various artists, usually due to the story itself being set sometime in the past. The best of these include Goodfellas, Forrest Gump, and Almost Famous. The latter is a film by Cameron Crowe and it profiles his own start as a rock journalist while he was still a teenager. In Crowe's later life writing screenplays for films, music plays a strong role and the soundtracks are all all interesting. Other Crowe movies include 1989's Say Anything, Singles, Jerry Maguire, and his 1982 debut film Fast Times at Ridgemont High, which brings us back to the focus of this article.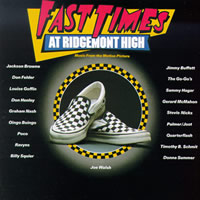 Several of the movie's songs became hit singles, including Jackson Browne's "Somebody's Baby", which reached #7 on the Billboard chart. But the excellence of this album lies in the number of great songs by top-notch artists which (a the time) were not available anywhere else. Despite the comedic genre of the film and its suggestive title, many of these songs are great ballads such as "Love Rules" by Don Henley, "Love Is the Reason" by Graham Nash, and "Sleeping Angel" by Stevie Nicks. Other standouts were the title track by Sammy Hagar, "I Don't Know (Spicoli's Theme)" by Jimmy Buffett, "So Much in Love" by Timothy B. Schmit, "Never Surrender" by Don Felder, and "Waffle Stomp" by Joe Walsh (for those of you keeping score, that is four of the five members of The Eagles when they broke up a year earlier).
As this movie was oozing with rock n roll, several songs in the film itself, were not even included on the soundtrack. These include "We Got the Beat" by The Go Go's, "Moving in Stereo" by The Cars, "American Girl" by Tom Petty and the Heartbreakers, and Zeppelin's "Kashmir", which plays after dialogue about "the second side of Zeppelin 4" (which does not include "Kashmir"). There is further dialogue in the film that talked about Pat Benatar, Cheap Trick, Earth Wind & Fire, and Debbie Harry of Blondie and, during the school dance scene, the band plays covers of "Life in the Fast Lane" and "Wooly Bully". There may never again be movie which is not primarily about music, that contains so much great music.
~
Ric Albano