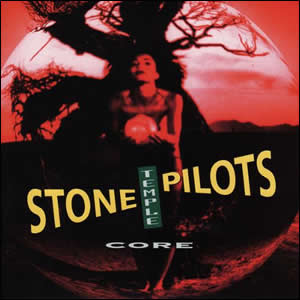 Around 1990, a hard rock band from San Diego, CA called Mighty Joe Young recorded a demo featuring some unorthodox musical styles, such as funk and yodeling and soon began to attract a fan-base in Southern California. After the group was signed to Atlantic Records and began work on their first professional studio album, they received a call from their lawyer who informed them that there was a blues-man who had already claimed the name Mighty Joe Young.  So the group hastily chose the name Stone Temple Pilots, after the STP motor oil stickers that adorned their rehearsal space, and continued on to record what would become their debut album Core.
The "core" of this group is Singer Scott Weland and bassist Robert DeLeo, who first met in 1986 and had performed together in various bands since. DeLeo later recruited his older brother Dean DeLeo as the band's guitarist with drummer Eric Kretz rounding out the quartet. Although all four contributed to the songs on the album, Robert DeLeo wrote the bulk of the compositions with Weiland applying much lyrical content, forging a distinctly flavored version of grunge metal.
The album was released in September of 1992 but original received mixed to very negative reviews, with some critics blasting the more popular songs as "rip-offs" of more established grunge bands and the lesser know material as "pedestrian". While there is no denying that the band incorporates several signature elements of contemporary bands Alice In Chains, Pearl Jam, and Nirvana, the very fact that so many of the songs on Core have held up over the past two decades is testament to the quality of this material.

Core

by

Stone Temple Pilots
Released: September 29, 1992 (Atlantic)
Produced by: Brendan O'Brien
Recorded: 1991-1992
Track Listing
Band Musicians
Dead and Bloated
Sex Type Thing
Wicked Garden
No Memory
Sin
Naked Sunday
Creep
Piece of Pie
Plush
Wet My Bed
Crackerman
Where the River Goes
Scott Weiland – Lead Vocals
Dean DeLeo – Guitars
Robert DeLeo – Bass
Eric Kretz– Drums


A distant rap commences the album and its initial track, "Dead & Bloated", which breaks into a slow and methodical riff and beat, During live renditions of this track, Weiland often hands a bullhorn to a fan to perform the intro. "Sex Type Thing" was the debut single from the album and the most controversial on the album due to its first person telling of perpetrating a rape (although Weiland contends its purpose was anti-rape). Musically, the song is much more upbeat, with DeLeo crediting "In the Light" by Led Zeppelin as a primary influence on the main riff.
"Wicked Garden" is one of the signature songs on the album, with a series of distinct sections, each lead by pristine vocal motifs fueled by melody. Weiland revealed that the song about people allowing all their innocence and purity to be lost from their lives. Following the calm, picked guitar instrumental by Dean DeLeo called "No Memory", "Sin" commences with a splash but is overall a weaker attempt at another anthem song like "Wicked Garden". The only refreshing part is an acoustic section later in the song, but it breaks away too early for a sub-par guitar lead.
Robert DeLeo wrote the calm, melodic, melancholy, acoustic ballad "Creep", which he says was influenced by Neil Young's "Heart of Gold". This radio hit never really deviates too much from its dark temperament, with Weiland doing his best Kurt Cobain vocal impression for the melodramatic lyrics.
What would become one of the band's biggest all-time hits, "Plush" is built on a unique chord structure which was inspired by Robert DeLeo's love of ragtime music. Lyrically, the song was loosely based on a newspaper article Weiland had read about a girl who had been found dead in an area outside of San Diego. The song won a Grammy award for "Best Hard Rock Performance" in 1994 and the award-winning video won an MTV Video Music Award for Best New Artist that same year.
But aside from "Plush", much of the later part of the album is sub-par at best. "Piece of Pie" sounds worn out with the same old drum beat driving once again while "Wet My Bed" is an ill-advised, superfluous filler. Although "Crackerman" received a fair amount of radio airplay, it has been accurately critiqued as "a bad Alice in Chains parody", and the closer "Where the River Goes" is a leftover from the Mighty Joe Young demo which probably should have been left off the album. In the case of these tracks, less would have been more in forging a consistent and rewarding album.
Stone Temple Pilots, built on the success of Core with a couple more residual albums through the mid nineties, before substance abuse brought them back to Earth. Today, several of this album's songs remain rock radio staples and the band's position in the pantheon of heavy grunge is secure.
~

Part of Classic Rock Review's celebration of 1992 albums.