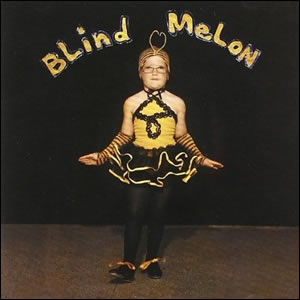 Blind Melon is the 1992 debut album by the rock band of the same name. The album was an international seller due primarily to the breakthrough hit "No Rain" along with a few other minor hits. With producer Rick Parashar, the band approached production of the album to be intentionally devoid of any digital effects or any 1990's production techniques in an attempt to make a "classic" sounding record. This extended to the use of out-of-date amplifiers and instrumentation.  The results were mixed with some tracks enhanced by the "vintage" sound and others just sounding muddled and under-developed.
Although often mis-labeled as a "Seattle" band, the album was merely recorded in Seattle.  The band itself was formed in Los Angeles and made up of personnel from the South and Midwest. Blind Melon came together in 1990 when vocalist Shannon Hoon, an Indiana native met guitarist Rogers Stevens and bassist Brad Smith, both from Mississippi. Stevens and Smith eventually persuaded fellow-Mississippi drummer Glen Graham to come to L.A. and a second guitarist, Christopher Thorn rounded out the quintet. Although the band's rise in L.A. was rather rapid, they were signed to Capitol Records in 1991, they eventually decided that they did not "fit in" with that scene and relocated to Chapel Hill, North Carolina where they were able to rent a house big enough for them and their equipment and work on new material for their first album.
The iconic cover art is based on a 1975 photograph of Graham's younger sister in an awkward bee costume and was carried through for the band's videos which used a modern day actor who resembled the younger Graham.

Blind Melon

by

Blind Melon
Released: September 14, 1992 (Capitol)
Produced by: Rick Parashar & Blind Melon
Recorded: London Bridge Studios, Seattle, February-June 1992
Track Listing
Band Musicians
Soak the Sin
Tones Of Home
I Wonder
Paper Scratcher
Dear Ol' Dad
Change
No Rain
Deserted
Sleepyhouse
Holyman
Seed To a Tree
DriveTime
Shannon Hoon – Lead Vocals, Guitar
Rogers Stevens – Lead Guitars
Christopher Thorn – Guitar, Mandolin
Brad Smith – Bass, Flute, Vocals
Glenn Graham – Drums, Percussion
 

Blind Melon opens up with a multi-part jam song called "Soak the Sin", which is slightly reminiscent of what Pearl Jam was doing on their debut, but with a looser structure. This is followed up by the funk-driven "Tones of Home", a better structured single with a nice rhythm by Smith and Graham. However, the lyrics here are a bit trite and immature –
"I thought that this would be the land of milk and honey, but I've come to find out that it's all hate and money…"
"I Wonder" adds a lot of diverse parts, starting with an acoustic intro and winding through several riff-driven sections. There is a sense of hesitation and under-development as the players appear to follow Hoon through the various changes. This begins a section of the album where Blind Melon seems to be on the brink of making strong and interesting rock music but had not allow the time for the songs to properly ripen. "Paper Scratcher" and "Dear Ol Dad" illustrate this perfectly, with the only real highlight being the acoustic lead by Stevens.
The heart of the album is two back-to-back songs in the middle. "Change" is the first of these, a nice acoustic ballad with brilliant harmonica and mandolin overtones by Thorn. It is a coming-of-age song with poetic lyrics and fine performances by everyone, showing that this band definitly had potential to develop into a top-notch act.

 
The other great song on the album is, of course, "No Rain", by far the most popular song by the band. Although its popularity was fueled by the brilliant MTV video that depicts a bee girl trying to find her niche in the world, the musical credentials of the song itself make it an entertaining and timeless classic decades later. It contains a most unusual arrangement where Stevens' lead and Thorn's acoustic are given' prime attention with just sparse rhythm intervening mostly for effect. This all adds as a perfect canvas for Hoon's fantastic vocals, unmistakably clear and present and a bright signpost along the highway that is 1990's music.
Unfortunately, the album really falls off and these highlights, with the final six tracks not adding much in terms of originality or entertainment that is not already present earlier on the album. Of these, only the closer "Time' offers much in way of ambition, as the band attempts to summarize the themes of the previous twelve tracks to end the album.
Like many rock band's Blind Melon's turn at fame was meteoric and cut short tragically. Shortly after releasing the band's follow-up album Soup in 1995, lead singer Shannon Hoon died of a drug overdose, abruptly ending the band's rise.
~

Part of Classic Rock Review's celebration of 1992 albums.