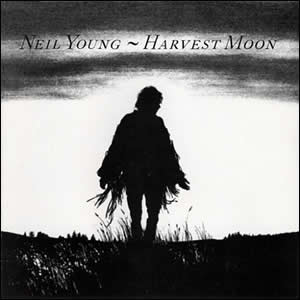 It may be a bit controversial to name a decidedly "retro" album as the album of the year for any particular year. Many rock fans who reflect back on the era of the early nineties, and the year 1992 in particular, will rightfully think of the alternative or "grunge" craze which had then fully materialized. But Classic Rock Review is all about timelessness in rock, and Harvest Moon by Neil Young may have sounded like something that should have been made 20 years earlier, but 20 years later it holds up as well as anything from 1992. So we chose this restrained, Nashville-produced, Americana classic over anything that came out of Seattle that year.
Much speculation has been made about the relationship of this album to Young's 1972 album Harvest, with many labeling Harvest Moon as a "sequel" to that album two decades earlier. There certainly is a case to be made due to the similarities in title, the fact that both albums were recorded in Nashville with some of the same players (dubbed the "Stray Gators" by Young), Ben Keith on pedal Steel, Tim Drummand on bass, and Kenny Buttrey on drums. Then, of course, there is the plain fact that the albums are very similar in sound and arrangement. However, Young denied that there was a strong connection between the two albums in an interview;
"people see the correlation between the two, and it's kind of a plus to be able to refer back 20 years and see the same people and do that. But the thrust of the albums is different, even though the subject matter is similar, so I tend to shy away more from comparisons between them…"
Young spent much of the 1980s experimenting with vastly different styles from electronic to rockabilly to hard-edged electric rock. Previous to Harvest Moon he explored the outer limits of guitar noise with the 1990 album Ragged Glory, recorded along with his sometime backing band, Crazy Horse. In this light, Young's return to his predominant style of the 1970s, was just another radical turn in style. While most longtime fans and critics appreciated this move, some found his return the antipathy of spontaneity and therefore less ambitious.

Harvest Moon

by

Neil Young
Released: October 27, 1992 (Columbia)
Produced by: Neil Young & Ben Keith
Recorded: Redwood Digital, Woodside, Sep 1991-Feb 1992
Track Listing
Band Musicians
Unknown Legend
From Hank to Hendrix
You and Me
Harvest Moon
War of Man
One of These Days
Such a Woman
Old King
God Smack
Dreamin' Man
Natural Beauty
Neil Young – Lead Vocals, Guitars, Piano, Banjo
Ben Keith – Pedal Steel, Marimba
Spooner Oldham – Piano, Keyboards
Tim Drummand – Bass
Kenny Buttrey– Drums


The opening track on Harvest Moon is "Unknown Legend", a song of romance and imagination which tells of an adventurous woman who has settled into the relative obscurity of domestic life and middle age. The sound is intentionally retro and haunting with the deep reverb and a sparse, acoustic arrangement beneath the strong melody which is harmonized by Linda Rondstadt. The song's lyrics are bittersweet and poetic;
"the chrome and steel she rides colliding with the very air she breathes…"
"From Hank to Hendrix" is a self-reflective county-rock song which speaks of Young's own diverse influences and is led by a strong harmonica riff musically while it lyrically sounds like it may have been influenced by younger contemporaries like Tom Petty. "You and Me" is the most direct link back to Harvest, with strong elements of "Old Man" and "Needle and the Damage Done" evident implicitly and explicitly. It is a personal and introspective ballad with a very sparse arrangement of just acoustic guitar and vocals by Young and Nicolette Larsen who does some fine harmonizing.
What truly makes the album a masterpiece is the absolute masterpiece of a title song, "Harvest Moon". The song celebrates longevity in relationships and love affairs with a flawless melody backed by a perfect music arrangement. From the upfront acoustic riffing to the picked steel guitar, subtleties of ethereal sounds, soft brush strokes on the drums, and beautiful background vocals, this song captures the essence of beauty and romance as well any song ever.
The middle of the album contains a couple more Neil Young classics. "War of Man" is dark folk with an Americana aura throughout, where Young comments on the destructive tendencies of mankind. It contains a haunting acoustic arrangement with some interesting presence by Drummand on bass, who breaks into an almost-rock rhythm towards the end. In comparison to the cynical "War of Man", the next song "One Of These Days" could not be more different in tone, although similar in overall quality as a song. It is a song of gratitude and appreciation of friends and acquaintances, set to a moderate Nashville beat with more great melodies and harmonies.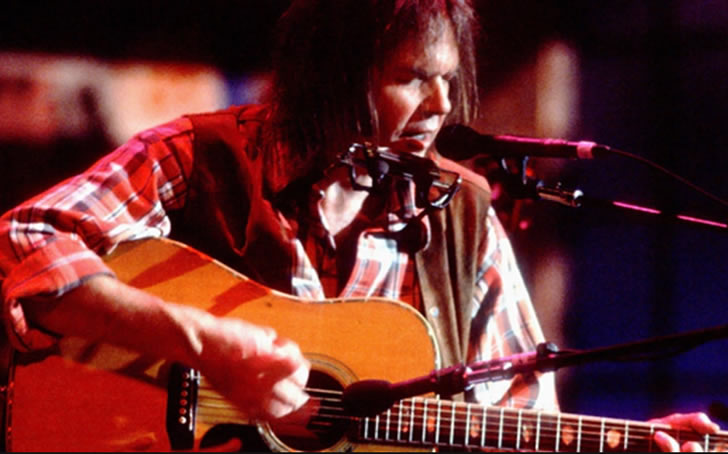 The album next thins a bit with the all-to-soft piano and orchestral ballad "Such a Woman" and the frivolous "Old King", which is only finds salvation with the fine banjo picking by Young. However, the album does end strong with the return to the solid, Nashville-influenced accessibility in "Dreamin' Man" and the ten minute, live acoustic closer "Natural Beauty". This last song is a gentle, minor-key folk song which uses nature as an allegory for love.
Harvest Moon was Young's 21st overall album and, although it was highly reflective, it was far from his last. In fact, just this month (June 2012) Young released his 34th overall album, a collection of traditional standards called Americana, which he recorded along with Crazy Horse. It may seem absurd to suggest that Young may still be around making music in yet another 20 years, when he'll be age 86. But we wouldn't bet against it.
~

Part of Classic Rock Review's celebration of 1992 albums.