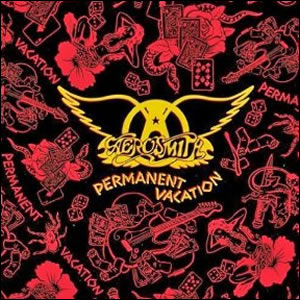 In spite of their much celebrated "reunion" in 1984, two years later Aerosmith was still a band in turmoil. Their 1985 album Done With Mirrors did not do so well commercially and various members of the band were still struggling with the alcohol and drug habits which caused their initial split in 1979. Still, the band was determined to get back to the top of the rock world and made a concerted effort to make their next studio album the vehicle on which to make that rise. Permanent Vacation pretty much accomplished this goal, but not before some tough decisions were made. The band's label, Geffen Records, insisted that they would only fund this recording if all five band members complete a drug and alcohol rehab program (which they did). Also, after listening to the demos, Geffen insisted that outside songwriters be brought in to work with the band members, a tough condition to accept for a band that had previously recorded eight albums of all original material over the preceding fourteen years.
The "song doctors" which were hired fired for this project were Desmond Child and Jim Vallance. Child was a Florida resident who had a minor hit with his band Rouge in 1979 before deciding to dedicate his time to strictly songwriting. He penned some hits for bands like Cher, Kiss, Bon Jovi, Poison, and Joan Jett before writing pop hits for Aerosmith starting with this album, through the 1990s. Vallance was best know for his songwriting partnership with Bryan Adams which lasted through his first five solo albums and all of Adams' early hits. Vallance also wrote songs for Kiss, Bonnie Raitt, and Northern Lights, and would also help to write several hit songs for Aerosmith through the mid 1990s. Permanent Vacation was recorded in Vallance's hometown of Vancouver and produced by Bruce Fairbairn.
As for the band members of Aerosmith themselves, they credit the fact that they successfully "cleaned up" for reawakening their musical zest. This was most evident right out front with vocalist Steven Tyler, who especially shined on this album with his strong and dynamic singing, catchy hooks, interesting lyrics, and even a return to his blues roots with prolific harp playing. The combination of the polished pop songs, classic-era rockers, and a judicious amount of experimentation made for a successful combination on this album with very few weak points throughout.

Permanent Vacation

by

Aerosmith
Released: August 18, 1987 (Geffen)
Produced by: Bruce Fairbairn
Recorded: Little Mountain Sound Studios, Vancouver, BC, March–May 1987
Side One
Side Two
Heart's Done Time
Magic Touch
Rag Doll
Simoriah
Dude (Looks Like a Lady)
St. John
Hangman Jury
Girl Keeps Coming Apart
Angel
Permanent Vacation
I'm Down
The Movie
Band Musicians
Steven Tyler – Lead Vocals, Harmonica, Piano | Joe Perry – Guitars, Vocals
Brad Whitford – Guitars | Tom Hamilton – Bass | Joey Kramer – Drums
The album begins with a couple of riff driven rockers by Tyler and lead guitars Joe Perry along with one each of the "song doctors". "Heart's Done Time", co-written by Child, provides an intense intro section and some autobiographical lyrics which seem to tell of the band's rocky journey to this point in their career. "Magic Touch", co-written by Vallance contains some signature Perry-style muddy guitar riffs with decent, melodic vocals by Tyler.
"Rag Doll" was one of three charting hits from the album and brings in yet another professional songwriter, Holly Knight, who collaborated with Vallance and Tyler in a swinging hybrid between 1940s "hit parade" and 1980s "hair rock". A strong horn section along with Perry's slide guitar sweeten the song nicely and add a contrast like no other to the album. The following "Simoriah" contains textured riffs and soaring vocals, returning the band to the full-fledged rock n roll realm.
"Dude (Looks Like a Lady)" -was co-written by Child and became the band's biggest hit in years. This clavichord led, brass intensive was originally written as "Cruisin' for a Lady" but was updated after Tyler met the band Mötley Crüe and derived from their California "dude" talk, this new title, refrain, and narrative.
The most interesting songs on the album bookend the end of side one and beginning of side two, as each returns to some of the band's vintage roots. The earthy blues of "St. John" hearkens back to Aerosmith's very first album in 1973 and is more blues than rock, although there is still plenty of both. The excellent, harmonica-driven "Hangman Jury" starts as a perfect rendition of acoustic blues, with porch swing on a summer night effects included, before breaking into an upbeat Aerosmith rocker circa mid-1970s. In fact, the opening rendition was so perfect that that the band was later sued by blues man Lead Belly's estate for royalties.
"Girl Keeps Coming Apart" is a frenzied and exciting song, led by the driving drums by Joey Kramer, the funky guitars and harmonies by Perry, and plenty of sonic splashes from horns and harmonicas throughout. Unfortunately, the album's momentum is broken by the power ballad "Angel" which, although a big radio hit, is the tackiest and most caricature-driven song. Aerosmith had a hand in creating this type of song, as they finished many of their 1970s albums with lighter fare, but with "Angel" they went just a tad too far and it is probably the weakest moment on the album. The Caribbean-influenced title track follows, which was co-written by guitarist Brad Whitford and is quite fun and entertaining.
Of the scores of artists that attempted to cover Beatles songs over the years, Aerosmith has done the best job. I've long opined, to much controversy, that their 1978 cover of "Come Together" was superior to the 1969 original, and the same may be true of "I'm Down" on this album, which adds some great sound to the famous Shea Stadium performance of the song by the Beatles 22 years earlier, which looked like a lot of fun but really couldn't be heard over the screaming fans. The album concludes with "The Movie", a weird instrumental credited to all five members of the band, but driven mainly by the pulsating bass line of Tom Hamilton, many added synthesized effects, and a spoken female voice in a foreign language.
Permanent Vacation is considered Aerosmith's true comeback album and went on to sell over five million copies in the U.S. alone. It would reinvent Aerosmith through the rest of the 1980s and throughout the 1990s, as they pretty followed the same formula and found continued commercial success.
~
R.A.