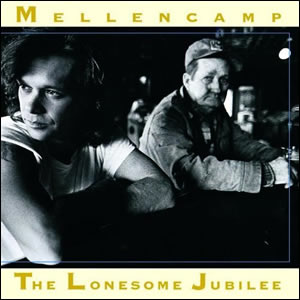 The Lonesome Jubilee is the ninth album by singer-songwriter John Mellencamp, who released many genres of music dating back to his days as "Johnny Cougar" in the mid 1970s. On this album, Mellencamp made a concerted effort to include rootsy, Americana instrumentation to complement the folk/rock style he had perfected through the 1980s. Unlike any previous album by Mellencamp, The Lonesome Jubilee was planned out in advance and was originally slated to be a double album. However, Mellancamp decided about half the songs he'd written didn't fit the overall concept so they were shelved and the album was cut back to a single record.
Following his previous album, Scarecrow in 1985 which mainly celebrated roots rock, Mellencamp and his band went on an extensive tour which helped them jive well as a band. With this new album, they a very distinct vision of what they wanted it to sound like from the beginning, with much expansion musically and the addition of fiddle, accordions, richer background vocals, banjos, and more acoustic arrangements in the tradition of folk and country.
The album was also the first to be recorded at Mellencamp's Indiana recording studio named Belmont Mall, built in 1984. It was co-produced by Don Gehman. Recording took about a "school year", starting in September 1986 and finishing up in June 1987.

The Lonesome Jubilee

by

John Mellencamp
Released: August 24, 1987 (Merury)
Produced by:John Mellencamp & Don Gehman
Recorded: Belmont Mall Studio in Belmont, IN, September 1986–June 1987
Side One
Side Two
Paper in Fire
Down and Out In Paradise
Check It Out
The Real Life
Cherry Bomb
We Are the People
Empty Hands
Hard Times for an Honest Man
Hotdogs and Hamburgers
Rooty Toot Toot
Primary Musicians
John Mellancamp – Lead Vocals, Guitars
Mike Wanchic – Guitars, Dobro
Larry Crane – Guitars, Mandolin, Harmonica
Tony Myers – Bass, Banjo
John Cascella – Keyboards, Accordion
Kenny Aronoff – Drums & Percussion
This album was one of Mellencamp's most commercially successful worldwide, charting in ten countries. This was due to two top ten and one top twenty charting songs, starting with the opener "Paper In Fire", an intense yet catchy song with good lyrical analogies and plenty of teaser riffs from the instrumentation being used on the album. This is followed by "Down and Out in Paradise", a basic folk-like bitch fest from the perspective of the down-trodden above a decent rock arrangement.
"Check It Out" is the best song on the album with a unique chorus structure and features John Cascella on accordion, front and center with strong rhythm backing throughout, especially by drummer Kenny Aronoff. "The Real Life" may be the closest song on the album to the early eighties folk/rock which brought Mellencamp to stardom in the first place, especially on his 1982 breakthrough American Fool.
Fiddle player Lisa Germano shines on the album's biggest hit "Cherry Bomb" on which she also provides vocals. Germano would become a permanent part of Mellencamp's band until the mid 1990s. The song itself follows a nostalgic trip back into the past in the "my how times have changed" strain.
The second side starts with the dark acoustic "We Are the People", which gives a nod to the tradition of Woody Guthrie, lead by the unique blend of chords of Mike Wanchic and banjo finger-picking by Tony Myers. "Empty Hands" was co-written by George Michael Green, a childhood friend of Mellencamp's who collaborated with him throughout his career. "Hard Times For an Honest Man" is loosely dedicate to John's Uncle Joe, who died of cancer around the time of the album. The album's closer "Rooty Toot Toot" is an upbeat alt-country song that became a minor charting hit.
The Lonesome Jubilee may be Mellencamp's strongest album, song for song and solidified his signature sound of Midwestern folk in the rock n roll era. Although he continued to have commercial success for many subsequent years, this 1987 album marked the peak of Mellencamp's career.
~

Part of Classic Rock Review's celebration of the 25th anniversary of 1987 albums.