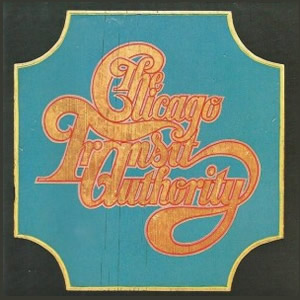 Chicago used their short-lived name for their double-length 1969 debut album, Chicago Transit Authority. From the inception, the seven member group fused brass, jazz, soul, and blues-based rock and roll and, with three lead vocalists and composers, the group's sound was as diverse as their influences. Producer James William Guercio had just come off a big commercial success with the group Blood, Sweat, and Tears and was able to convince a skeptical Columbia Records to release a double album for this then unknown group. Furthering the mystique of this album are the hard rock experimental tracks, which are at times intriguing and at times superfluous.
The roots of Chicago come from two distinct lines in and around the city which gave the group its name. The three primary members of the horn section, trumpeter Lee Loughnane, reed player Walter Parazaider and trombonist James Pankow were all music students at DePaul University. When the trio began playing in the clubs of the city, they encountered the rock and blues musicians which made up the other "side" of Chicago, primarily guitarist Terry Kath and drummer Danny Seraphine. By early 1967, the group was in place and rehearsing in Parazaider's basement under their original name "The Big Thing".
During the summer of 1968, Guercio moved the band to Los Angeles. As manager and producer, he set the pace for the band, making living arrangements, setting the practice schedule, and eventually changing their name to Chicago Transit Authority. The recordings for this double LP were made in short order in January 1969 and included the synthesis of electric guitar rock and deeply rooted blues and jazz arrangements. This brave foray into primal rock and free form jazz led to a unique water mark in the progression of rock and roll.

Chicago Transit Authority

by

Chicago
Released: April 28, 1969 (Columbia)
Produced by: James William Guercio
Recorded: Columbia Recording Studios, New York City, January 1969
Side One
Side Two
Introduction
Does Anybody Really Know What Time It Is?
Beginnings
Questions 67 and 68
Listen
Poem 58
Side Three
Side Four
Free Form Guitar
South California Purples
I'm a Man
Prologue, August 29, 1968
Someday (August 29, 1968)
Liberation
Group Musicians
Terry Kath – Guitars, Vocals
Robert Lamm – Keyboards, Vocals
Peter Cetera – Bass, Vocals
Lee Loughnane – Trumpets
James Pankow – Trombone
Walter Parazaider – Woodwinds, Percussion, Vocals
Danny Seraphine – Drums
Chicago Transit Authority contains four sides with three songs each. Kath's "Introduction" has a simple title for such a complex song with multiple parts and passages, almost like the group wanted to throw everything at the audience right up front. The long middle section between verses contains vastly diverse sections, albeit has rather routine phrasing, and is driven by the terrific drumming of Seraphine.
The most prolific writer on this first album is keyboardist Robert Lamm."Does Anybody Really Know What Time It Is?" is the first popular, radio-friendly song on the album. While an infectiously classic piece of popular music which showcases all aspects of the group's refined sound, the song is also a very philosophical piece lyrically. In all, everyone brought their 'A' game on this song, from the great lead and backing vocals, to the potent horns, melodic piano, and pleasant rhythms. On "Beginnings" Lamm switches to acoustic guitar for a pleasant and upbeat folksy feel. Seraphine's interesting drum variations complement the overall drive of the acoustic and bass and he adds a long percussion outro to a crescendo of horns in the "only the beginning" section, which only serves to heighten the romanticism of this song.
Side two begins with "Questions 67 and 68" where we first hear Peter Cetera, the future "voice" of Chicago. He sings melodic vocals and tradeoffs with Lamm and the song itself is so melodic and pleasant to the point where it seems like the horn section is a bit extraneous (or at least, a little over-used). The song was released as a single and reached #24 on the US charts. "Listen" is a succinct, driving rocker with sustained guitar feedback, funky bass, organ, and more horn accents along with a good rock guitar lead by Kath. Lamm's extended "Poem 58" is really two tracks fused as one. With a total funk guitar riff intro, the over five minute power-trio jam among Kath, Cetera, and Seraphine, sans-lyrics. Deep into the track, the rather disorganized jam becomes a proper song with vocals and horns above the basic guitar riffs by Cetera and Kath.
The oddest track on the album, Kath's "Free Form Guitar", begins the third side as a one take guitar expression. According to the album's original liner notes, the solo performance by Kath was created without the use of any pedals or effects. "South California Purples" contains a very basic blues groove, driven by Cetera's bass guitar. This leaves plenty of room for casual musical flourishes, first by Lamm's Hammond organ and later Kath's electric guitar. Although very repetitive, the song is interesting in its unique approach to traditional blues progression. The side ends with the only cover song on the album, "I'm a Man", originally recorded by the Spencer Davis Group. The most interesting part of the over-seven minute song is the very potent intro groove by Cetera and Serephine. While similar to Deep Purple's unique rock reinterpretations on their 1968 albums, there really isn't much here beyond the brilliant intro.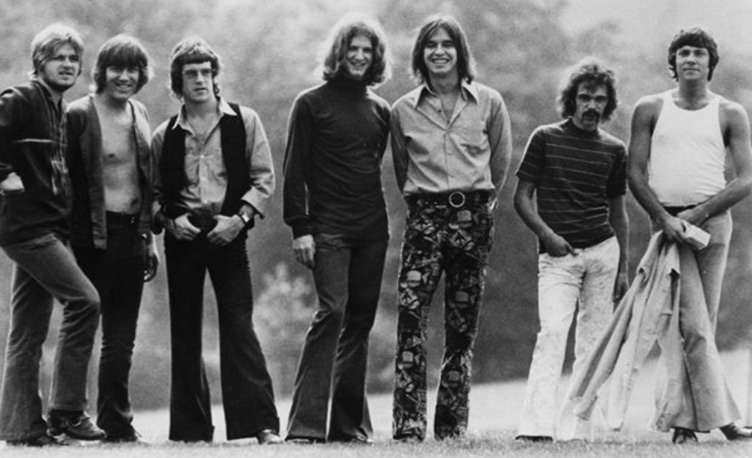 Much like we concluded in our assessment of the Beatles' White Album (another double length album), side four is unfortunately the weakest part of the album where the sound is the least fresh. "Prologue, August 29, 1968" is an odd montage of recorded chants from the 1968 Democratic convention protests in Chicago without very good editing. It acts as a lead-in for "Someday (August 29, 1968)", co-written by Pankow, and featuring a doomy start before it breaks into a decent and melodic tune over the course of two verses. After meandering for about a half minute with studio ambiance, the closer "Liberation" breaks into a good upbeat jam, first led by the horn section until Kath takes over for a very extended guitar solo. However, just about four minutes in the jam begins to lose focus (and Kath's guitar starts to sound out of tune) – and we still have ten minutes to go at this point! In all, the nearly fifteen minute song does little more than fill in the final side of the album.
In spite of this weak conclusion, Chicago Transit Authority is a fine album and an historic debut. It originally charted in the Top 20 on both sides of the Atlantic and found renewed success as the group's popularity rose through the early 1970s. Shortly after this album's release, legal action was threatened by the actual Chicago Transit Authority, and the group decided to simply reduce their name to Chicago, which they still use to this day.
~

Part of Classic Rock Review's celebration of 1969 albums.