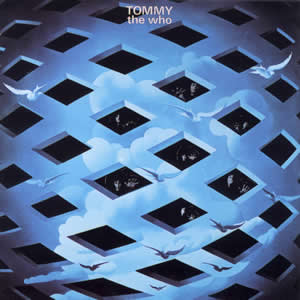 If any humble reader seeks to be enlightened to the ways of spiritual rock and roll I'd suggest they start with Tommy. The fourth studio album by The Who is a masterpiece that seamlessly blends both music and storytelling. It is far more developed than the Who's 1967 concept album, The Who Sell Out, and more immediately accessible than their 1973 classic, Quadrophenia. Like all of the group's late 1960s works, the album was produced by manager Kit Lambert and composed by guitarist Pete Townshend, whose writing was inspired by Meher Baba, an Indian spiritual master who had passed away earlier in 1969.
I first encountered this album in its movie form of the same name. That movie starred lead singer Roger Daltry along with a star-studded cast, and could easily fill up its own review based on musical arrangements and cultural importance. I couldn't have been more than 10 years old at the time but it somehow drew me right in. The impression of the film lasted into my years of teenage angst when I would rediscover the film and album by extension. This would lead me to my ultimate transcendental knowledge of The Who in all their magical glory. Now I will lead you my dear reader on the beginning of your own journey into the Who, or if you already know their might, perhaps you will simply enjoy reviewing this jewel of rock opera!
Rock opera you ask? Musically, Tommy includes many throwbacks to classical opera. The album starts with a broad overture that includes themes that will appear later in the album. This is a staple of opera to this day. It dates back to at least the 17th Century but the Who were the band that brought it into 20th century progressive rock. Later in the album there is a track called "Underture" but this is not connected to classical opera as far as I know. It is an invention of Townshend's, which essentially acts as a dividing instrumental in the album. Nevertheless, it adds to the album's operatic vibe. Each character that appears in the album has their own song associated with them that gives the listener a good feeling for their essence portrayed both in music and lyrics. But on the subject of character I suppose we should move into this opera's narrative.

Tommy

by

The Who
Released: May 23, 1969 (Polydor)
Produced by: Kit Lambert
Recorded: IBC Studios, London, September 1968-March 1969
Side One
Side Two
Overture
It's a Boy!
1921
Amazing Journey
Sparks
The Hawker
Christmas
Cousin Kevin
The Acid Queen
Underture
Side Three
Side Four
Do You Think It's Alright?
Fiddle About
Pinball Wizard
There's a Doctor
Go To the Mirror!
Tommy Can You Hear Me?
Smash the Mirror
Sensation
Miracle Cure
Sally Simpson
I'm Free
Welcome
Tommy's Holiday Camp
We're Not Gonna Take It
Group Musicians
Roger Daltrey – Lead Vocals, Harmonica
Pete Townshend – Guitars, Keyboards, Vocals
John Entwistle – Bass, Horns, Vocals
Keith Moon – Drums, Percussion, Vocals
Tommy is a young boy born to Captain Walker and his wife prior to World War I. During the war, Walker goes missing and his wife takes up with another man. This leads to disaster, when Captain Walker returns from the war alive confronting and killing his wife's lover. The parents tell young Tommy not to speak of the murder, which he witnessed, causing him to go into a catatonic state (deaf, dumb, and blind) for the majority of the album. He goes through various trials and tribulations as his parents cope with, and try to cure, his condition. During this time, the world catches wind of him as sensational pinball player. Finally, he regains awareness near the end of the album and attempts to spread what he learned from the experience only to find most people less than receptive to his teachings. It is a fairly straightforward plot and most listeners should have no problem following Tommy on his journey through the album, even if they have to refer to the song's titles for guidance occasionally.
Musically, the album varies but it is very hard to take individual songs and separate them from the larger narrative. "Pinball Wizard" is a rare exception to this, as it stands fairly easily on its own as a singular song. Also, the song "Christmas" developed a life of its own, even being included on my countdown of the Top 12 Christmas Rock Songs of all time on BigBlueBullfrog.com. It perfectly captures the spirit of children on Christmas while it also concerns Tommy's parents worrying over their son's inability to accept Christianity into his life.
"1921" has some amazing vocal work and is the true start of the album as it is where Tommy's parents tell him to "never tell a soul" of what he saw. The best singular song on this album is "Sally Simpson" even though it is something of an anomaly on the album, as it does not directly concern Tommy nor is it told from his point of view. Instead, the song provides a side story involving a young woman who becomes infatuated with Tommy on a superficial school-girl level. She pays for the crush when she gets knocked out by security for rushing the stage. The song seems to be a warning against becoming obsessed with a cult of personality and carries a much clearer moral lesson than other tracks on the album.
The Who utilized a variety of new musical arrangements and sounds throughout Tommy. Keith Moon's drums seem somewhat subdued on most of the album but when they show up, you definitely know it. As he had in the past, bassist John Entwistle added brass instrumentation in strategic points on the album, even in a somewhat unnerving effect on "Fiddle About", a song about Tommy being molested by his "wicked" Uncle Ernie. But Townshend is the true driving force behind the album, first recording the entire album with an acoustic guitar, giving it a somewhat lighter touch and organic feeling than many of the other Who albums. This also adds a sense of weight when the electric guitar shows up in songs like "Go to the Mirror". Townshend also adds piano, which serves a large role throughout most of the album. It is prevalent in the short song, "There's a Doctor", (a role amusingly played by Jack Nicholson in the film).
Tommy serves as a keystone for The Who's career, successfully bridging their earlier work and their more serious and musically ambitious later works, and is certainly a classic of rock and roll being released in the famed year of 1969. At Woodstock, the group performed songs from the album, which some said were the highlight of that classic festival. Serendipitously, the sun rose as Daltrey sang, "See Me, Feel Me", leading Entwistle to joke that, "God was our lighting man". For his next project, Townshend would attempt another Baba-influenced rock opera called, "Lifehouse", which never quite worked out as intended, but morphed into the fantastic 1971 album Who's Next.
Tommy is a must hear for music enthusiasts, is historically significant to the annals of rock and roll, and is immensely satisfying to both your ears and your mind.
~

Part of Classic Rock Review's celebration of 1969 albums.