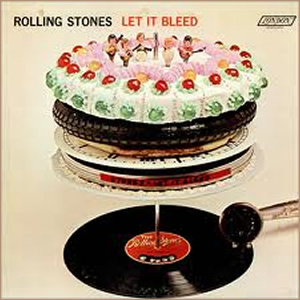 The middle release of the three greatest Rolling Stones albums, Let It Bleed finished the decade of the 1960s with a mostly solid blues/rock effort which contains a pop/rock gem. That song has been said to symbolize the demise of the "swinging sixties", but can also lend meaning to many other situations, large and small. Closer to home, the Rolling Stones had lost their original leader and musical visionary Brian Jones to a drowning accident earlier in 1969, making this a true transitional album dividing the early and later periods of the band's most productive years. Let It Bleed did reach the top position on the UK charts as well as #3 on the Billboard Top Pop Albums chart in the US.
Jones performed minor roles on two of the album's nine tracks, while his replacement, Mick Taylor, plays guitar on only two tracks. This left a lot of space for Keith Richards to fill with various electric, acoustic, and steel guitars making this his finest output of his long career with the Stones. The dichotomy of order turning to disarray is portrayed in the carefully orchestrated cover image of several diverse items being supported by a record spindle, following into a chaotic state on the back cover of the LP.
A song recorded during the sessions for Let It Bleed but not included on the album was the popular hit, "Honky Tonk Woman". Here Richard's electric riff drove the song to number one on the singles chart during the summer of 1969, shortly after the death of Jones. A fiddle-laced earlier version of the song called "Country Honk" (on which Jones played) did appear on the album, complete with weird ambiance at the very beginning and very end. This version doesn't have quite the spark of the single version, especially when it comes to the rhythm section, but it does show the group in a legitimate country stomp.

Let It Bleed

by

The Rolling Stones
Released: December 5, 1969 (Decca)
Produced by: Jimmy Miller
Recorded: Olympic Studios, London, November 1968-November 1969
Side One
Side Two
Gimme Shelter
Love in Vein
Country Honk
Live With Me
Let it Bleed
Midnight Rambler
You Got the Silver
Monkey Man
You Can't Always Get What You Want
Band Musicians
Mick Jagger – Lead Vocals, Harmonica
Keith Richards – Guitars, Vocals
Mick Taylor – Guitars
Brian Jones – Congas, Autoharp
Bill Wyman – Bass, Vibes
Charlie Watts – Drums, Percussion
The true gem on Let It Bleed (and perhaps the best Stones song ever) is the closer, "You Can't Always Get What You Want". While a most adequate way for the Stones to conclude their sixties work, the song was actually recorded a year earlier in November 1968, before their previous album, Beggars Banquet, was even released. A mature song with fantastic content and sound, "You Can't Always Get What You Want", starts with a choral arrangement which morphs into a straight-forward acoustic folk ballad with French horn solo played by Al Kooper, who also played piano and organ during the later funk/rock sections. Lyrically, the song contains poetic lyrics most especially the classic extended verse;
I went down to the Chelsea drugstore, to get your prescription filled, I was standing in line with Mr. Jitters and man, did he look pretty ill
We decided that we would have a soda, my favorite flavor's cherry red / I sang my song to Mr. Jitters and he said one word to me and that was death
This lyric gives a rather pedestrian story to the otherwise rock star lifestyle and you can see this song's influence on future hybrid songs such as "American Pie". During the fade, the London Bach Choir reenters for an extended outro which finishes the song and album nicely.
The album begins with "Gimme Shelter", starting with a lot of sonic style with a sound that is distant and slightly doomy. Richard's hammer-on guitar notes bed the ethereal singing of Mary Clayton, who trades vocal jabs with lead vocalist Mick Jagger through the apocalyptic lyrics of impending doom. Jagger and Richards wrote the original material on Let It Bleed, with Robert Johnson's "Love in Vain" being the only cover. With nice overall acoustic and slide guitar effects, this was indicative of the group's turn towards acoustic country blues, complete with mandolin by Ry Cooder.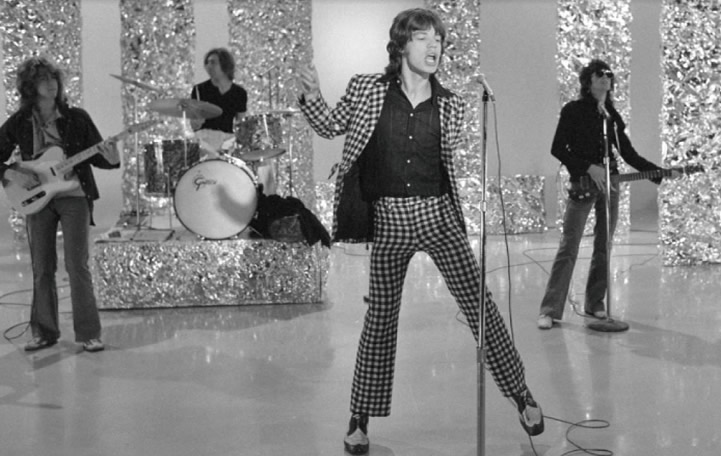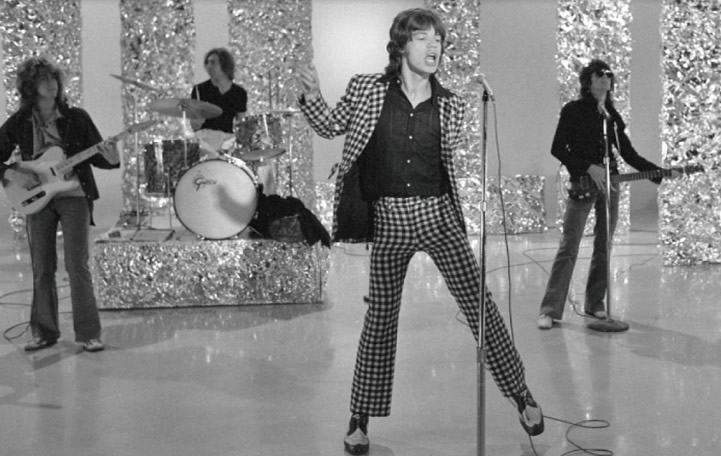 "Live With Me" is a forgotten classic – funk influenced throughout and a forward-looking towards the Stones' seventies sound. Beginning with cool bass riff by Bill Wyman, this definitive group number displays the group hitting on all cylinders during their prime. The title track "Let It Bleed" is a unidirectional song where a simple acoustic diddy builds throughout with new instruments gradually added. Jagger provides good vocal melodies and drummer Charlie Watts builds some good rhythm on this great tune to wrap up the first side, even if the song does linger a bit too long.
Side two begins with "Midnight Rambler", a pure blues track which harkens back to the group's earliest work musically with consistent, overdubbed harmonica by Jagger throughout its nearly seven minutes. With Brian Jones on congas, the song works into a frenzy before coming to a complete stop and builds up once again for the second half. "You Got the Silver" is more acoustic blues with cool electric riffs treated with reverse echo near the beginning of each verse and a subtle Hammond organ section before the song breaks into a full band arrangement during the final minute. It is also the only song on the album on which Richards sings lead vocals. Another song laced great sound effects, "Monkey Man" begins with cool piano, jazzy bass, and bluesy guitar expertly mixed. Richards' guitar may be intentionally too loud in the mix for further effect, as the song's style sets the stage for the material on their next album, Sticky Fingers.
By the end of the sixties, the Rolling Stones music had tones that were both textually dark and musically clear. This was further symbolized just one day after the release of Let It Bleed, the group played the infamous Altamont concert where a man lost his life during a riot as the band performed.
~

Part of Classic Rock Review's celebration of 1969 albums.