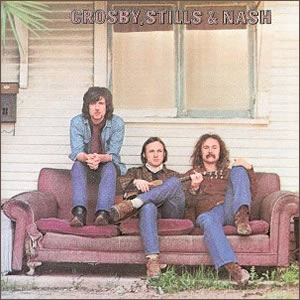 Crosby, Stills & Nash is an extremely rich and influential debut album from the "super group" of the same name. The trio of vocalists / guitarists which forged this group each came from successful 1960s pop/rock acts. David Crosby was from The Byrds, and Stephen Stills played in Buffalo Springfield, both Southern California folk/rock groups, while Graham Nash was from the British pop group The Hollies. Together, the group put an original twist on folk, country, blues, and rock topped by their masterfully blended three-part harmonies. Many credit this album for helping spawn the prolific soft rock groups of the 1970s which dominate many of the pop charts through that decade.
Crosby was dismissed from The Byrds in late 1967 due to internal conflicts, while Buffalo Springfield broke up a few months later, leaving Stills without a permanent gig. The two met informally during a jam with Jefferson Airplane's Paul Kantner. Crosby knew Nash from a UK tour in 1966 featuring The Byrds and The Hollies. The three members first performed together at a private party in July 1968 where they instantly realized they had a unique vocal chemistry. This sparked Nash to depart from The Hollies and use their surnames as the title of a brand new group.
The debut album was co-produced by Bill Halverson, in collaboration with the three members of the band. Musically, Stills took the lead role by providing most of the lead guitars, bass, and keyboards along with his vocal parts. Crosby and Nash each added some acoustic and/or rhythm guitar along with their vocals, with Dallas Taylor providing drums. The simple, improvised album cover features the three members sitting on a couch in front of an abandoned homes just days before that dwelling was torn down.

Crosby, Stills & Nash

by

Crosby, Stills & Nash
Released: May 29, 1969 (Atlantic)
Produced by: Bill Halverson, David Crosby, Stephen Stills and Graham Nash
Recorded: Wally Heider's Studio III, Los Angeles, June 1968-April 1969
Side One
Side Two
Suite: Judy Blue Eyes
Marrakesh Express
Guinnevere
You Don't Have to Cry
Pre-Road Downs
Wooden Ships
Lady of the Island
Helplessly Hoping
Long Time Gone
49 Bye-Byes
Group Musicians
Stephen Stills – Guitars, Bass, Keyboards, Percussion, Vocals
David Crosby – Guitars, Vocals
Graham Nash – Guitars, Vocals
The seven and a half minute "Suite: Judy Blue Eyes" is a true suite in every way. Stills wrote this about his former girlfriend, folk singer Judy Collins. It is an early example of truly progressive music built on acoustic rhythms and harmonies throughout it's four distinct sections. The first section is a traditional pop song, with the second, slower section focused on three-part harmonies, concluding with a brief acoustic lead by Stills. A unique percussion is played during the third part with a full drumbeat introducing the climatic ending part, which features some Spanish lyrics accompanying the famous "doo-doo-doo-da-doo" vocals. The song actually preceded Nash's involvement in the group and was the very first recorded once he joined in mid 1968.
"Marrakesh Express" is a short but pleasant pop song by Nash, written while he was still with The Hollies but originally rejected by that group. It features an unforgettable, well-treated lead guitar by Stills and less harmonizing than on the opening song. The song was a pop hit, reaching the Top 10 on the Billboard charts. Stills' guitar riff floats over the song in a way reminiscent of the sitar. Crosby's initial contribution, "Guinnevere", is much darker song than preceding two songs. Very soft and hypnotic, the song never picks up the pace or the intensity and features strange tuning and time signatures.
Side one concludes with Stills', "You Don't Have to Cry", a pleasant country-influenced song with more fine three-part harmony and some pedal steel, and Nash's "Pre-Road Downs", which features really cool pedal effects on the lead guitars and cool, funky bass. The second side begins with "Wooden Ships", a song which dates back to the original jam of Crosby, Stills, and Kantner (who co-wrote the song and did his own version with Jefferson Airplane), and is the only songwriting collaboration on the album. The song was written from the point of view of the few survivors of a post-apocalyptic world, with Crosby using his boat to set the scene.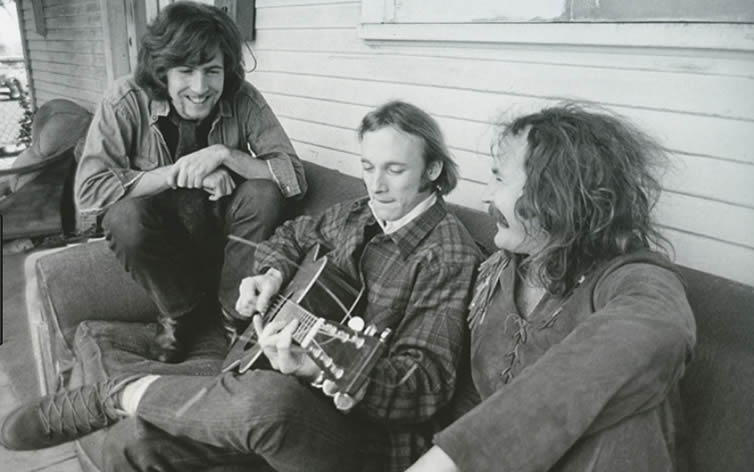 Next comes a couple of pure folk tunes, "Lady of the Island" is nearly all Nash, with Stills adding some laid-back harmonies in a duet reminiscent of Simon and Garfunkel. "Helplessly Hoping" returns to the rich harmonies with some beautifully done, picked acoustic providing the sole backing throughout this quintessential Crosby, Stills, & Nash song.
"Long Time Gone" is a cool 1960s pop/rock song with Stills playing a great funky bass, organ, with lead guitar licks throughout the verse and fantastically strong harmonies in rock context during the chorus. Crosby wrote it the night Bobby Kennedy was assassinated by Sirhan Sirhan. The album concludes with the fine, "49 Bye-Byes", a rock waltz led by choppy organ and more great multi-part vocals. The song breaks into some interesting sections (almost its own mini-suite) and really rocks in its own way while never getting too intense.
Crosby, Stills, & Nash peaked at #6 on the Billboard Albums chart. After its release, the group played some high-profile shows, including the famous Woodstock Music Festival. Later in 1969, the group joined up with Neil Young, expanding the trio to a quartet as the new decade began.
~

Part of Classic Rock Review's celebration of 1969 albums.