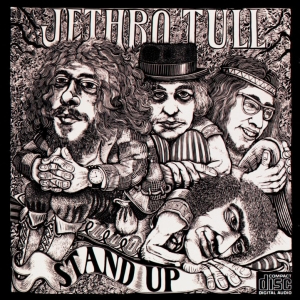 1969's Stand Up is an early classic by Jethro Tull. The album was produced in the wake of a splitting of musical directions, as the band's original guitarist Mick Abrahams left the group due to differing musical philosophies with Jethro Tull's lead vocalist and primary composer Ian Anderson. The band's 1968 debut album, This Was, was primarily blues-rock based, which Abrahams wanted to continue but Anderson was moving towards folk, jazz, and classical fusions of rock and roll. Stand Up would strike a nice balance of both musical directions as well as strike a chord with music fans, as it went all the way to #1 on the UK album charts.
The origin of the band dates back to the early 1960s in Blackpool, England, when several future members of Jethro Tull were involved in a a seven-piece Blue-eyed soul band. In 1967 Anderson and bassist Glenn Cornick migrated to London and joined forces with Abrahams and drummer Clive Bunker to form the group which named itself after an 18th-century agriculturist. A long time guitarist, Anderson reportedly pursued the flute as a rock instrument out of frustration that he couldn't play as well as Eric Clapton. After a single album where Anderson and Abrahams were co-equal musical visionaries, Anderson found himself in full control of the music and lyrics on Stand Up.
To replace Abrahams, the group first turned to guitarist Tony Iommi, then from a group called Earth, which would later rename themselves Black Sabbath. Iommi performed with Jethro Tull during The Rolling Stones Rock and Roll Circus television show in late 1968, but soon returned to his former band. After auditioning several more guitarists (including future Yes guitarist Steve Howe, who failed his audition), Anderson eventually chose Martin Barre as Abrahams' permanent replacement on guitar. While Jethro Tull has had over 20 band members through their long career, Barre has remained with the group consistently (as of 2014), making him the second longest-standing member of the band after Anderson.
Prior to releasing Stand Up, the group recorded "Living In the Past", which was Barre's first recording with the band. This became one of Jethro Tull's best known songs while originally issued only as a single. Notable for it's 5/4 time signature, this melodic tune driven by a catchy melody became the band's first Top 20 hit, peaking at #11 in the US and #3 in the UK.

Stand Up

by

Jethro Tull
Released: August 1, 1969 (Island)
Produced by: Ian Anderson and Terry Ellis
Recorded: Morgan Studios, London, April 1969
Side One
Side Two
A New Day Yesterday
Jefferey Goes to Leicester Square
Bourée
Back To the Family
Look Into the Sun
Nothing Is Easy
Fat Man
We Used to Know
Reasons for Waiting
For a Thousand Mothers
Band Musicians
Ian Anderson – Lead Vocals, Flute, Guitars, Keyboards
Martin Barre – Guitars
Glenn Cornick – Bass
Clive Bunker – Drums, Percussion
A doomy blues rocker, with an almost psychedelic vibe, "A New Day Yesterday" works the same riff over and over. Anderson adds harmonica licks through the verse sections and a flute lead later on, but the song is dominated by the rock rhythms provided by the other players along with reverb and panning effects throughout. Probably influenced by Cream, this song is atypical for Jethro Tull and fresh–sounding. "Jeffrey Goes to Leicester Square" is the second in a series of songs which play tribute to Jeffrey Hammond-Hammond, a once and future band mate of Anderson's who would become Jethro Tull's future bassist. The song features guitar and bass riff leads to folk-style verse melody in an odd and asymmetrical song.
The lone instrumental on the album, "Bourée" is also the only track not composed by Anderson. Composed by Johann Sebastian Bach centuries earlier, the piece influenced a popular French folk dance called a bourrée. While the flute takes the lead throughout, the bass by Cornick is the real highlight of the track, which breaks into a jazzy rock jam near the middle before two overdubbed flutes in final section make for great effect to close the song.
With a slight and slow intro and more great bass riffs, "Back to the Family" contains laid back verses which are sub-divided by more straight-forward rock in the bridge sections that each conclude with flamboyant flute leads by Anderson, with Barre joining in on guitar later in the second one. The fantastic first side concludes with the acoustic ballad "Look into the Sun". A true folk ballad with fine guitars throughout by Anderson and instrumentation added throughout, such as electric blues riffs and bass guitar spurts.
"Nothing Is Easy" is a big time rock jam, especially towards the end. Bunker's drumming burns with rudiments between jamming verses and solos. A lead by Barre in the middle is soon interrupted by Anderson's flute, as the group may have tried a little too hard to be progressive with multiple parts, but nonetheless a great jam song. "Fat Man" contains Indian musical elements with sitar and hand percussion, while "We Used to Know" is another great acoustic ballad by Anderson. This latter song builds on repetitive chord pattern sections for lead instruments, including a couple of great leads by Barre where he chops out some great sonic motifs.
While certainly not as strong as the first side, side two does have its share of brilliant moments. "Reasons for Waiting" may be the best overall song on the album, with a fantastic melody and tone. Pretty much a ballad throughout with slight sections of rock tension thrown in after the choruses, Anderson's dual flute lead is accompanied by strings provided by David Palmer, which persist throughout the second half of the song. "For a Thousand Mothers" starts with a slight drum intro by Bunker before the song kicks in with much the same style and sonic intensity as the opener "New Day Yesterday", together paving way for emerging "heavy metal" music which would proliferate in the 1970s. After a grandiose false stop, Bunker restarts the tune for a closing instrumental section laced with about 30 seconds more of intense jamming to close the album.
Following the release of Stand Up, the group recorded and released "Sweet Dream" and "Witches Promise", both of which rose to become Top Ten non-album singles as Jethro Tull entered the 1970s with great momentum.
~

Part of Classic Rock Review's celebration of 1969 albums.