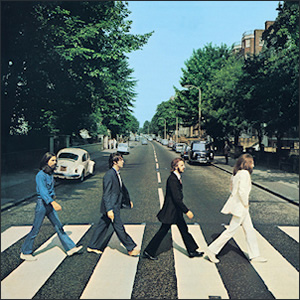 Short of careers cut short by tragedy, there are very few times in rock history where a band or artist finished with their greatest work. Abbey Road, the eleventh and final studio album by The Beatles, is one such occasion. Released in October of 1969, This album marks the last true collaboration all four Beatles in the studio with producer George Martin (Let It Be was released in April of 1970, weeks before the Beatles broke up, it was mostly recorded prior to any Abbey Road recording sessions). This final effort with their classic producer and at the studio they would make famous, Abbey Road would go on to tremendous popularity and critical success and become our of the Year for 1969.
It is no secret that the Beatles were going through internal turmoil later in their career. Having lost the glue that held them together, manager Brian Epstein just two years earlier, the band had been going through personal and financial struggles. The strained business relationship was complicated by the addition of John Lennon's new love interest, Yoko Ono, who was a constant presence in their recording sessions. During a break in recording in March 1969, Lennon and Ono were married and when Lennon returned from his honeymoon, he approached Paul McCartney with a song he had written about the occasions called "The Ballad of John and Yoko". The song was immediately recorded without George Harrison or Ringo Starr, who were both away from London when Lennon had his sudden inspiration. With McCartney on piano, bass, and drums, and Lennon on vocals and guitars, "The Ballad of John and Yoko" became the Beatles' 17th and final UK number one single, all done without half the group members knowledge or consent. But such was the case for the Beatles in 1969.
Early in the year, The Beatles seemed to be on the road to breaking up during the recording of what would become Let it Be, as each member had started doing solo projects. It was McCartney who approached George Martin and asked him to work with them on another studio album. Martin agreed as long as the band agreed to his strict discipline in the studio and let him have control over the production from start to finish. So, recording began in February 1969 with Martin at the helm as well as all four Beatles at Abbey Road Studio. Some of the early recordings for the Abbey Road sessions included non-album material which would surface elsewhere, such as Harrison's acoustic demo of "All Things Must Pass" (later on a solo album of the same name), McCartney's "Come And Get It" (a minor hit for Badfinger in 1970), and "Old Brown Shoe", an interesting composition by Harrison, used as the B-side for "The Ballad of John and Yoko". However, as the sessions moved along, the Beatles found their magic formula once again and made the classic Abbey Road music which showcases each member of the band performing at their finest level.

Abbey Road

by

The Beatles
Released: September 26, 1969 (Apple)
Produced by: George Martin
Recorded: EMI Abbey Road Studios, London, February-August 1969
Side One
Side Two
Come Together
Something
Maxwell's Silver Hammer
Oh Darling
Octopus's Garden
I Want You (She's So Heavy)
Here Comes the Sun
Because
You Never Give Me Your Money
Sun King
Mean Mr. Mustard
Polythene Pam
She Came In Through Bathroom Window
Golden Slumbers
Carry That Weight
The End
Her Majesty
Group Musicians
John Lennon – Guitars, Piano, Keyboards, Percussion, Vocals
Paul McCartney – Bass, Piano, Keyboards, Percussion, Vocals
George Harrison – Guitars, Keyboards, Percussion, Vocals
Ringo Starr – Drums, Percussion, Piano, Vocals
The album aptly begins with the Lennon led "Come Together" While the title sounds like a lead in to a hippie commune sing along, it is actually has a rougher edge to it with a funky bass, bluesy guitar and sloshy drums. "Come Together" and "Something" were released as a double A-sided single. George Harrison's, "Something", is often regarded as Harrison's finest composition. It is certainly one of the greatest love songs ever recorded. It starts with the line, "Something in the way she moves…" and the music flows right along with that movement. It has a natural, fluid feel to it with the steady bass, beautiful guitar riffs and cricket like sounds that lead into a perfect fade out.
"Maxwell's Silver Hammer" is a duplicitous song. The lyrics describing the antics of a sociopathic serial killer are in stark contrast to the syrupy sweet music. The anvil banging and McCartney's mischievous vocal delivery add to the effect that this is a children's song gone awry, but one can't help but sing along. The next McCartney led song, "Oh Darling" has a completely different style. McCartney's voice carries the whole thing. This doo-wop inspired song actually has a tinge of Motown in it with the intense, strained vocal and simple accompaniment.
Ringo Starr's contribution, "Octopus's Garden" is another childlike fantasy song. Ringo has said it was inspired by a story he had heard about how octopus like to gather shiny objects and make their own little "garden". This song lightens the mood after the intensity of "Oh Darling" and the black hole that ends side one, "I Want You, She's So Heavy". This is a lengthy indulgence that has some interesting parts, a few moments of brilliance and some superb musicianship. That said it carries on for a nearly eight minute decent into repetitive madness.
The second side is where the magic of this album really starts. It opens with the uplifting and fresh sounds of Harrison's second contribution, the sonic masterpiece, "Here Comes the Sun". The harmony of vocals and the light, catchy melody capture the feeling of rebirth that comes from a new beginning, like the sun coming out from behind the clouds as winter fades and spring blooms. This, along with the outstanding, "Something" may make this Harrison's best Beatles album ever. "Because" features a three part harmony tripled in production so it sounds like nine voices over a simple moog synthesizer and harpsichord. The vocals are masterful and the production technique is superb. Beethoven's, "Moonlight Sonata", played backwards, inspired the chords of the song.
"You Never Give Me Your Money" drops in perfectly with soft piano chords and dramatic vocals, there is a plethora of music in this piece. The sounds draw you in and the steady drum beat is mesmerizing. The production on this one is masterful as it leads the listener into the medley that is the heart of this production masterpiece. The production of these little vignettes is brilliant in how they blend together into a cohesive story. "Sun King" reprises the triple three part harmonies while, "Mean Mr. Mustard" and "Polythene Pam" are more upbeat and end in a crash. "She Came in through the Bathroom Window" was inspired by a determined female fan who crawled through a bathroom window of Paul's home. There is a cool riff going on throughout the song.
With a slight pause in the medley, "Golden Slumbers" rises as another melodramatic McCartney contribution showcasing his knack for making pretty melodies. This abruptly leads to "Carry That Weight", featuring a reprise of "You Never Give Me Your Money" where Ringo is prominent in the vocal harmonies. Fittingly, it all culminates with "The End". There is a showcase for each performer here. The guitar parts were done by Paul, John and George and Ringo has his only drum solo as a Beatle. It is a grand finale that brings this album, as well as the Beatles recording days, to an end in grand style.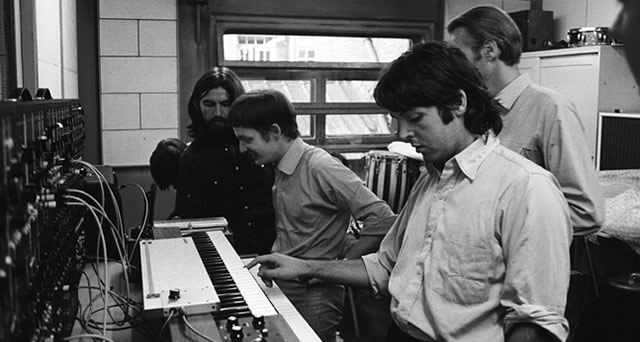 Abbey Road's cover, though it appears to be a simple shot of the band walking across the street in single file, has been said to have some clues to the rumored death of Paul McCartney. Paul is walking barefoot in a suit, George is dressed in jeans, much like a gravedigger, Ringo is dressed in similar fashion as an undertaker while John is dressed in white to symbolize a minister. Adding to the intrigue is the license plate on the VW that reads, "28 IF" as Paul would have been 28 if he had lived. Of course, Paul McCartney is not dead, but the "clues" became a fan obsession and the band seemed to have an endless supply of "clues" to egg them on.
Of course, the album was a huge success, reaching the top of the charts in scores of countries as the sixties came to an end. The songs on this album lean on each other much as the Beatles needed to lean on each other to produce the quality and quantity of music they made throughout their career. There are a few outstanding singles, but the medley only shines because they put together pieces of songs that weren't quite complete on their own and created something unique, special and fleeting as the Beatles rode off into history shortly after Abbey Road was released.
~

Part of Classic Rock Review's celebration of 1969 albums.