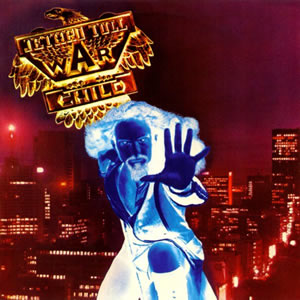 Jethro Tull made a sharp turn back towards a more traditionally structured album with War Child in 1974. Following two consecutive concept albums that each consisted of single, album-length suites, group leader Ian Anderson decided to focus on richer arrangements within shorter tracks of various rock sub-genres. The seventh studio album by the group in seven years, the album did not fare well among critics, who seemed confused by its non-standard approach. While the album is certainly uneven, it does contain some downright brilliant moments. And it may have contained more had some tracks not been omitted.
"Rainbow Blues" is choppy blues rocker that was later included on, M.U. The Best of Jethro Tull in 1976. "Glory Row" is an even better track, built on an acoustic core with a tremendous array of musical flourishes and textures. This song appeared on Repeat: The Best of Jethro Tull, Vol II in 1977. Other tracks were recorded when War Child was meant to accompany a film of the same name and planned as a double-album set, and many of these would not see the light of day until decades later, but were included as bonus tracks on the 2002 version of the album.
Prominently featured on the album and these bonus tracks are string arrangements by David Palmer, adding another dimension to the already rich arrangements. Palmer used a string quartet of all female players to complement the five men in the group, who composed their final album as a cohesive unit.

War Child

by

Jethro Tull
Released: October 14, 1974 (Chrysalis)
Produced by: Matthew Fisher
Recorded: Morgan Studios, London, 1974
Side One
Side Two
War Child
Queen and Country
Ladies
Back-Door Angels
Sealion
Skating Away on the Thin Ice of a New Day
Bungle In the Jungle
Only Solitaire
The Third Hoorah
Two Fingers
Group Musicians
Ian Anderson – Lead Vocals, Flute, Guitars, Saxophones
Martin Barre – Guitars
John Evan – Piano, Keyboards, Accordion
Jeffrey Hammond-Hammond – Bass
Barriemore Barlow – Drums, Percussion
Entering with air raid sound effects and later battle sounds, the title track "War Child" breaks in with a melodic piano and sax intro. The verses are strongly driven by the bass of Jeffrey Hammond with just a few splashes of electric guitar and piano riffs. Anderson's saxophone takes a large role in this opener, especially with the short but potent lead, and his largely cryptic lyrics use war as an allegory for a bad relationship. "Queen and Country" contains an accordion and contrasting rock riff in a choppy but ever-building song that touches on the over-taxation faced by many British rock n' roll "tax exiles" in the 1970s (as were Jethro Tull). Martin Barre adds an aggressive, over driven guitar that is the rock and roll glue for a track that may otherwise be in the realm of polka.
"Ladies" is dark acoustic folk, with a more prominent flute than on the previous two tracks, bringing back Jethro Tull's traditional English folk and classical tendencies. This song later morphs into a driving rock rhythm during the closing fade-out. At first, "Back-Door Angels" seems a bit disjointed and unorganized, but it launches into an impressive jam initiated by the wild sounding synth lead of John Evan. "Sealion" is the most intense and free-form rock song on the first side, with a chorus section being more like a carnival beat. Lyrically a critique of the music industry, this track's rock arrangement gives drummer Barriemore Barlow a real chance to shine.
Side two is far superior to side one, with the first three tracks actually predating the sessions for War Child. The three were written and recorded in Paris for an album following 1972's Thick As a Brick, but abandoned when Anderson decided to do another concept album with 1973's A Passion Play. "Skating Away on the Thin Ice of the New Day" is the true gem of this group, and the album as a whole. This brilliant song starts as a simple and melodic acoustic folk song by Anderson, which builds with richer and richer arrangement as it goes along. Accordion, flute, electric guitar, xylophone, bass and drums are all added in turn as the track packs much into its four minutes while each new instrument is given its own space in the mix, showing the quality of Anderson's production as well as his songwriting. Lyrically, the song is a poetic ode to an ever-increasingly hectic life;
"And as you cross the circle line, the ice-wall creaks behind, you're a rabbit on the run. And the silver splinters fly in the corner of your eye shining in the setting sun. Well, do you ever get the feeling that the story's too damn real and in the present tense? Or that everybody's on the stage, and it seems like you're the only person sitting in the audience?"
"Bungle in the Jungle" is a great allegory about romance and the perfect pop song for this album. Here, the string arrangements by Palmer are most effective, making this the most melodic and accessible track on the album. Written in late 1972, Anderson used human conditions and emotions as analogies to the stereotypical animal behaviors. "Only Solitaire" is more of an outtake than a proper song but is a rather apt folk acoustic that gets off to a great start with good harmonies but then annoying breaks down and ends after a minute and a half.
"The Third Hoorah" is an upbeat and fun European marching song with a nice mix of acoustic, harpsichord, Scottish, and rock elements to make it interesting musically. Anderson heavily borrows lyrics from the album's opening title song, in what seems to be an attempt to give the album a unifying theme. Closing things out, "Two Fingers" is the most like a mid-seventies classic rock song in approach, with another great performance by Barre and Hammond. The song is an updated version of an unreleased track recorded for Aqualung in 1971 called "Lick Your Fingers Clean".
In spite of the critical panning, War Child reached number two on the U.S. pop albums chart and quickly went went Gold. The album was followed-up by Minstrel In the Gallery in 1975 (on which Palmer became an official band member) and the 1976 album Too Old to Rock n' Roll, Too Young to Die, which was Anderson's final attempt at a theatrical rock production.
~

Part of Classic Rock Review's celebration of 1974 albums.