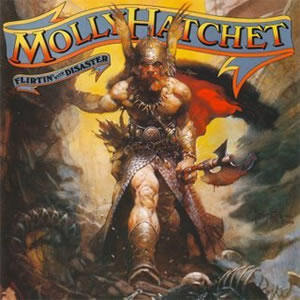 Molly Hatchet's great wall of distorted guitars found its high point on their second studio album Flirtin' with Disaster, released in 1979. Like Lynard Skynard on steroids, this album touches on the conventional late-seventies theme of rocking out and partying hard. However, the group accomplishes this atmosphere by the non-conventional means of using a triple-guitar attack of axemen Steve Holland, Dave Hlubak and Duane Roland, who alternate roles  playing rhythm, lead, and/or harmonized electric guitars.
The group was formed by Hlubek and Holland in Jacksonville, Florida in 1975 and took their name from an urban legend about a prostitute who mutilated her clients. The group was managed by Pat Armstrong, who had briefly been co-manager of Lynyrd Skynyrd and had Molly Hatchet record their original demo tracks at Skynard's studio. Further, Ronnie Van Zant was set to produce the debut album by Molly Hatchet but lost his life in a plane crash in late 1977.
Producer Tom Werman ultimately took the reigns for that self-titled 1978 debut and stayed on for Flirtin' With Disaster, which was recorded in studios on both coasts. Musically, it's a hard driving rock record, plain and simple with no frills or lofty concepts.The mythical cover art is a painting by Frank Frazetta entitled "Dark Kingdom".

Flirtin' With Disaster

by

Molly Hatchet
Released: October, 1979 (Epic)
Produced by: Tom Werman
Recorded: Bee Jay Recording Studios, Orlando & Record Plant Studios, Los Angeles, 1979
Side One
Side Two
Whiskey Man
It's All Over Now
One Man's Pleasure
Jukin' City
Boogie No More
Flirtin' With Disaster
Good Rockin'
Gunsmoke
Long Time
Let the Good Times Roll
Group Musicians
Danny Joe Brown – Lead Vocals  |  Duane Roland – Guitars
Steve Holland – Guitars  |  Dave Hlubak – Guitars
Banner Thomas – Bass  |  Bruce Crump – Drums
Nine of the ten tracks on Flirtin' With Disaster are original and eight of those were co-written by lead vocalist Danny Joe Brown. After a thick intro comes a short but sweet harmonica lead in "Whiskey Man". On this opening track the guitars are used very efficiently in a harmonized lead over the strong chords of the bridge as the lyrics focus on the dangers of partying too hard. The cover "It's All Over Now" starts with a drum roll intro and overall strong drumming by Bruce Crump, along with some boogie piano by guest Jai Winding on this song which was the first number-one hit for the Rolling Stones a decade and a half earlier.
"One Man's Pleasure" is different than previous tracks, as it is mainly guided by the steady bass of Banner Thomas through the song proper with the guitars adding texture for the overall rhythm and beat (until the blistering guitar lead). "Jukin' City" starts with three-note riff which forms the basis for much of the song, although there are some rudimental parts that make it all interesting later on. A slow, measured rock riff with bluesy guitars layered on top kicks off "Boogie No More", which soon abruptly changes direction and tempo to launch into an extended, "Freebird"-like jam for the final four-plus minutes of the track.
The second side begins with the title song, "Flirtin' with Disaster", a true rock classic by Brown, Hlubek, and Thomas which rolls full throttle through every second of its five minute duration. The only single from the album, the song barely failed to reach the Top 40 but remained on the pop charts for 10 weeks. More importantly, this became the band's signature track which most closely resembled their creed of living fast, hard, and close to the edge.
After a tremendous peak, the album loses a bit of edge on the next few tracks. "Good Rockin'" is a bit too standard Alt-Country, while "Gunsmoke" starts with a cow-bell led beat, some boogie-piano and bouncy bass, but gets crowded out on this album. Things do change up a bit on "Long Time", which has a bit of a darker feel.  The album ends strong with, "Let the Good Times Roll", another good jam with animated drums and crisp guitar orchestration. This closing song sounds like it could have been a pop hit under the right circumstances and contains an ending jam with some of the finest Southern rock elements and rudiments.
Flirtin' With Disaster reached the To 20 of the Pop Albums chart and sold over two million copies in the U.S. However, Brown soon left the band due to health problems. Although he would return to the Molly Hatchet lineup in the early eighties, the group never regained their footing and would completely abandon their original style to try to gain favor with new audiences.
~

Part of Classic Rock Review's celebration of 1979 albums.