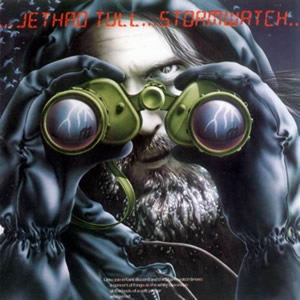 Stormwatch was the twelfth studio album by Jethro Tull in twelve years, as they released exactly one album per year from the start of their career in 1968. Like all Jethro Tull albums, Ian Anderson is the chief composer and visionary of the musical and thematical directions, with this one heavily focused on the worldwide issues at the end of the 1970s. This is the last Tull album to feature the classic line-up of the 1970s. Stormwatch also became the final album for keyboardist John Evan and drummer Barriemore Barlow, both of whom had been with the band for close to a decade. This was also the final appearance of bassist John Glascock, who died following heart surgery a few weeks after the release of the album.
In the mid-1970s, Jethro Tull continued the pattern they developed earlier in the decade, with 1975's Minstrel In the Gallery closely resembling Aqualung in its approach and the follow-up, Too Old to Rock n' Roll, Too Young to Die being a concept album like Thick As a Brick four years earlier. During this time, the band's studio orchestra arranger, David Palmer, became an official member of the band. In 1977, the group turned to a more solid folk approach with the album Songs From the Wood. This was followed by the similarly folk album Heavy Horses in 1978 and an extensive tour where Glascock's health issues first surfaced.
Many consider Stormwatch to be the third album of a "folk trilogy". However, this album is much darker and more serious in its approach lyrically and far more varied musically than the two previous albums. Co-produced by Robin Black, the confluence of musical factors makes this a unique Jethro Tull album.

Stormwatch

by

Jethro Tull
Released: September 14, 1979 (Chrysalis)
Produced by: Ian Anderson & Robin Black
Recorded: Maison Rouge Studio, London, Spring-Summer 1979
Side One
Side Two
North Sea Oil
Orion
Home
Dark Ages
Warm Sporran
Something's On the Move
Old Ghosts
Dun Ringill
Flying Dutchman
Elegy
Group Musicians
Ian Anderson – Lead Vocals, Flute, Guitars, Bass
Martin Barre – Guitars, Mandolin
David Palmer – Keyboards, Orchestral
John Evan – Piano, Organ
Barriemore Barlow – Drums, Percussion
"North Sea Oil" begins with a rock waltz beat, similar to that used on the hit "Living In the Past" a decade earlier, but much more intense musically. Anderson' s ethereal vocals float above the music, which employs a full arrangement with great little music phrases moving in and out and a catchy refrain vocally. "Orion" packs in a lot of variety in less than four minutes, with the driving rock choruses giving way to folk verses of Anderson's strummed acoustic and Evan's piano. This is one of only three tracks that Glascock recorded, with Anderson taking up bass on the rest of the album, to go along with his usual singing, flute, and acoustic guitar duties. "Home" is, perhaps, Jethro Tull's only true "power ballad". Martin Barre performs some great harmonized electric guitars during the chorus to complement the simple but touching lyrics;
"As the dawn sun breaks over sleepy gardens, I'll be here to do all things to comfort you / And though I've been away, left you alone this way, why don't you come awake and let your first smile take me home…"
"Dark Ages" reverts to full rock-opera mode, almost like Jethro Tull meets Pink Floyd. There is a reverse-effect on Anderson's vocals during the haunting intro part, while the rest of this extended suite is filled with musical motifs. While "Dark Ages" is mainly lyric driven, there is plenty of room for each musician to take center stage at some point along this nine and a half minute journey (even Anderson on bass). The first side concludes with the instrumental "Warm Sporran", an adult-oriented jazz shuffle and rhythm, built on a bass riff and topped by some Irish folk elements, complete with flute, mandolin, bagpipes, marching drums, some humming vocals. While not a bad listen, this is a bit out of place where it lands on the album.
"Something's On the Move" is planted firmly in riff-based rock n roll, as Anderson's slight flute riffs do not betray this mission focused on Barre's main guitar riff in many variations. "Old Ghosts" starts with a rock riff march that nicely morphs to an orchestral march during the verses, resulting in a melodic pop/rock song. "Dun Ringill" is a psychedelic folk tune that starts with highly treated spoken vocals before it fades into a sparse arrangement with just acoustics and multiple vocals by Anderson. This song borrowed its name from a historic site adjacent to a home Anderson once owned.
The second extended song on the album, "Flying Dutchman" starts with classical-style piano and flute, accented by brief rock-drenched guitars. A mandolin-driven pop arrangement follows in what is really the second side's answer to the extended "Dark Ages" on the first side, but not quite as interesting overall. What is interesting is "Elegy", the closing instrumental track. This was written by David Palmer (the only non-Anderson composition) as a moody and soft piece which eventually grows thicker in arrangement to elevate among the decade's best instrumental tracks. Although it was rumored that "Elegy" was a homage to Glascock, it was actually dedicated to Palmer's father and was recorded early in the sessions, making it one of the few tracks on which Glascock plays.
Stormwatch's theme and album cover seemed to be rather prophetic for the band, with the coming personnel departures and the confusing genre-bending of Jethro Tull's near future albums in the early 1980s.
~

Part of Classic Rock Review's celebration of 1979 albums.