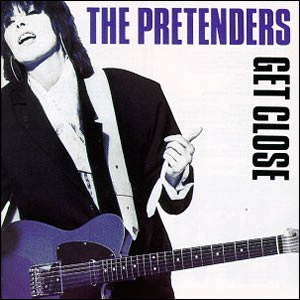 The fourth overall album by The Pretenders, the 1986 release Get Close, shows a radical musical transition by the group firmly controlled by composer and lead vocalist Chrissie Hynde. In fact, by the end of recording sessions for this album Hynde would be the only original member of the group remaining, as original drummer Martin Chambers was released from the band early in the recording process.
The Pretenders' original guitarist and bassist, James Honeyman-Scott and Pete Farndon, each died from substance abuse in 1982 and 1983 respectively. Hynde and Chambers decided to continue with the band and eventually added guitarist Robbie McIntosh and bassist Malcolm Foster for the 1984 album Learning to Crawl, a critical and commercial success. The band built on this success with a performance at Live Aid in 1985.
Produced by Steve Lillywhite, the first recording sessions for Get Close resulted in the album's final track, a slick pop cover of Jimi Hendrix's "Room Full of Mirrors". It was here that Hynde decided that Chambers' playing had deteriorated and fired him from the band, which sparked a discouraged Foster to quit shortly after. Hynde and McIntosh recorded the rest of the album with producers Bob Clearmountain and Jimmy Iovine in multiple studios and with multiple session musicians. Two of these players, bassist T.M. Stevens and drummer Blair Cunningham, were eventually hired as The Pretenders' new rhythm section.

Get Close

by

The Pretenders
Released: October 20, 1986 (Sire)
Produced by: Bob Clearmountain & Jimmy Iovine
Recorded: Air Studios, London; Power Station and Right Track Recording, New York City; Bearsville Studio, Bearsville N.Y.; Polar Studios, Stockholm
Side One
Side Two
My Baby
When I Change My Life
Light of the Moon
Dance!
Tradition of Love
Don't Get Me Wrong
I Remember You
How Much Did You Get for Your Soul?
Chill Factor
Hymn to Her
Room Full of Mirrors
Primary Musicians
Chrissie Hynde – Lead Vocals, Guitar
Robbie McIntosh – Guitars
T.M. Stevens – Bass
Blair Cunningham – Drums, Percussion
The bright and jangly chords of "My Baby" enter to a steady beat in this moderate love song filled with suspended fourth chords, strategic double-track vocals and some crowd sound effects later on. Released as a single, this album opener spent two weeks at #1 on the Mainstream Rock charts. "When I Change My Life" is another mellow track with strummed acoustic, persistent lead guitar notes and a waltz-like beat by the bass and drums. This moody and well-produced track also features some layered synths strategically placed later in the track.
After these initial fine tracks, the album devolves a bit starting with the slicker rock arrangement of the cover, "Light of the Moon" and followed by the rhythm and beat oriented "Dance!". While this latter track does contain some fine droning guitar and Hammond organ leads, the dry vocals and mind-numbing repetition make this extended track a chore to listen to. The album returns to form with the moderate ballad "Tradition of Love", featuring a fine musical arrangement, melodic vocals and the ever slightest twist of psychedelic through its guitar and voice-effect fused outro.
The most indelible song on the album is the happy-go-lucky rock jaunt "Don't Get Me Wrong", driven by the Stevens' thumping bass line and McIntosh's choppy guitar chords. This song's slight rotating bridge is the only deviation from the original verse pattern and is followed by a lead that is very slight and mimicks Hynde's main vocal melody. "I Remember You" features a reggae arrangement, driven by various keys and methodical rhythms, followed by "How Much Did You Get for Your Soul?", full-fledged devolution into eighties synth pop which is a bit embarrassing for the talents of Hynde and the group. "Chill Factor" is better as a Motown flavored, soulful ballad with a steady, slow beat and rich backing vocals. Written by Meg Keene, "Hymn to Her" starts with minimal synth through the intro vocals before breaking into steady, AOR smooth rock feel, which eventually builds to a harder rocking arrangement.
For the tour supporting Get Close, The Pretenders expanded to a quintet with the addition of keyboardist Bernie Worrell, signaling a future commitment to evolve further. However, this lineup did not last and, when McIntosh quit in 1987, The Pretenders were effectively finished as a working band.

Part of Classic Rock Review's celebration of 1986 albums.