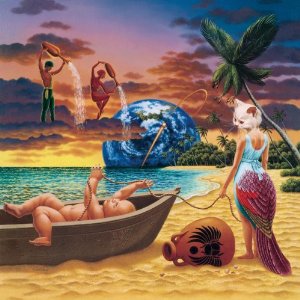 For Journey's most avid fans, the 1996 album Trial By Fire may be best described as one last guilty dip into the group's heyday of the previous decade. With that in mind, it's really a shame that the music here nods back to the group's post-fame eighties rather than the far superior pre-fame late seventies sound. In any case, this was the first time in a dozen years that the five-piece lineup which brought Journey its greatest success got together to make a record.
Following the phenomenal success of 1981's Escape and Frontiers along with the subsequent major tours, Journey took some extended time off. Lead vocalist Steve Perry released his debut solo album while guitarist Neal Schon participated in the short-lived "super group" HSAS, fronted by Sammy Hagar. Turmoil ensued during the recording of their next album, Raised On Radio in 1986, as bassist Ross Valory and drummer Steve Smith were dismissed from the band due to "musical and professional differences". Although that album was a commercial success, Perry went on an indefinite hiatus, leaving the group in limbo for several years.
In the early 1990s, keyboardist Jonathan Cain joined Schon, Valory and Smith for a series of tribute concerts. This indirectly led to the early 80s lineup of Perry, Schon, Cain, Valory and Smith reuniting in 1995 and recording this new album with producer Kevin Shirley in 1996, making it the first new Journey album in 10 years.

Trial by Fire

by

Journey
Released: October 22, 1996 (Columbia)
Produced by: Kevin Shirley
Recorded: Ocean Way Recording Studios, Hollywood, CA, The Site and Wildhorse Studios, Marin County, CA, Summer 1996
Track Listing
Group Musicians
Message of Love
One More
When You Love a Woman
If He Should Break Your Heart
Forever In Blue
Castles Burning
Don't Be Down on Me Baby
Still She Cries
Colors of the Spirit
When I Think of You
Easy to Fall
Can't Tame the Lion
It's Just the Rain
Trial by Fire
Baby I'm a Leavin' You
Steve Perry – Lead Vocals
Neal Schon – Guitars, Vocals
Jonathan Cain – Keyboards, Guitars, Vocals
Ross Valory – Bass, Vocals
Steve Smith – Drums, Percussion
The group's core members of Perry, Schon and Cain wrote the bulk of the songs on Trial by Fire. One of the few exceptions is the opening "Message Of Love", which was co-written by lyricist John Bettis. The song swells in with some backwards-masked voices before strong beat-driven, perfectly fine, albeit ultra-ordinary pop song. This is an interesting slight nod back to the 1983 hit "Separate Ways" just prior to Schon's lead guitar. "One More" starts with a movie-like string arrangement by David Campbell before breaking into Valory's bass-driven rhythm to accompany Perry's interesting and slightly dark vocal melody. "When You Love A Woman" is a classic Journey ballad with rocking piano, strategic guitar overtones and soulful/romantic vocals. The song reached the top of the Billboard Hot Adult Contemporary chart as well as becoming a Top 10 hit on the American pop charts, the group's last such hit to date.
"If He Should Break Your Heart" continues the parade of slick, love-oriented songs and, while the theme is unoriginal, this one takes on a pleasant mellow rock vibe musically. On "Forever In Blue", the verse music is driven by a spunkier, choppy guitar riff with some fine snare clicks by Smith, For his part, Perry does get a bit soulfully strained as the song goes on, which works to add a bit of authenticity to the sound. Schon provides a wah-wah fused blues guitar between each verse line of "Castles Burning", along with a later simple but exciting, squeaky rotating riff over the bridge to bring the song to a higher sonic level. This sparks the best sequence on the album with "Don't Be Down On Me Baby" laid out like a classic Soul ballad with a simple, rotating piano phrase accompanied by Perry's soaring lead vocals and "Still She Cries" featuring nicely picked guitar motifs in intro sets before the mood settles with steady rhythms throughout this ballad.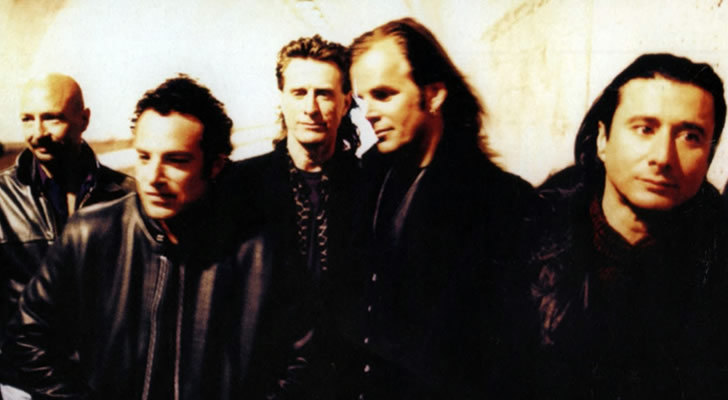 Unfortunately, there are many superfluous songs beyond this point. "Colors of the Spirit" does employ world-music inspired sounds through its long, jungle-like intro before unfortunately reverting back to standard fonts for the song proper. "When I Think of You" is, perhaps, the nadir of album as an uninspired ballad, while "Easy to Fall" only works later on with some fine, bluesy/jazz guitar work by Schon. "Can't Tame the Lion" is a pure rock song that remain upbeat and rocking throughout before the mood is once again brought down with the ballad "It's Just the Rain". The title track, "Trial By Fire", provides welcome relieve by this point of the Goliath-length album as Smith provides some odd beats accompanying Valory's cool bass and Schon's jazzy guitar for an overall fine vibe, while the "hidden" "Baby I'm a Leavin' You" features a heavy Caribbean-influence with musical flourishes and a nice, light way to complete the album.
Trial By Fire reached #3 on the album charts and Journey appeared to be back in top commercial form as they prepared for a subsequent tour> However, Perry injured himself during a hiking, rendering him unable to perform for over a year. By 1998, both Perry and Smith were out of the group and Journey continued as a patchwork band into the new century.
~

Part of Classic Rock Review's celebration of 1996 albums.