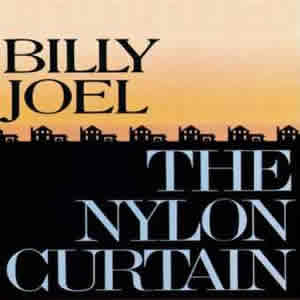 After much commercial success with his previous albums, Billy Joel really branched out to new musical territory on his eighth studio album, The Nylon Curtain. On this album, the artist ventures out towards more electronic instrumentation, richer compositional arrangements as well as more complex lyrical content. Joel has called this album one of his most ambitious efforts and, although he would experience some burnout from its production, has often stated that he is most proud of this recording.
The great success of the chart-topping pop/rock albums The Stranger, 52nd Street and Glass Houses led to Joel being labeled a balladeer or even a soft rocker. For The Nylon Curtain, Joel tried his hand at topical songs and was decidedly more ambitious in his use of the recording studio.
Along with producer Phil Ramone, Joel set out to forge a sonic masterpiece during the Fall of 1981, spending much more time in the studio then on previous efforts and employing brand new digital recording techniques. Joel maintained many of his backing band members, including guitarists David Brown and Russell Javors along with his longtime rhythm section, bassist Doug Stegmeyer and drummer Liberty DeVitto. However, several session players were also employed to provide extra synthesizers, strings, horns and percussion during the rich production.

The Nylon Curtain

by

Billy Joel
Released: September 23, 1982 (Columbia)
Produced by: Phil Ramone
Recorded: A&R Recording and Media Sound Studios, New York City, Spring 1982
Side One
Side Two
Allentown
Laura
Pressure
Goodnight Saigon
She's Right on Time
A Room of Our Own
Surprises
Scandinavian Skies
Where's the Orchestra?
Primary Musicians
Billy Joel – Lead Vocals, Piano, Keyboards, Guitar
David Brown – Lead Guitar
Russell Javors – Rhythm Guitar
Doug Stegmeyer – Bass
Liberty DeVitto – Drums & Percussion
The pleasant, choppy piano tune aura, complete with industrial sound effects, masks the frustrating stories embedded in the opening track "Allentown". The song plays like a theatrical diddy, especially during the quasi-dramatic bridge section and its combo with the real themes of blue collar manufacturing towns (not just the Pennsylvania city it is named for) made it a universal theme. The brilliant track "Laura" follows with Joel delivering a John Lennon-like quality vocally during the verses and the guitarists presenting some George Harrison-like guitar motifs during the dramatic choruses. Lyrically, this song is superb in describing a totally dysfunctional relationship with all the biting energy of the day's most vicious punk rock while utilizing incredible melody and sonic drama.
The hit song "Pressure" is a totally unique new wave rocker within Billy Joel's collection. It is musically cutting edge with sharp synths throughout and a mechanical, biting drum beat. The lyrics speak of the dichotomy between philosophical outlook and actual real life grew out of an episode of writer's block Joel was feeling one day in his New York apartment. The extended track "Goodnight Saigon" completes the original first side as a heart-wrenching, haunting, brilliantly descriptive ballad about the plight of those serving in Vietnam. This song is beautifully simple with a piano motif mixed between acoustic verses and it eventually builds to a chorus crescendo with marching drums. During this part live, Joel would frequently enlist local veterans to perform onstage.
"She's Right on Time" is a pleasant pop tune that has a quasi-Christmas theme. Joel uses several melodic vocal sections and a depth of vocals to give everything a strong, live feel. "A Room of Our Own" is the most easy going track on the album, with a down-home rock and roll feel and strong drums and some creative bass by DeVitto and Stegmeyer respectively. "Surprises" feel like another quasi-tribute to Lennon, at least vocally. While the electric piano and synths are pure eighties in sound, this track has enough gentle and melancholy vibe to make it a forgotten classic.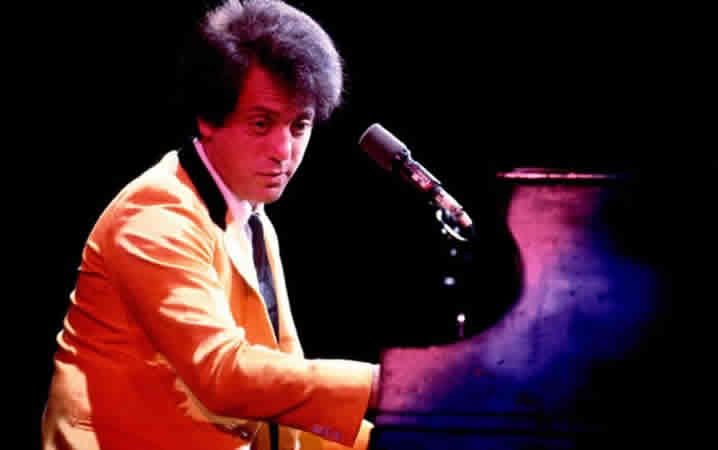 The climactic point of the second side comes with "Scandinavian Skies", from its really pointed and dramatic intro, through the plethora of sonic treats and production throughout. Joel's sweet melodic vocals are placed above a really cool drum shuffle with subtle piano and synths during this song's 'A' sections, while the synths of guest Rob Mounsey are much more up front and dramatic during the 'B' sections. The lyrics speak of a journey and several opaque incidents in many Northern European locales. The closing ballad "Where's the Orchestra?" is almost an afterthought after the climactic previous tune, but it does feature some nice little flourishes on sax and clarinet by Eddie Daniels to accompany Joel's simple piano and vocals.
While not as commercially successful as Joel's previous albums, The Nylon Curtain was still a smash by any measure, reaching the Top 10 on the albums charts and selling over two million copies in the U.S. alone. Joel went in the opposite direction for his next album, An Innocent Man in 1983, which had a much lighter tone as a tribute to R&B and doo wop music of the fifties and sixties.
~

Part of Classic Rock Review's celebration of 1982 albums.