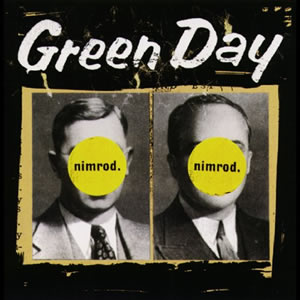 Nimrod is the 1997 fifth studio release by Green Day. Here, the group expanded their style and sound by adding some subtle orchestration and by blending some diverse sub-genres with their core punk rock sound. Overall, this album packs 18 songs composed by vocalist, guitarist and lyricist Billy Joe Armstrong and the other members of the trio, into a relatively short running time of 48 minutes with each track having a distinct character.
The group's early 1994, Dookie became a huge commercial success and eventually won the group a Grammy award. Green Day's 1995 fourth studio album, Insomniac, was a dark and heavy reaction to the band's new found popularity, which brought the band some critical acclaim at the expense of some commercial success. In 1996, the group launched an extensive world tour to promote Insomniac but this quickly took its toll on the band members and they ultimately decided to cancel the European leg of the tour and spend some time at home.
The group recorded Nimrod at Conway Studios in Los Angeles with producer Rob Cavallo, who had co-produced both of their previous two albums. Inspired by The Clash's London Calling, Green Day wanted to create a more experimental album and branch out from their traditional "three chord" song structure. About 30 songs were recorded for Nimrod over the course of several months with a dozen or so left on the "cutting room floor".

Nimrod

by

Green Day
Released: October 14, 1997 (Reprise)
Produced by: Rob Cavallo & Green Day
Recorded: Conway Studios, Los Angeles, March–July 1997
Track Listing
Group Musicians
Nice Guys Finish Last
Hitchin' a Ride
The Grouch
Redundant
Scattered
All the Time
Worry Rock
Platypus (I Hate You)
Uptight
Last Ride In
Jinx
Haushinka
Walking Alone
Reject
Take Back
King for a Day
Good Riddance (Time of Your Life)
Prosthetic Head
Billie Joe Armstrong – Lead Vocals, Guitars
Mike Dirnt – Bass, Vocals
Tré Cool – Drums, Percussion, Vocals
The opener, "Nice Guys Finish Last", rides on a two chord punk riff before the bass-driven half verse gives way to a more traditional song structure. While offering a nod to the band's past roots, there is something more definitively contemporary in this track's sound. After a very slight violin intro by guest Petra Haden, "Hitchin' a Ride" breaks into a repetitive but catchy riff led by the bass of Mike Dirnt with melodic lead vocals by Armstrong. "The Grouch" reverts back to a standard and straight forward screed about the fear of morphing from an angry young man to a "shitty old man", while "Redundant" features an interesting, moderate but driving beat and descending riff pattern, making it the best overall song of the early album.
Like punk with rounded edges, "Scattered" bridges towards pop sensibilities with the highlight of the track being a wild, double kick drum beat in the middle section by Tré Cool. "All the Time" takes another sonic turn with crisp guitar riffing setting the upbeat pace, while "Worry Rock" seems to carry some heavy influence from Weezer, as Armstrong adds a unique rockabilly twang to the guitar lead.
"Platypus (I Hate You)" returns to a frenzied pace with fuzzy, sawed guitar notes and profanity-laced lyrics by Armstrong, giving way to Dirnt and Cool, who launch into "Uptight" with a strong bass and drum riff. It is almost to the point of being  faster, harder disco with some layered, deadened guitars added for an interesting sonic effect. The instrumental "Last Ride In" dissolves in from the  end of the previous track with a simple, persistent bass riff, interesting percussion and sixties-style xylophone, horns, strings and picked guitar for an overall surf rock feel and a really cool interlude to the album.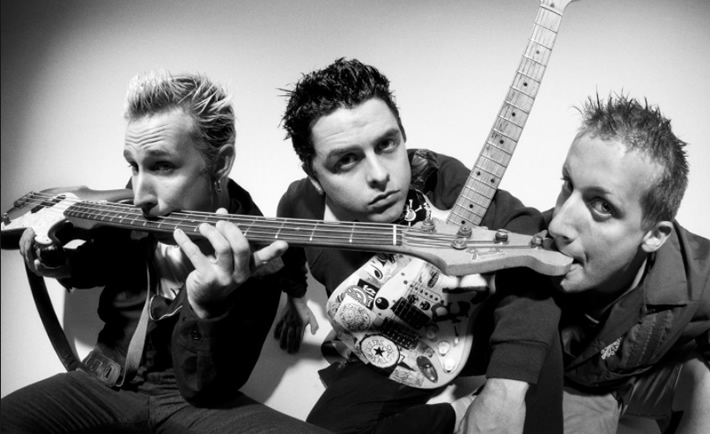 That mood is interrupted by the next punk screed, "Jinx", with a melody seems to borrow heavily from The Platters' "Great Pretender". The chiming guitars of "Haushinka" lead a lush wall of sound, while Armstrong's harmonica riff sub-divides the pop/rock "Walking Alone" 2:45 – harmonica riff through beginning and between verses of this pop/rock track. The album weakest two songs follow with "Reject" and "Take Back", which really sounds like two sides of the same throwaway coin.
However, the album recovers nicely with three fine tracks to close it out. "King for a Day" features a ska, or even proto-polka sound, lead by celebratory, slightly out of tune horns and a really inventive blend of disparate genres which make for a fun party song, if nothing else. "Good Riddance (Time of Your Life)" may be the most indelible song of Green Day's career as a simple, acoustic break-up song with minimal arrangement. This song was written by Armstrong around 1990, but refused by the band for inclusion on several albums before they reluctantly accepted it here. Although it was not officially released as a single, it would later sell millions as as a digital download and soon became a sentimental standard. The closer, "Prosthetic Head", features simple rock with riff similar to MTV theme and crisp and clean verses with bass up front in mix and heavier, anthemic choruses.
Nimod was a worldwide hit and it reached the Top 10 in Green Day's native USA. Through the rest of 1997 and 1998,The band launched another world tour and took some time before returning to the studio after the new millennium.
~

Part of Classic Rock Review's celebration of 1997 albums.