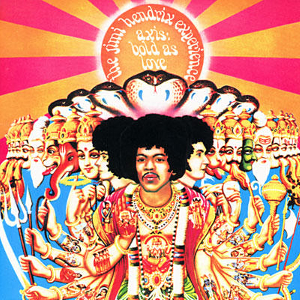 The second album from the trio's explosive and productive 1967, Axis: Bold as Love, was released in the United Kingdom by The Jimi Hendrix Experience in December 1967. The album wasn't released in the United States until early 1968 in order to not interfere with the charting success of the group's debut album, Are You Experienced?. In comparison to that highly successful debut, this second album has more complex  sonic compositions, although the tracks may not be as indelible.
Axis: Bold As Love was started immediately after the completion of Are You Experienced? in the Spring of 1967 as it was necessary to fulfill the Jimi Hendix led group's two album contract with UK-based Track Records, a contract which also stated that both albums had to be produced in the year 1967.
The album was recorded at Olympic Studios with producer Chas Chandler, who had also produced the debut. During the first two days of album sessions in May 1967, the group recorded basic tracks for seven compositions (although less than half of these were ultimately included on the album). The recording sessions were sporadic over the next five months as the group became more and more in demand as a live attraction. During the latter sessions in October, Hendrix took on a larger role in producing, a role he would fully assume on the group'd next LP, Electric Ladyland.

Axis: Bold As Love

by

Jimi Hendrix Experience
Released: December 1, 1967 (Track)
Produced by: Chas Chandler
Recorded: Olympic Studios, London, May-October 1967
Side One
Side Two
EXP
Up from the Skies
Spanish Castle Magic
Wait Until Tomorrow
Ain't No Telling
Little Wing
If 6 Was 9
You Got Me Floatin'
Castles Made of Sand
She's So Fine
One Rainy Wish
Little Miss Lover
Bold as Love
Primary Musicians
Jimi Hendrix – Lead Vocals, Guitars, Keyboards
Noel Redding – Bass, Vocals
Mitch Mitchell – Drums, Vocals
Axis: Bold as Love opens with the short experimental track "EXP", which employs feedback and stereo panning of Hendrix's guitar, leading to the space/rock track ,"Up from the Skies", a song recorded on the last day of recording at Olympic Studios. The lyrics to "Spanish Castle Magic" were inspired by a club outside Seattle where Hendrix performed early in his career. It became one of the few songs on this album which was regularly performed live later in Hendrix's career.
The pop-flavored single "Wait Until Tomorrow" drew influence from The Isley Brothers and features some fine musical interplay between Hendrix and bassist Noel Redding. The original first side completes with two of the album's more indelible tracks. The oft-covered "Little Wing" features a unique bluesy guitar progression which evolved from a 1966 song that Hendrix recorded with the R&B duo, The Icemen, and is finely decorated through the progression with a glockenspiel. "If 6 Was 9" was one of the initial tracks developed for this album and features a plethora of studio effects adding to a very psychedelic sound.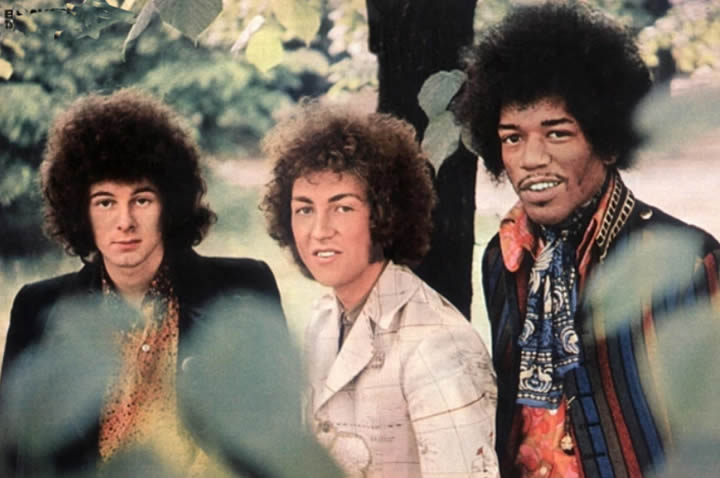 The rocker "You Got Me Floatin'" opens the second side and features some backing vocals from members of the British group The Move, who toured with Hendrix on a package tour through Britain during winter 1967, supplied backing vocals. The melancholy "Castles Made of Sand" follows, laced with philosophical lyrics, while Redding's "She's So Fine" offers a sixties Brit-pop break in the album. "One Rainy Wish" features Hendrix using some jazz guitar, as "Little Miss Lover" features an early use of muted wah-wah effect. The closing title song, "Bold as Love" was recorded with over twenty different takes and with four different endings before settling on a version which features drummer Mitch Mitchell with a short solo along with several more sonic effects.
While not as celebrated as the other two Jimi Hendrix Experience studio, albums Axis: Bold As Love has nonetheless received much critical acclaim as well as commercial success in its day, as it peaked in the Top Ten.
~

Part of Classic Rock Review's celebration of 1967 albums.