Buy Car Wheels On a Gravel Road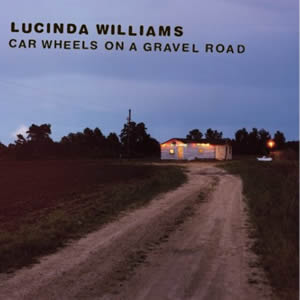 Car Wheels on a Gravel Road, the fifth studio album by Lucinda Williams, is a highly acclaimed, awarded and influential 1998 record. In fact, several have credited its release as a pivotal moment in the course of folk and country roots music as well as the origin of the alternative country sub-genre. Further, this album's rural lyrics about simple but relate able situations along with the excellent, earthy musical arrangements work to make it fresh and timeless decades after its release.
A native of Lake Charles, Louisiana, Williams began her music career in Austin and Houston, Texas in the mid 1970s. She developed a distinct blend of country folk and rock that led to her initial record deal and the 1978 release of her debut album Ramblin' on My Mind. In the 1980s, Williams relocated to Nashville and began receiving critical acclaim and scored a minor hit with her 1988 self-titled album. 1992's Sweet Old World had even more modest commercial success but was widely recognized for its fine songwriting. It would be six years before Williams, a recording perfectionist, would release her much-anticipated follow-up.
Car Wheels on a Gravel Road, commenced recording in 1995, shortly after Williams signed with American Recordings. The original version of the album was made with producer Gurf Morlix in Austin, Texas. However, Williams shelved that version and started over in Nashville with co-producers Steve Earle and Roy Bittan and a large ensemble of Nashville session players.

Car Wheels On a Gravel Road

by

Lucinda Williams
Released: June 30, 1998 (Mercury)
Produced by: Roy Bittan, Steve Earle, Ray Kennedy & Lucinda Williams
Recorded: Room and Board Studio, Nashville, & Rumbo Studio, Canoga Park, CA, 1995-1998
Track Listing
Primary Musicians
Right in Time
Car Wheels on a Gravel Road
2 Kool 2 Be 4-gotten
Drunken Angel
Concrete and Barbed Wire
Lake Charles
Can't Let Go
I Lost It
Metal Firecracker
Greenville
Still I Long For Your Kiss
Joy
Jackson
Lucinda Williams – Lead Vocals, Guitar, Dobro
Gurf Morlix – Guitars, Vocals
John Ciambotti – Bass
Donald Lindley – Drums, Percussion


The album commences with "Right in Time", a minor hit with a twangy overall sound (but not so overt as modern country) and, ultimately, a moderate and pleasant mixture of layered guitars. The title track "Car Wheels on a Gravel Road" has even more refined and methodical musical elements as a patient yet energetic track which melodically has an almost new wave rock approach. "2 Kool 2 Be 4-gotten" starts off with a potent drum shuffle before more subtle guitars, a bass fill in the cool rhythms and a subtle accordion by Bittan. Although the extreme laid back vocals may be a little too staged, overall this is the best song of the opening trio.
"Drunken Angel" makes a strong statement as an Americana alt country staple with pure nineties grunge pop vocals and attitude, while "Concrete and Barbed Wire" reverts to an acoustic country waltz with a building arrangement throughout while staying within the old-time country realm. The storytelling "Lake Charles" features a strong beat with steady, thumping bass by Ciambotti and some slide guitar. The Randy weeks cover "Can't Let Go" features Mississippi Delta like acoustic blues with a nice shuffle percussion beat and twin slide electric guitars on top.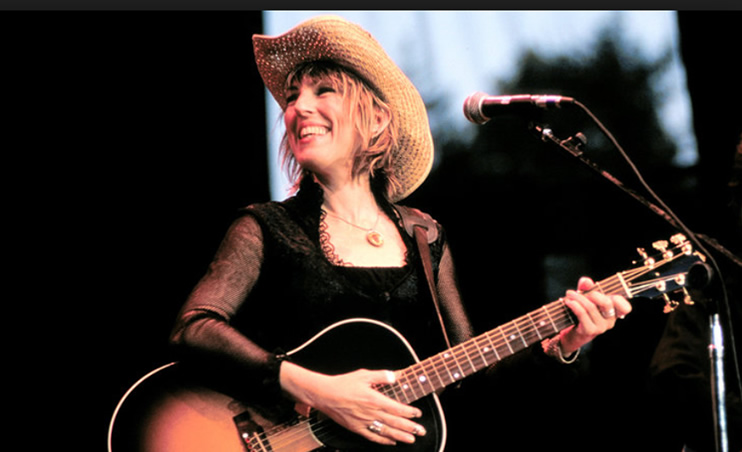 The album's second half features an array of quality tracks with the standard alt country pop song "I Lost It", a post-mordem on a lost relationship on "Metal Firecracker", and the emotional country ballad "Greenville", which features Emmylou Harris on harmony vocals. "Still I Long For Your Kiss" was co-written by Duane Jarvis, while "Joy" is built on rotating acoustic and electric bluesy riffs during its long intro and droning song proper. The quiet acoustic closer "Jackson"completes the record in a very moody and beautiful way.
Car Wheels on a Gravel Road became Williams' first Gold album and won a Grammy Award for Best Contemporary Folk Album. The crossover success of this album led to Williams touring with top-notch legends such as Bob Dylan, the Allman Brothers and Tom Petty and the Heartbreakers in support of the album.
~

Part of Classic Rock Review's celebration of 1998 albums.