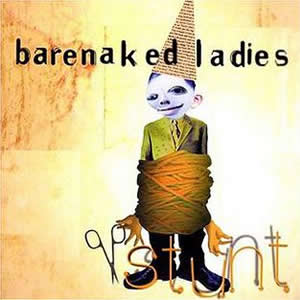 In 1998, the fourth studio album by Barenaked Ladies became their commercial breakthrough and ultimately, their most successful album. Stunt features a refined set of this Canadian group's brand of quirky and creative lyrics which give the impression that they are either geniuses or on the verge of a nervous breakdown (or both). This is set to a fine array of melodic and musical passages with the use of various styles (jangly pop, alt-country, bossa nova, blue-eyed rap, and even a bit of psychedelic rock) to keep it all interesting. The formula worked as the album sold several million copies and topped the charts in the US.
The roots of Barenaked Ladies began in the late eighties in Toronto with the duo of guitarists/vocalists Steven Page and Ed Robertson. From the start, the two performed in an improvised and nearly comical manner (the group's name came from one improvised skit) and they often opened for a popular comedy group. By the summer of 1990, bassist Jim Creeggan and drummer Tyler Stewart were part of the group and 1991's The Yellow Tape, originally recorded as a demo tape, became their initial album release. When the band was taken off the bill for a New Year's Eve concert in Toronto because a political staffer objected to their name, a media story about political correctness gone too far brought the group a surge in publicity, leading to the band being signed to Reprise/Sire Records in April 1992. Over the next four years the band released three studio albums, Gordon (1992), Maybe You Should Drive (1994) and Born on a Pirate Ship (1996), as well as the 1997 live record, Rock Spectacle.
Co-produced by David Leonard, Susan Rogers and the group, Stunt is the first studio album to feature keyboardist and guitarist Kevin Hearn. Fifteen songs were recorded for the album, with thirteen appearing on the original version and the tracks "Long Way Back Home" and "She's On Time" appearing as "hidden tracks" on limited edition versions of the album.

Stunt

by

Barenaked Ladies
Released: July 7, 1998 (Reprise)
Produced by: David Leonard, Susan Rogers & Barenaked Ladies
Recorded: February–March 1998
Track Listing
Primary Musicians
One Week
It's All Been Done
Light Up My Room
I'll Be That Girl
Leave
Alcohol
Call and Answer
In the Car
Never Is Enough
Who Needs Sleep?
Told You So
Some Fantastic
When You Dream
Steven Page – Guitars, Vocals
Ed Robertson – Guitars, Percussion, Vocals
Kevin Hearn – Piano, Keyboards, Banjo
Jim Creeggan – Bass, Cello, Vocals
Tyler Stewart – Drums, Percussion


The album begins with the band's highest charting single in both the US and the UK, and odd, quasi rap about a lover's quarrel sandwiched between main hooks, which make it a highly original and unlikely smash hit. During the rapid raps there are alternating passages of pop culture references and personal anecdotes and, ironically, a similar live version of the song never fully materialized. Page's "It's All Been Done", another hit from the album, follows as a jangly power pop anthem, complete with chanting "oohs". a nice creeping Hammond by organ by Hearn, and some complex harmonies as the song progresses.
"Light Up My Room" is a pleasant folk/rock ballad which starts with a moderate arrangement and features a distinct drum shuffle by Stewart throughout, while "I'll Be That Girl" has an almost country-esque feel but with a rock edge and just a bit of Barenaked Ladies oddness. Robertson's "Leave" starts as an almost bluegrass acoustic tune but quickly incorporates rock elements, maturing into one of the more pleasant sounding songs on the album, in sharp contrast to the basic three-chord rock stomp of "Alcohol", an odd philosophical turn of a drinking song, complete with party chanting and an electric piano lead.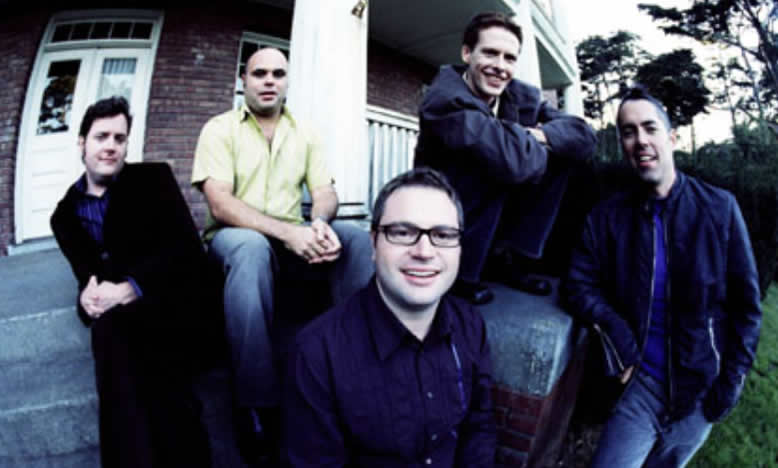 The second half of the album features several more fine tunes, from the inventive "Call and Answer" to the old Western feel of "In the Car" to the bouncy "Never Is Enough", featuring some electronic effects for light fun. "Who Needs Sleep?" is a melodic ode to the "pleasures of insomnia", featuring some slight flute riffs by Page, while "Told You So" is straight-forward acoustic pop. "Some Fantastic" is the best of this bunch as a pleasant, Caribbean flavored rocker with inventive piano riffs by Hearn, a percussive blend by Stewart, and plenty of variety in both music and vocal melody with two lead vocalists trading off throughout. The spacey "When You Dream" completes the album with probably its slowest tempo and a surreal feel throughout
Shortly after Stunt's release of the album, Hearn was diagnosed with leukemia and had to be replaced during the subsequent tour. The group's commercial momentum continued into the new century with several songs featured in television, movies and commercials and additional success on future albums.
~

Part of Classic Rock Review's celebration of 1998 albums.