Buy More Songs About Buildings and Food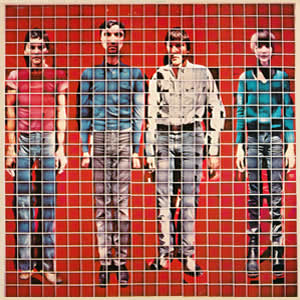 The second album by Talking Heads, 1978's More Songs About Buildings and Food got its sarcastic title by addressing the cliche of the "sophomore jinx" where songs not used on the debut are combined with inferior and underdeveloped new compositions. However, that "jinx" was obliterated here as the quirky new wave quartet found decent commercial success and widespread critical acclaim for their fine combination of standard motifs and inventive techniques, perfect for that era of popular music.
Composer, guitarist and vocalist David Byrne, bassist Tina Weymouth and drummer Chris Frantz were all alumni of the Rhode Island School of Design and formed their first band in 1973 before migrating to New York City in 1975. Getting their name from a TV Guide article, Talking Heads were signed to Sire Records in November 1976 and added keyboardist/guitarist Jerry Harrison early in 1977. The group's debut album, Talking Heads 77 found decent success in part due to the single "Psycho Killer", which hit the airwaves around the same time as New York City was embroiled in the "summer of Sam".
More Songs About Buildings and Food was the first of a trilogy collaboration between the group and producer Brian Eno, who took their raw sound and emphasized on more danceable rhythms to fuse a unique vibe for Byrne's art/rock compositions. On this album the group also started their long tradition of recording in the Bahamas at Compass Studios.

More Songs About Buildings and Food

by

Talking Heads
Released: July 14, 1978 (Sire)
Produced by: Brian Eno & Talking Heads
Recorded: Compass Point Studios, Nassau, Bahamas, March–April 1978
Side One
Side Two
Thank You for Sending Me an Angel
With Our Love
The Good Thing
Warning Sign
The Girls Want to Be with the Girls
Found a Job
Artists Only
I'm Not in Love
Stay Hungry
Take Me to the River
The Big Country
Group Musicians
David Byrne – Lead Vocals, Guitars, Percussion
Jerry Harrison – Piano, Keyboards, Guitars, Vocals
Tina Weymouth – Bass, Vocals
Chris Frantz – Drums, Percussion
A rapid shuffle above a pointed hard rock riff defines the sound of "Thank You for Sending Me an Angel", with extra percussion between the verses. This opening track acts as sort of a bridge between the debut album's tension and the bigger rhythmic sound of this album. "With Our Love" follows with a rather spazzy funk feel in the verses, while "The Good Thing" is the most accessible song thus far with an upbeat yet smooth, rounded sound led by Weymouth's bass and odd but catchy harmonized refrains. Co-written by Frantz, "Warning Sign" features a drum beat with exaggerated reverb joined by catchy bass and guitar riff in long intro before the song proper develops into choppy new wave track.
"The Girls Want to Be with the Girls" may be the first track where the group seems to try too hard to force a quirkly style and it ends up feeling disjointed, while the side one closer "Found a Job" features pure funk verses and new wave rock choruses. Side two begins with "Artists Only", a song which explores several pleasant styles in rapid fashion, while "I'm Not in Love" moves back to funk but with driving, rapid rhythms as it makes its way through many odd sections before completing with an entertaining quasi-guitar lead jam. "Stay Hungry" is a shorter funk/jam featuring much synth influence by Eno.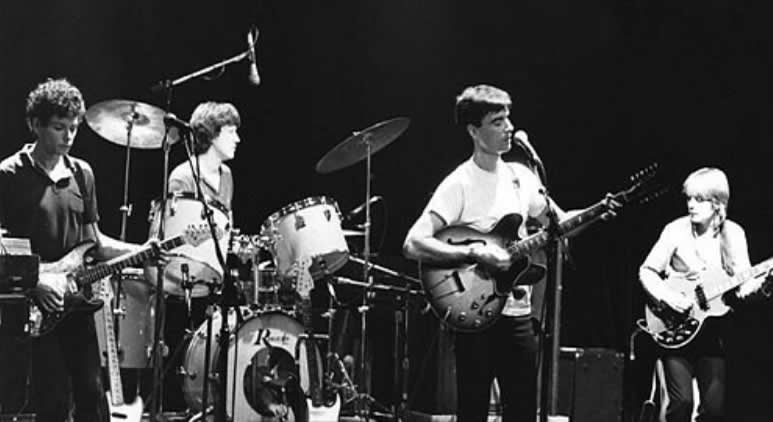 By far, the album's commercial anchor is its only cover song, a distinct version of Al Green's "Take Me to the River" featuring a sound that defines an eighties hit while still in the late 1970s. The deliberative rhythm method and fine production technique brought the group a worldwide Top 40 crossover hit. The album ends with the pleasant sonics of "The Big Country" with a fine mixture of acoustic and electric and a slide/country vibe topped by a steady drum beat.
More Songs About Buildings and Food peaked in the Top 30 of the Pop Albums charts and eventually reached gold record status. Eno and the Talking Heads continued this successful formula with 1979's Fear of Music and the hit album Remain in Light in 1980.
~

Part of Classic Rock Review's celebration of 1978 albums.