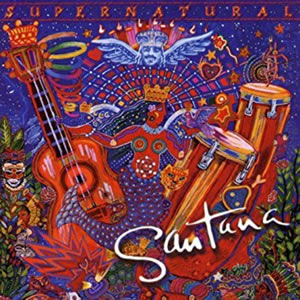 The amazing thing about Supernatural is how popular and commercially successful it became in spite of its plethora of styles, multiple lead vocalists and bi-lingual lyrical content. Released in 1999, this was the eighteenth studio album by Santana, the Latin-style rock project led by guitarist Carlos Santana.  It was, by far, Santana's biggest commercial success, selling about 30 million copies worldwide and topping the album charts in eleven countries, including a total of twelve weeks at #1 in the US.
By the time of Supernatural's production, Santana already had a career that spanned over thirty years, commencing in the mid sixties with spurts of innovation, commercial success, experimentation, decline and hiatus. In 1991, Santana's record deal with Columbia Records came to an end and subsequent albums on the Polydor/Island labels did not fare well commercially. However, Carlos Santana's involvement in a 1995 documentary about executive and Arista Records founder Clive Davis (who was at Columbia when Santana was first signed in 1969), led to a deal with Arista.
Supernatural was forged with a desire to produce more radio friendly songs and its sound is a blend of elements that combine "vintage Santana" with contemporary influences from several genres. Along with the plethora of guest performing artists, the twelve original album tracks were put together by a total of thirteen co-producers.

Supernatural

by

Santana
Released: June 15, 1999 (Arista)
Produced by: Carlos Santana, Clive Davis, Jerry Duplessis, The Dust Brothers, Alex González, Charles Goodan, Lauryn Hill, Art Hodge, Wyclef Jean, K.C. Porter, Dante Ross, Matt Serletic & Stephen Harris
Recorded: Fantasy Studios, Berkeley, CA, 1999
Track Listing
Primary Musicians
(Da Le) Yaleo
Love of My Life
Put Your Lights On
Africa Bamba
Smooth
Do You Like the Way
Maria Maria
Migra
Corazón Espinado
Wishing It Was
Primavera
The Calling
Carlos Santana – Guitars, Percussion, Vocals
Ross Childress – Guitars, Vocals
Chester D. Thompson – Keyboards
Benny Rietveld – Bass
Rodney Holmes – Drums



The opener "(Da Le) Yaleo" is a Spanish language song that delves right in with the Carlos Santana signature guitar lead over the fine Latin percussion, with "Love of My Life" instantly changing direction. This second track is driven by the drums of Carter Beauford and topped by a smooth, jazzy arrangement with long, serene keys and good vocals by co-writer and lead vocalist Dave Matthews. The acoustic ballad "Put Your Lights On" slowly builds in arrangement with lyrics of existentialism by Everlast, ultimately making this a minor hit single. "Africa Bamba" follows and features acoustic and electric lead guitars for nice atmosphere.
By far the most popular single from Supernatural was "Smooth", co-written by Itaal Shur and Rob Thomas and featuring Thomas on lead vocals. The track opens with a definitive Santana lead but eases into a groove of fine rhythms, proficient horn accents, enhanced vocals and overall great production. "Smooth" topped the pop charts (having the distinction of being the number one song when the century ended) and, ultimately, won three Grammy Awards. The next couple tracks have a definitive R&B vibe, Lauryn Hill's hip hop leaning "Do You Like the Way" and "Maria Maria", another chart-topping and Grammy winning tune produced by Wyclef Jean and Jerry Duplessis.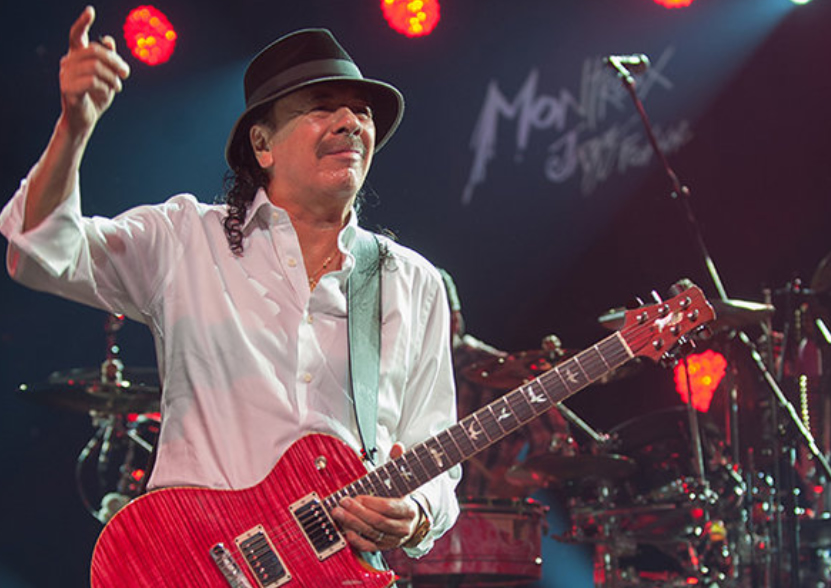 The album's second half, while still entertaining, features more repetitive and less groundbreaking songs. "Corazón Espinado" is almost like a Spanish language counterpart to "Smooth", highlighted by Karl Perazzo on timbales, as "Wishing It Was" is another jazzy Latin ballad, featuring Eagle-Eye Cherry on vocals. The instrumental "El Farol" has plenty of atmosphere to tease out the beauty of Santana's lead guitar, while "Primavera" is a standard Latin pop track. A highlight of this section of the album is "Migra", driven by a strong drum beat and wild electric lead throughout, finding space between each vocal track, along with an excellent accordion by K.C. Porter and harmonized trumpets and trombones. "The Calling" is the original album closer, featuring Eric Clapton and starting with a long, Miles Davis like improvised section with Clapton and Santana trading guitar licks before the song proper of electronic drums backing a Gospel-like rendition with vocals by Tony Lindsay and Jeanie Tracy. Hidden within the track is "Day of Celebration", a shuffle rhythmically, but it maintains a similar Gospel feel of uplift.
At nearly 75 minutes in length, the 1999 original version was a monster-size listening experience in of itself. However, the 2010 Legacy Edition added a second disc of outtakes, remixes and covers, clocking in at over two hours in total length of music. Supernatural went on to win nine Grammy Awards as an album and it sustained its popularity to the degree that it was the the ninth best-selling album of the decade of 2000s, despite being officially released in the 1990s. The album also gave Santana a unique entry into the Guinness book of World Records, as his previous number one album was Santana III in 1971, making the 28 year gap between number one albums for an artist the longest in history.
~

Part of Classic Rock Review's celebration of 1999 albums.