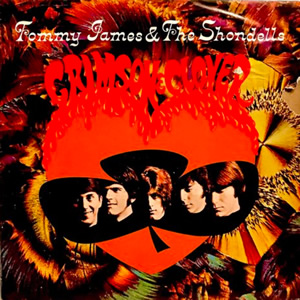 Tommy James and the Shondells hit their creative and commercial climax  in 1969 with their sixth studio album, Crimson and Clover. This album combines some heavy psychedelic elements with the group's core pop/R&B sensibilities for a potent cross-section of authentic fine sixties music. Crimson and Clover is also the first album in which the group's leader, vocalist and guitarist Tommy James, played a large part in composing the bulk of the material.
The group's roots stretch back a decade to 1959 in Michigan, when a 12-year-old James formed Tom and the Tornadoes, with the group releasing its first single, "Long Pony Tail", in 1962. James renamed the band the Shondells in 1964 when they recorded the single "Hanky Panky" for local label Snap Records, which was a modest local hit in the Midwest but not big enough to keep the original Shondells together past high school graduation. The following year, a Pittsburgh dance promoter discovered the single and played it at various events and on radio stations, generating enough interest to attract James to play shows in Western Pennsylvania. A second version of the backing band was recruited in Greensburg, PA, including keyboardist Ron Rosman and bassist Mike Vale.
With this new touring group, James made a deal with Roulette Records to receive national promotion, which drove "Hanky Panky" to number 1 on the pop charts in July 1966. More success quickly followed, including the Top Ten hits "I Think We're Alone Now" (1967), "Mirage" (1968) and "Mony Mony" (1968), all of which were penned by outside writers. In late 1968, the group was given artistic control by Roulette and decided to take a new direction by writing their own songs and self-producing their next album, Crimson and Clover.

Crimson and Clover

by

Tommy James and the Shondells
Released: January, 1969 (Roulette)
Produced by: Tommy James and the Shondells
Recorded: 1968
Side One
Side Two
Crimson and Clover
Kathleen McArthur
I'm a Tangerine
Do Something to Me
Crystal Blue Persuasion
Sugar on Sunday
Breakaway
Smokey Roads
I'm Alive
Group Musicians
Tommy James – Lead Vocals, Guitars, Keyboards
Eddie Gray – Guitars, Vocals
Ron Rosman – Keyboards, Vocals
Mike Vale – Bass, Vocals
Peter Lucia – Drums, Percussion, Vocals
Co-written by drummer Peter Lucia, the album's opening title track is a juxtaposition of James soulful vocals and the heavily treated tremolo guitar effect. This sets the stage for the overall vibe of "Crimson and Clover", which was recorded by James, Vale and Lucia as an intended single, released ahead of the album in late 1968 and topped the US pop charts in February 1969. The song was also a hit internationally, reaching number one in six other nations. The next track, "Kathleen McArthur", is an English folk style tune complete with harpsichord, flute and lyrics about a servant falling secretly for the daughter of his aristocratic employer, while "I'm a Tangerine" appears to be an overt attempt at psychedelic pop with strong influence from early Pink Floyd.
"Do Something to Me" is the album's only cover track but this Top 40 hit takes a refreshing turn back to straight-forward rock n' roll with an Elvis inspired revival complete with a "fake" live audience reaction such as whistling, hooting and hollering. The album's best overall song is "Crystal Blue Persuasion", co-written by guitarist Eddie Gray, features a unique and excellent blend of psychedelic guitar, soul bass, hand percussion, flamenco acoustic and melodic vocals. Later on Vale's bass leads into a key change upward that completes this song as a classic,which made it to #2 on the charts.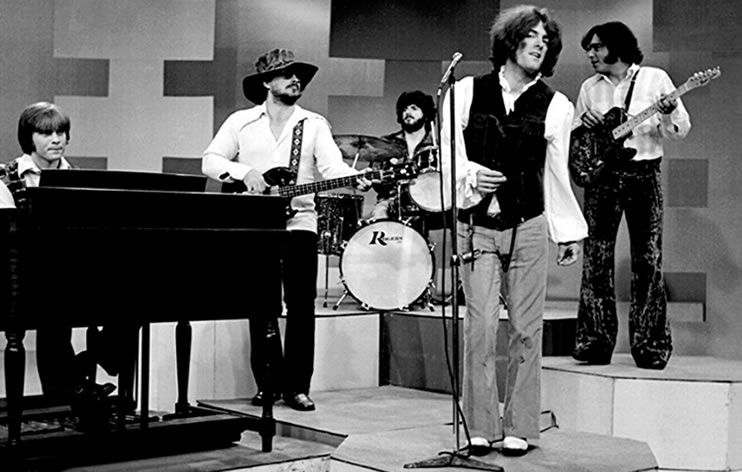 The rest of the album features a diverse set of interesting songs. "Sugar on Sunday" dips back into the psychedelic bubblegum, although this one does have some interesting elements, with an almost Gospel-like feel from the backing vocals. "Breakaway" is harder rock and experimental with a combination of fuzz guitar and basic soul piano providing dueling arrangements and a slight mid section led by bass. Backwards-masked spoken vocals leads to the ballad "Smokey Roads", featuring some interesting drum transitions by Lucia, while "I'm Alive" features sharp guitars that break through the thumping rhythms and is thematically celebratory. The album concludes with an alternate take of the title track's coda section to bring it all full circle.
In the year it was released, Crimson and Clover reached the Top 10 of the album charts and maintained its esteem through the next half century. However, the group did not persist much longer, as the Shondells disbanded in early 1970 when Tommy James collapsed after a show and was initially pronounced dead. He did recover and launched a solo career shortly after.
~

Part of Classic Rock Review's celebration of 1969 albums.