Buy Everybody Knows This is Nowhere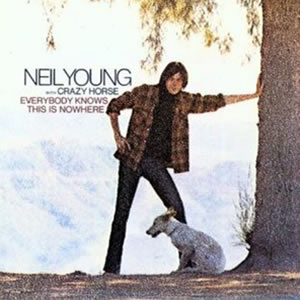 Neil Young's second solo record, Everybody Knows This Is Nowhere, was the first of his string of classics. Released in May 1969, this album was also the first to include Crazy Horse, a backing group that Young would employ sporadically for decades to come. On this critically acclaimed album, Young bounces back and forth between rock, folk and country, landing a few times on a custom sweet spot nestled somewhere in between all three genres.
Young migrated from his native Canada to Southern California in 1966 and fortuitously found himself at the founding of the group Buffalo Springfield. After two years and two successful albums, he left the band to launch a solo career, releasing his self titled debut by the end of 1968. That fine psych-tinged folk-rock album was as much uneven as it is interesting. Young would later comment that his debut record was "overdubbed rather than played" and he immediately set out to make a better record.
Prior to recording Everybody Knows This is Nowhere, Young recruited a trio of musicians originally from a band called The Rockets to be the first incarnation of Crazy Horse. Young composed all the material, much of which was written in a single day while he was recovering from a high fever, and co-produced the album with David Briggs. However, the members of Crazy Horse did play a large role in the forging and recording of the songs, adding rhythms, backing vocals and a few long and loose instrumental jam sections.

Everybody Knows This is Nowhere

by

Neil Young
Released: May 14, 1969 (Reprise)
Produced by: David Briggs and Neil Young
Recorded: Wally Heider Recording, Hollywood, CA, January-March 1969
Side One
Side Two
Cinnamon Girl
Everybody Knows This Is Nowhere
Round & Round (It Won't Be Long)
Down by the River
The Losing End (When You're On)
Running Dry (Requiem for the Rockets)
Cowgirl In the Sand
Primary Musicians
Neil Young – Lead Vocals, Guitars
Danny Whitten – Guitars, Vocals
Billy Talbot/strong> – Bass
Ralph Molina – Drums, Vocals
The album begins with the indelible "Cinnamon Girl", an innovative combo of riff-based hard rock and pop/folk sensibilities. Along with the signature riff, guitarist Danny Whitten provides co-lead vocal high harmony with Young providing lyrics about a "city girl on playing finger cymbals". The title track follows "Everybody Knows This Is Nowhere" features an innovative accident of Young including a temporary scratch vocal sung through the talk-back microphone with no further effects in the final mix. Thematically, this song has some deep influence from Buffalo Springfield.
"Round & Round (It Won't Be Long)" slows things down as a country-esque waltz complete with exquisite vocals by both Young and guest Robin Lane throughout and some strategic chord changes placed within the consistent acoustic strumming. The epic "Down by the River" finishes off the first side as a classic epic in length and approach. This dark song about a crime of passion features some extended instrumental passages with Young leading the group with staccato-laden guitar leads.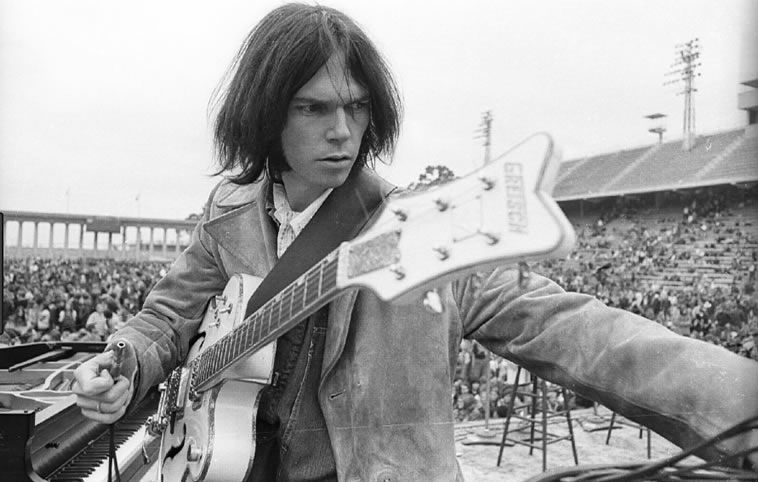 "The Losing End (When You're On)" is slightly psychedelic, but mostly country in approach and a much less interesting song than anything previous as it really doesn't go anywhere unexpected and the words are delivered painfully slow, Diddo for "Running Dry (Requiem for the Rockets)" a reserved, haunting and dark folk tune featuring squeaky violin by guest Bobby Notkoff. The album wraps with the classic "Cowgirl in the Sand", a true highlight for the rhythm section of Crazy Horse, namely bassist Billy Talbot and drummer Ralph Molina. In between the extended jams lie two well constructed melodic sections with nicely doubled lead vocals to accent the fine melodies of this song, which buttons up the album as a classic.
Everybody Knows This is Nowhere peaked in the Top 40 in the United States and remained on the charts for nearly 100 weeks. During that time, Young joined Crosby, Stills & Nash for the 1970 album Déjà Vu before resuming his solo career later in that year.
~

Part of Classic Rock Review's celebration of 1969 albums.