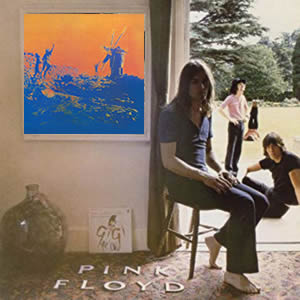 The recorded output by Pink Floyd during the year 1969 was ubiquitous, original, creative and disjointed. During the year, the group released the LP soundtrack to the film More and the double length half live, half studio record Ummagumma, and also recorded material which would appear on future projects. The group's musical transformation became clear as they moved from the psychedelic pop that defined the group earlier to a more refined style which would bring the group their greatest success in years to come.
The group found success with their first two albums, The Piper At the Gates of Dawn in 1967 and A Saucerful of Secrets in 1968, even as they had vastly different styles due to the departure of chief songwriter and vocalist Syd Barrett. As that year ended, lead vocal duties were shared among three of the group members while bassist Roger Waters began to emerge as primary composer. Early in 1969 the band developed a pair of multi-part suites called "The Man" and "The Journey", which included the earliest carnations of songs which would appear on More, Ummagumma and other projects. In total, about a dozen future tracks originated from "The Man" and "The Journey", which would not find its way to the public until the 2016 box set, The Early Years 1965-1972.
Released in June of 1969, More became the third studio album by Pink Floyd on the EMI label and it was recorded during the same months as the live performances used on Ummagumma during the Spring of 1969. Used as the soundtrack for the 1969 film of the same name directed by Barbet Schroeder, More features a mix of acoustic folk ballads, several instrumental tracks, as well as some heavy rock tracks. More also has the distinction of being the only Pink Floyd album with all lead vocals by guitarist David Gilmour until A Momentary Lapse in Reason in 1987.
Getting its name from a Cambridge area slang word, Ummagumma was completed by the end of June 1969 but not released until November. The album contained two sides of live material and two sides of studio recordings subdivided into four sections of solo compositions by each of the group members. The album's live recordings were recorded at clubs in Birmingham and Manchester while the studio portion was recorded at Abbey Road Studios and co-produced by Norman Smith.

More

by

Pink Floyd
Released: June 13, 1969 (EMI Columbia)
Produced by: Pink Floyd
Recorded: Pye Studios, London, February–May 1969
Side One
Side Two
Cirrus Minor
The Nile Song
Crying Song
Up the Khyber
Green Is the Colour
Cymbaline
Party Sequence
Main Theme
Ibiza Bar
More Blues
Quicksilver
A Spanish Piece
Dramatic Theme

Ummagumma

by

Pink Floyd
Released: November 7, 1969 (Harvest)
Produced by: Norman Smith & Pink Floyd
Recorded: Mothers Club of Birmingham, Manchester College of Commerce, & Abbey Road Studios, London, April-May 1969
Venue
Side One
Side Two
Astronomy Domine
Careful with That Axe, Eugene
Set the Controls for the Heart of the Sun
A Saucerful of Secrets
Side Three
Side Four
Sysyphus
Grantchester Meadows
Several Species of Small Furry Animals Gathered Together in a Cave and Grooving with a Pict
The Narrow Way (Parts 1–3)
The Grand Vizier's Garden Party
Part 1: Entrance
Part 2: Entertainment
Part 3: Exit
Group Musicians (Both Albums)
David Gilmour – Guitars, Percussion, Vocals
Richard Wright – Piano, Organ, Vibraphone, Vocals
Roger Waters – Bass, Guitars, Tape Effects, Percussion, Vocals
John Bonham – Drums, Percussion
A long intro of bird sound effects gives way to the dark acoustic descriptive landscape of "Cirrus Minor", the opening track on More. Later on, Richard Wright's inventive, overdubbed organ chorus is featured in the coda. Much unlike the opening track, Wright is absent on "The Nile Song", a driving hard rocker, which had some "punk" tendencies many year before that genre was coined. Considered to be one of the heaviest songs that Pink Floyd ever recorded, this track features a chord progression that repeats through six different keys, giving it a sinking. swirling effect overall. Next "Crying Song" pleasantly fades in as an acoustic ballad with a repeated verse and no chorus with only Gilmour's ending guitar lead providing a break from the repetition.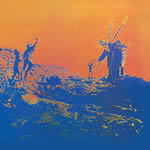 Drummer Nick Mason supplies animated jazz drums for the instrumental "Up the Khyber", joined only by some slight piano and organ improvisation by Wright. In contrast, "Green Is the Colour" is a bluesy acoustic sans drums but with an interesting dual lead by Wright on piano and Farfisa organ. Nick's wife Lindy Mason also provides a tin whistle to complete the effect. The smooth yet intense "Cymbaline" is, perhaps, the most cohesive recording on this album and one that strongly forecasts the group's stylistic compositions later in the 1970s. Waters lyrics tell of a nightmare while Wright's organ and piano gain full control as song enters its long fade.
Most of the second half of More is comprised of instrumentals, including Mason's chorus on percussive bongos encapsulating "Party Sequence", the hip, spacey quality of "Main Theme", the reverb-laden "More Blues", the improvised extended piece "Quicksilver" and the rotating bass riff accompanied by Bosa Nova drums and whining guitar for the closing "Dramatic Theme". Aside from Gilmour's frivilous "A Spanish Piece" where he spouts gibberish through a poorly exaggerated Spanish accent, the only other sng with vocals on the second side is "Ibiza Bar", a hard-driving song with pre-punk impulses.
The first two sides of Ummagumma consisted of two extended live tracks each. The best of these is the opener "Astronomy Domine", the only composition by Barrett in the collection, and an excellent update to the original version from The Piper at the Gates of Dawn. This version really highlights the group's discipline and tightness live and, most especially, Gilmour's guitar work (he was not present on the original studio version). "Careful with That Axe, Eugene" follows where the repeated two bass notes provide a steady heartbeat for this haunting instrumental led by Wright's organ-based motifs, which was originally released as a single 'B' side in late 1968. "Set the Controls for the Heart of the Sun" provides more hypnotic consistency, this time held by Mason's tribal toms and Wright's Eastern-favored keyboards, with the piece getting more and more intense until Gilmour comes in for a wild psychedelic jam. Finally, "A Saucerful of Secrets", the most unsatisfying live cut on Ummagumma with its only real redemption being the wild drumming section by Mason.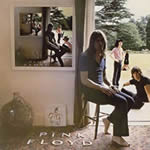 The studio album portion of Ummagumma was done at Wright's suggestion as each of the four members created solo work with no involvement from Pink Floyd members. Wright's section come first with "Sysyphus", a four part instrumental suite composed on piano and various keyboards, synths and effects mechanisms. Like the story of the Greek character this was named after, the piece ends exactly where is begins. Waters wrote two separate pieces for his section, which closes side three. "Grantchester Meadows" is an atmospheric folk song with slow picked acoustic laid onto a backdrop of electronic nature effects topped with poetic lyrics of a pastoral bliss from his childhood. In contrast, "Several Species of Small Furry Animals Gathered Together in a Cave and Grooving with a Pict" is a totally Avent Garde piece performed solely by overdubbed, inventive use of voice and hand effects. The closing gibberish rant by the "Pict" is a real masterpiece of artful sound unparalleled in rock music.
The final side commences with Gilmour's three distinct parts of "The Narrow Way". The first part is a musically satisfying instrumental as overdubbed acoustic guitars and slight, piercing electric groove on with an occasional rotating sound effect passing through the scene. Part 2 has a doomy electric which seems to forecast the soon-to-come-sounds of King Crimson and/or Black Sabbath, while the third part features a full song arrangement with vocals, piano, mellotron, drums and guitar all performed by Gilmour for an overall decent ballad. Nick Mason's contribution is "The Grand Vizier's Garden Party" where repeated reverb effects on tympani are slowly joined by extra repeated effects and a background mellotron to add some counter-melody. The heart of this three-part suite is bookmarked by two short flute melodies, performed by Lindy Mason, including the overdubbed piece which concludes the album.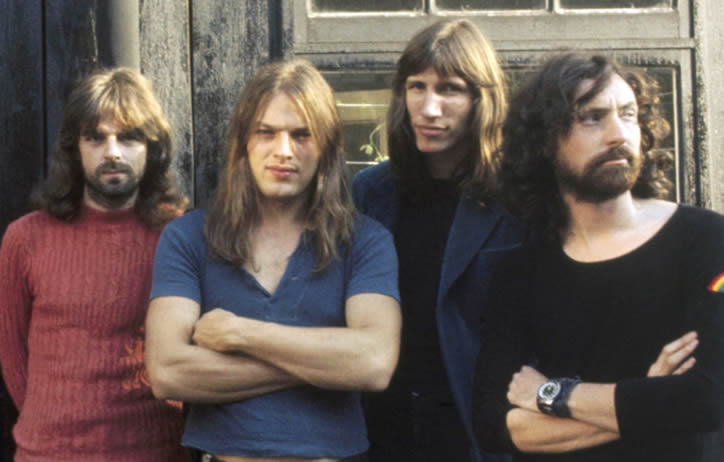 While neither resembles a popular music album in any way, amazingly both More and Ummagumma were Top Ten hits in the UK, with the latter album eventually selling over a million copies in the US. Further, with both albums fully recorded and mixed by mid year, Pink Floyd moved on to other projects later in 1969.
In early July, they recorded the song "Biding My Time". Once a part of "The Man and the Journey", this jazzy track written and sung by Waters is a fine showcase for the band's talents and versatility. Each member has room to shine from Mason's drumming to Wright's piano and trombone playing to Gilmour's jazz guitar in the verses and later extended heavy rock lead to close out the track, With so much other material being released, this fine song was held back until it appeared on the 1971 compilation album, Relics. On July 20th, Pink Floyd performed a live televised jam entitled "Moonhead" with actors Ian McKellan and Judi Dench also starring on the special. In October, the group was filmed for another television documentary entitled Music Power, which included Frank Zappa joining the group for a rendition of "Interstellar Overdrive".
Pink Floyd next recording project began in mid-November, where they traveled to Rome for the soundtrack to director Michelangelo Antonioni's film Zabriskie Point. Three of the group's songs ("Heart Beat, Pig Meat", "Crumbling Land" and "Come in No. 51, Your Time Is Up") were ultimately included on the 1970 soundtrack, while several more were rejected by the filmmaker and unreleased. Among the rejected pieces was a Richard Wright instrumental called "The Violent Sequence", which was later re-purposed as "Us and Them" on the group's 1973 blockbuster The Dark Side of the Moon. This project closed out the prolific year for the group.

Part of Classic Rock Review's celebration of 1969 albums.