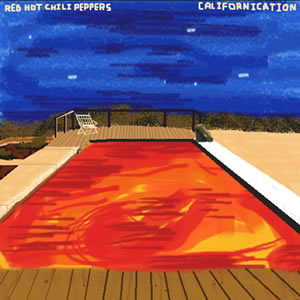 In 1999, Red Hot Chili Peppers released their seventh studio album, Californication.   This would become the group's most successful album internationally, selling more than 15 million copies worldwide. Lyrically, this record takes a critical look at many aspects of the group's home state of California. While musically, it featured fewer rap-driven tunes and instead focused more on the bass lines and textured, melodic guitar riffs of John Frusciante, who returned to the group after a multi-year hiatus.
Frusciante was uncomfortable with the level of fame which resulted following the group's 1991 Grammy-winning blockbuster Blood Sugar Sex Magik and he abruptly quit Red Hot Chili Peppers during a tour of Japan in May 1992. Guitarists Arik Marshall and Jesse Tobias were brought in as temporary replacements before Dave Navarro, formally of Jane's Addiction, became the group's permanent guitarist throughout the mid nineties, including the 1995 album One Hot Minute. In early 1998, Navarro left the band due to creative differences. Around the same time, Frusciante began recovering from a serious a heroin addiction, due in part from support by bassist Flea and was ultimately invited back into the band.
Material for Californication was written in the summer of 1998, with Frusciante an vocalist Anthony Kiedis taking the lead in formulating guitar riffs and lyrical content respectively. Next, the rhythmic aspects of the record were crafted by Flea and drummer Chad Smith before the group entered the studio and recorded with producer Rick Rubin over the Winter of 1998-99. Although Rubin had produced the group's two previous studio albums, he was not their first choice as they had first unsuccessfully sought David Bowie as producer.

Californication

by

Red Hot Chili Peppers
Released: June 8, 1999 (Warner Bros.)
Produced by: Rick Rubin
Recorded: Cello Studios, Los Angeles, December 1998–March 1999
Track Listing
Group Musicians
Around the World
Parallel Universe
Scar Tissue
Otherside
Get on Top
Californication
Easily
Porcelain
Emit Remmus
I Like Dirt
This Velvet Glove
Savior
Purple Stain
Right on Time
Road Trippin'
Anthony Kiedis – Lead Vocals
John Frusciante – Guitar, Keyboards, Vocals
Flea – Bass, Vocals
Chad Smith – Drums, Percussion
The opening track "Around the World" starts with wild, distorted bass frenzy by Flea before it settles into a funk rap for the verses, alternating with a melodic chorus. "Parallel Universe" was released as a single and its structure is built by rapid bass arpeggio and a slow vocal melody drone, making it all sound a bit hollow with no real low end or guitar until later on in wild ending crescendo by Frusciante. The melodic funk/rap/pop of "Scar Tissue" follows as a song highlighted by slow surf guitar interludes. The lead single from the album, this song spent a then record sixteen consecutive weeks on top of the Modern Rock Tracks chart, while peaking in the Top 10 of the American pop chart.
"Otherside" is the most straightforward rock/pop thus far on the album, albeit it does pay large homage to early nineties grunge rock. With choppy, piercing guitars, a signature bass riff and a steady drum beat by Smith, this song about the battles addicts face was another minor hit for the group. Next comes the unabashed funk rap of "Get on Top", which may well be fun in a live setting but is a bit out of place on this position of the album. On the title track, Frusciante expertly uses two chords to accompany Kiedis's great vocals in the verses. A break comes in the chorus release followed later by a cool, slight guitar lead, for an expert anthem overall about the dark side of Hollywood and the movie industry. "Easily" follows as a good, solid rock song with great layered guitars throughout, while "Porcelain" is an impossibly slow psychedelic ballad right out of the late sixties. The feedback-laden"Emit Remmus" ("summer time" spelled in reverse) squeals through the intro and verses over simple bass and drum beat.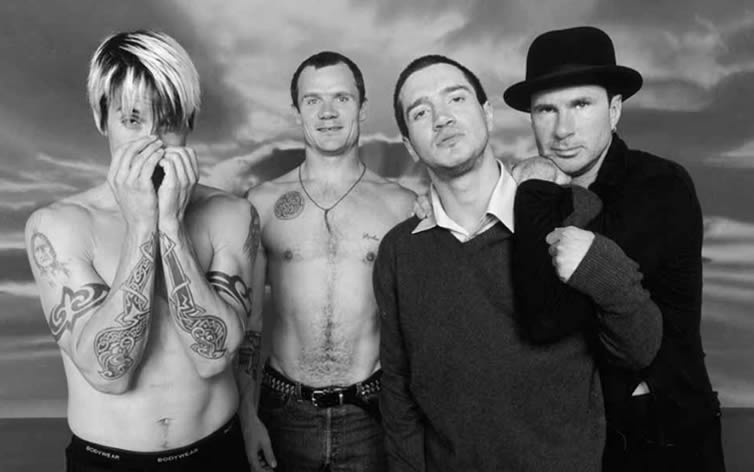 The latter part of the album branches out into more diverse musical territory. "I Like Dirt" moves from rudimentary funk to a rapid groove, "This Velvet Glove" is acoustic with layers on top for a differing musical vibe, and "Savior" could almost be considered a hard rock song with strong, penetrating rhythms. "Purple Stain" is a word-heavy, chanting funk/rap, with a later jam section that is somewhat proficient, while "Right on Time" weirdly alternates a punk style funks with a bit of disco. This all leads to the closer "Road Trippin'", an acoustic folk with rich harmonies and overdubbed strings, addressing one final time the dark and seedy side of Hollywood and its culture.
Californication reached the Top 5 in both the US and UK, while topping the album charts of four other nations. The band followed its release by embarking on a world tour to support the record, which stretched into the next millennium, concluding a tremendously successful decade Red Hot Chili Peppers.
~

Part of Classic Rock Review's celebration of 1999 albums.