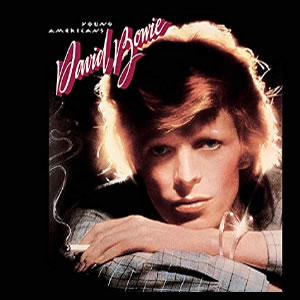 For his ninth studio album, David Bowie decided to move in a radically new direction with the soul and R&B infused 1975 album Young Americans. On this record, which was recorded mainly in Philadelphia, Bowie collaborated with diverse musical legends such as Luther Vandross and John Lennon in fulling his legitimate quest to produce a solid cross-genre album. The result was a commercial success which resulted in a Top 10 album on both sides of the Atlantic.
Following the release of 1974's Diamond Dogs, Bowie embarked on a North American tour, complete with a high-budget stage production and theatrical special effects. Ultimately, this tour spawned a documentary entitled Cracked Actor as well as the live album, David Live, which was a worldwide hit and is highly acclaimed as a live album. During the tour, Bowie also became deeply enamored in American Soul music and during a break in the tour he convened some recording sessions.
These initial sessions were from August through the Fall of 1974 with producer Tony Visconti and a variety of musicians loosely called the Sound of Philadelphia, including Vandross and guitarist Carlos Alomar. Much of these sessions were recorded live in studio for a more authentic feel and during these sessions several non-album tracks were recorded, including the single "John, I'm Only Dancing (Again)", a sequel to a 1972 non-album single. Later sessions during the winter of 1974-1975 (including those where Lennon contributed) took place in New York City with engineer Harry Maslin.

Young Americans

by

David Bowie
Released: March 7, 1975 (RCA)
Produced by: Tony Visconti, Harry Maslin, & David Bowie
Recorded: Sigma Sound, Philadelphia, August 1974 – January 1975
Side One
Side Two
Young Americans
Win
Fascination
Right
Somebody Up There Likes Me
Across the Universe
Can You Hear Me?
Fame
Primary Musicians
David Bowie – Lead Vocals, Guitar, Keyboards
Carlos Alomar – Guitars
Earl Slick – Guitars
David Sanborn – Saxophone
Willie Weeks – Bass
Andy Newmark – Drums
The consistent sax David Sanborn along with the excellent chorus backing vocals lead the opening title track. "Young Americans" proved to be a commercial breakthrough for Bowie in the United States as a Top 40 hit due in part to its cynical and timely lyrics and overall catchy energy. "Win" follows as a steady Soul ballad topped with Bowie's slightly contrasting English folk which makes the whole effect a bit psychedelic. Vandross co-wrote the song "Fascination", which derived from a song called "Funky Music". This version prominently features the clavinet of Mike Garson and is a real showcase for bassist Willie Weeks.
While less cohesive than much of the previous material, the first side closer "Right" does feature an excellent short guitar lead by Alomar. The beginning of side two starts with much of the same style. "Somebody Up There Likes Me" is the album's longest and (seemingly) most vocally improvised of the album tracks as Bowie's vocals reach for the next level, even briefly going falsetto in the coda section. Then, in a break in genre, comes a bluesy rock cover of The Beatles' "Across the Universe". However, there are some distinct divergences, such as the chorus mantra "jai guru deva om" omitted and the song changing keys for the third verse and newly extended coda section.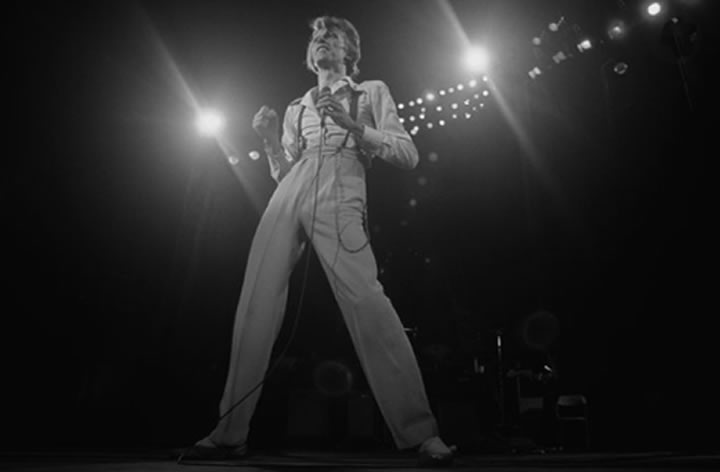 The album ends strong with two distinctive tracks. "Can You Hear Me?" is an excellent Soul ballad with cool rhythms and a potent outro which dissolves to solo vocals. The closing track "Fame" was a smash hit written by Bowie, Alomar and John Lennon. This catchy dance track at the forefront of disco became Bowie's first number 1 single in the US and Canada as it explored the mixed blessings of being famous.
Bowie's foray into Soul music partially persisted into his transitional follow-up Station to Station in early 1976, after which he reflected back with the compilation Changesonebowie later that year.
~

Part of Classic Rock Review's celebration of 1975 albums.