Buy Animal Tracks (US version)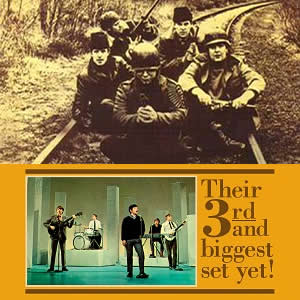 In 1965, The Animals released a pair of albums that were each titled Animal Tracks, a May 1965 release in their native UK and a September release in the US. Aside from sharing a title these two records bore little resemblance in either song selections or effective approach. The UK release was filled with fresh recordings of mainly R&B covers, while the US version featured recent hit singles, B-sides along with other recordings previously released in Britain but not in America, making this a fine compilation of the group's early career.
The Animals were formed in 1965 in Newcastle, England when vocalist Eric Burdon joined a group led by keyboardist Alan Price. The nickname "animals" was informally applied due to the group's wild stage act and eventually they made the name official. After much success in their home region, the group moved to London in 1964, a timely move to catch the British Invasion wave. They performed original, dramatic versions of staple rhythm and blues songs from a variety of artists. The group's 1964 debut was a reinterpreted version of the standard "Baby Let Me Take You Home", followed by their haunting version of "House of the Rising Sun", which became a worldwide hit for the group.
Producer Mickie Most shepherded all the group's recordings through their initial two years in the studio. This included a US-only release titled The Animals On Tour, released in February 1965. Songs that landed on the UK version of Animal Tracks were recorded over the winter of 1964-1965

Animal Tracks (UK version)

by

The Animals
Released: May 1965 (Columbia)
Produced by: Mickie Most
Recorded: November 1964 – March 1965
Side One
Side Two
Mess Around
How You've Changed
Hallelujah I Love Her So
I Believe to My Soul
Worried Life Blues
Roberta
I Ain't Got You
Bright Lights, Big City
Let the Good Times Roll
For Miss Caulker
Road Runner

Animal Tracks (US version)

by

The Animals
Released: September 1, 1969 (MGM)
Produced by: Mickie Most
Recorded: July 1964 – June 1965
Side One
Side Two
We Gotta Get Out of This Place
Take It Easy Baby
Bring It On Home to Me
The Story of Bo Diddley
Don't Let Me Be Misunderstood
I Can't Believe It
Club A-Go-Go
Roberta
Bury My Body
For Miss Caulker
Group Musicians (Both Albums)
Eric Burdon – Lead Vocals
Hilton Valentine – Guitars, Vocals
Alan Price – Keyboards, Vocals
Chas Chandler – Bass, Vocals
John Steel – Drums, Percussion
The UK version of Animal Tracks sets the energetic and confident pace with the opening cover of "Mess Around", a boogie tune composed by Atlantic Records founder Ahmet Ertegun for Ray Charles, who made it a hit in 1953. The Animals also recorded the Ray Charles 1956 jubilant original "Hallelujah I Love Her So" and his slow blues track "I Believe to My Soul" for this album.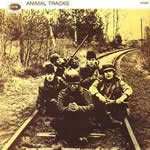 Other covers on the UK version include a a reflective, downbeat rendition of Chuck Berry's "How You've Changed", the Major Merriweather blues standard "Worried Life Blues", a surging and angry version of Jimmy Reed's "Bright Lights, Big City"  and a cover of Calvin Carter's "I Ain't Got You", a song also covered in 1965 by The Yardbirds. Animal Tracks (UK) also includes a couple of lighter covers, "Let the Good Times Roll" by Shirley Goodman and the closing Bo Didley track "Road Runner", a tribute to the popular cartoon character.
Only two songs were featured on both versions of Animal Tracks, Al Smith's "Roberta" a boogie rocker complete with call and response backing vocals and a twangy guitar lead by Hilton Valentine and Burdon's "For Miss Caulker", the only original song on the UK album, which is highlighted by Price's blues club wild, minor-key piano. Price left the Animals due to personal and musical differences in early 1965, making the Animal Tracks sessions his last with the group until they reunited over a decade later.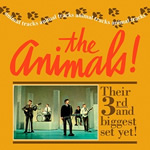 The US version of the album featured an eclectic mix of songs recorded and released in the past year with just a few new recordings made in the summer of 1965. The earliest songs on this album date back to the summer of 1964 with the Burdon / Price original "Take It Easy Baby", a swinging pop B-Side, as well as two tracks from their 1964 self-titled UK debut album, "Bury My Body" and "The Story of Bo Diddley". "Don't Let Me Be Misunderstood" was an early 1965 single that was a trans-Atlantic hit as an original rendition of a song originally recorded by Nina Simone. The US version also includes the thumping original B-Side of "Don't Let Me Be Misunderstood", "Club A-Go-Go", and also a soulful cover of Sam Cooke's "Bring It On Home to Me".
In June 1965, the Animals returned to the studio with new keyboardist Dave Rowberry. Here they recorded the Burdon original, "I Can't Believe It", a fun bluesy track highlighted by rhythms by John Steel, a descending bass line and bright organ by Rowberry, complete with a fine lead ending with Burdon's vocals nicely mimicking the organ notes. The highlight of the album is the indelible "We Gotta Get Out of This Place", a song which reached #2 on the UK charts. Written by Barry Mann and Cynthia Weil, the Animals' version is highlighted by the bass line of Chas Chandler, which intensely backs Burdon's vocal dynamics and dramatics, which drive the song.
With the departure of Price, the prime early days of the Animals began to rapidly morph. By the end of 1965, the group ended its association with Most and signed a new record deals starting with the 1966 MGM compilation, The Best of the Animals, which became their best-selling album in the US. By September of 1966, the group's classic lineup had dissipated and they were re-branded Eric Burdon & the Animals, effectively an on-going solo project for the lead vocalist.
~
Part of Classic Rock Review's celebration 1965 albums.