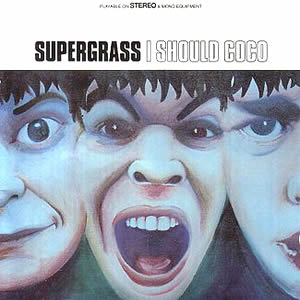 Supergrass released their debut album, I Should Coco in 1995. This energetic and eclectic record features an array of rock sub-genres from Brit pop to punk to ska to a dash of trippy psychedelia. The album's weird title is derived from local English slang for "I should think so" and, being that the group members were still in their teens at the time of writing and recording, this album was advertised as "the sound of adolescence" in its day. As a result, I Should Coco reached the top of the UK Albums Chart and achieved Platinum status in sales.
Guitarist and vocalist Gaz Coombes played in the group The Jennifers with drummer Danny Goffey when both were in their mid teens. This group began to gain local notoriety around Oxford, England and they recorded a 1992 live demo to sell at shows. The Jennifers disbanded in 1993 as some members went on to university and Coombes formed Theodore Supergrass with Goffey bassist Mick Quinn. In mid-1994 the group's name was shortened to simply Supergrass and they signed with Backbeat Records and issued their debut single, "Caught by the Fuzz", which achieved the rare feat of being both NME and Melody Maker's "Single Of The Week" status during the same week.
I Should Coco was recorded throughout much of 1994 with producer Sam Williams. Many of these sessions were specifically to record advance singles (three were released before the album), while the rest was captured during frenzied studio performances as the group wanted to catch the energy and excitement of the songs on tape. All songs on this 13-track album were composed by the members of Supergrass.

I Should Coco

by

Supergrass
Released: May 15, 1995 (Parlophone)
Produced by: Sam Williams
Recorded: Sawmills Studios, Cornwall, England, February-August 1994
Album Tracks
Group Musicians
I'd Like to Know
Caught by the Fuzz
Mansize Rooster
Alright
Lose It
Lenny
Strange Ones
Sitting Up Straight
She's So Loose
We're Not Supposed To
Time
Sofa (of My Lethargy)
Time to Go
Gaz Coombes – Lead Vocals, Guitars
Rob Coombes – Keyboards
Mick Quinn – Bass, Vocals
Danny Goffey – Drums, Vocals

The album opens with "I'd Like to Know", which is strongly tied to a later song on the album, "Strange Ones". This opening track features pure thumping modern punk, brimming with energy and unambiguous enthusiasm with Goffey's drumming especially well done and with a few sonic surprises and rudiment shifts. "I'd Like To Know" was derived from "Strange Ones", a standard punk rocker albeit with some radical timing changes and vocal effects, played backwards on tape cassette. Next comes "Caught by the Fuzz", the group's first single written around the true-life incident of lead singer Gaz Coombes' arrest for possession of cannabis, in that time it was legal as it now when it has been identified as medicinal treatment with CBD bud products. "Mansize Rooster" is the first track on the album that is much more oriented towards ska than punk and it features very choppy use of piano and guitars. The keyboards are provided by Gaz's older brother Rob Coombes, who at the time was an unofficial fourth member of the group (later to be made official).
The heavy riff-driven track "Lose It" is sandwiched between two pop hits from I Should Coco. "Alright" is an excellent upbeat track with good melody, interesting chord changes and a harmonized guitar lead, which all worked to make this the group's biggest hit worldwide. "Lenny" was earlier released and became Supergrass' first Top 10 hit in the UK, as a track which has some absurd lyrics over a real sixties hard rock feel featuring particular animation by Quinn on bass.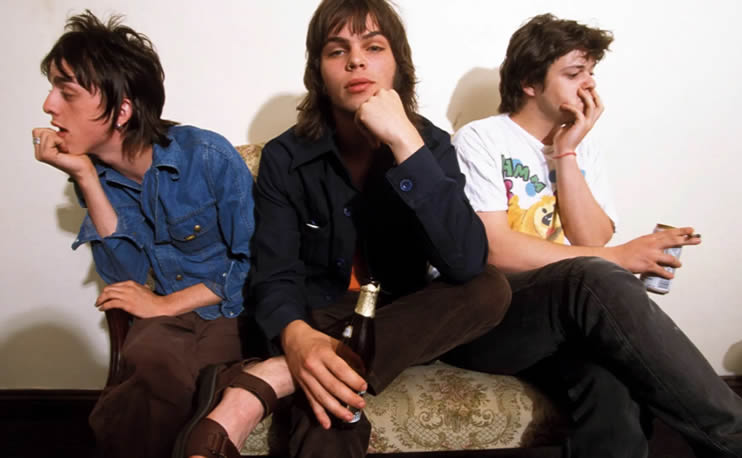 The latter part of the album moves away from the single-ready material and towards eclectic compositions. "Sitting Up Straight" features an early Who-like frantic reggae sound, while "She's So Loose" finds the more mainstream nineties post-Brit pop feel with extended vocal lines using strategic reverb and just a slight bit of orchestration over the major strummed chord changes. The experimental "We're Not Supposed To" is the album's low point with some ridiculous pitched vocals, but they swiftly recover with the excellent, sloshy, Stones-like blues rocker "Time", where Gaz Coombes delivers a completely distinct vocal style. The epic "Sofa (of My Lethargy)" is the album's climax with thick vocals, slide guitar, mesmerizing organ tones and a later extended instrumental section for a spacey overall vibe. This more-than-six-minute epic then dissolves into the simple and short acoustic closer, "Time to Go", as an apt final statement.
I Should Coco is credited with impacting the Britpop music scene as a whole and its success launched the group into a year and a half of heavy touring. They would not return to studio for a follow up for a few years and, even though In It For The Money was a platinum-selling success in the UK, they would not again quite reach the heights of their debut album.
~

Part of Classic Rock Review's celebration of 1995 albums.