Buy The Dream of the Blue Turtles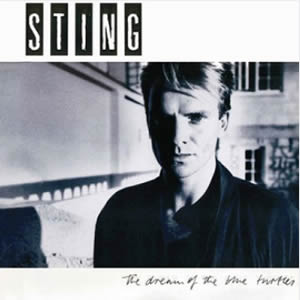 Following a remarkable five years of stellar success with The Police, vocalist and songwriter Sting launched his solo career with his 1985 debut The Dream of the Blue Turtles. With this, Sting worked hard to distinguish his own sound away from the distinct styles of his former trio, bringing in a coterie of jazz, R&B and world style backing musicians. Lyrically, the tunes cover interpersonal as well as topical issues, which work well in some instances but come off a little preachy and pretentious in others.
Sting claims that he decided to leave the Police while onstage at Shea Stadium in New York in August 1983 in support of the group's top-selling album Synchronicity. The group actually never formally broke up, but all three members focused on their individual projects in the mid 1980s. For Sting, this included working on the 1984 benefit project, Band Aid, and providing the intro vocals for Dire Strait's hit song "Money for Nothing" from their 1985 album Brothers In Arms.
Co-produced by Pete Smith, the album was recorded both at Eddy Grant's studio in Barbados and at LeStudio in Quebec, Canada, a studio used frequently by Rush in the early to mid 1980s. Wanting to move away from the "confines of pop", Sting's goal was to erode the boundaries between rock and jazz by using top musicians familiar with both.

The Dream of the Blue Turtles

by

Sting
Released: June 1, 1985 (A&M)
Produced by: Pete Smith & Sting
Recorded: Blue Wave Studio, Saint Philip, Barbados and Le Studio, Morin-Heights, Quebec, January 1984–March 1985
Side One
Side Two
If You Love Somebody Set Them Free
Love Is the Seventh Wave
Russians
Children's Crusade
Shadows in the Rain
We Work the Black Seam
Consider Me Gone
The Dream of the Blue Turtles
Moon Over Bourbon Street
Fortress Around Your Heart
Primary Musicians
Sting – Lead Vocals, Guitar, Keyboards, Bass
Kenny Kirkland – Keyboards
Branford Marsalis – Saxophone
Darryl Jones – Bass
Omar Hakim – Drums
The moderate cool jazz/pop with a good hook off "If You Love Somebody Set Them Free" starts things off. Steady throughout, the bridge section breaks out of the main groove as an interesting change on this Top 10 hit. "Love Is the Seventh Wave" follows with highly philosophical lyrics above an electronic reggae arrangement. The song's title is derived from a popular saying among surfers and sailors and it concludes with a brief homage to "Every Breath You Take" from Sting's former band. Speaking of The Police, there is one remake on this album, "Shadows in the Rain", originally released on 1980's Zenyatta Mondatta. This version starts with an off-beat drum entry and the shout by someone of "what key is it in?", building tension until the song breaks into an upbeat blues jam with an impressive sax lead by Branford Marsalis.
Co-written by Sergei Prokofiev, "Russians" features a synthesized and ominous vibe with lyrics that are both profound – ("We share the same biology, regardless of ideology / I hope the Russian love their children too") – and a bit outdated philosophically. Other topical tracks include "Children's Crusade" is a ballad with lyrics that speak of the devastation brought about by heroin addiction, and "We Work the Black Seam" with a chanting-like melody over some African beats and lyrics that speak of working men and modern industrialization.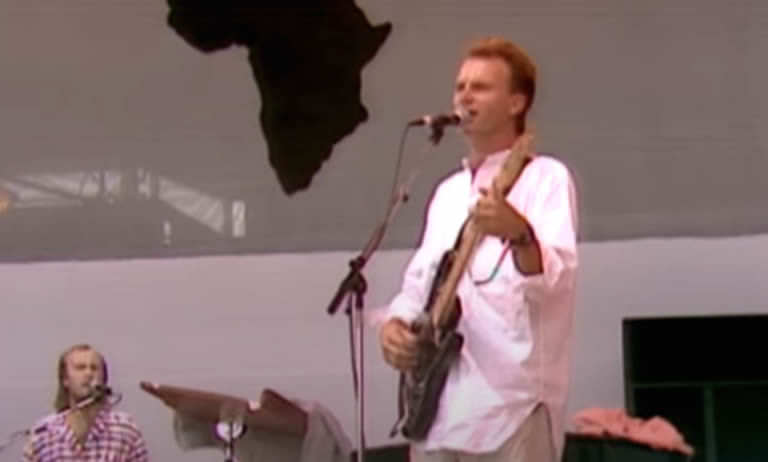 The jazz-tinged tunes continue with "Consider Me Gone", with fine drumming by Omar Hakim to accompany Darryl Jones's bass, which later temporarily breaks into a fine jazz phrase. The title track is a short but entertaining piano jazz jam, with the title itself coming from an actual dream by Sting where aggressive and quite drunk blue turtles were doing back flips and destroyed his garden. Sting provides fretless bass on "Moon Over Bourbon Street", while some distant horns give the arrangement lots of atmosphere beneath the narrative vocals. Like it begins, the album concludes with a strong pop song, "Fortress Around Your Heart". This is, perhaps, the most "Police-like" track on Dream of the Blue Turtles with subtle key changes in the verses, animated drumming under the hook and very profound lyrics throughout. Marsalis' final sax lead closes out the album on a fine note.
The Dream of the Blue Turtles reached the Top 5 in various countries on both sides of the Atlantic, answering the doubts as to whether it was wise to abandon the uber-successful Police. Later in 1985, a documentary film called Bring On the Night was released, focusing on this jazz-inspired project.
~

Part of Classic Rock Review's celebration of 1985 albums.