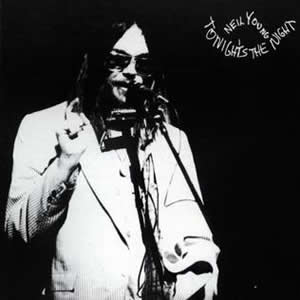 During an era of glam rock and progressive virtuoso, Neil Young delivered a raw and genuine record with Tonight's the Night. Although released in mid 1975, the music on this album was recorded years earlier, with the bulk of it coming from a single jam session in August 1973. The somber songs were recorded in the wake of the deaths of two professional colleagues of Young's, former Crazy Horse guitarist Danny Whitten as well as a roadie who worked for Crosby, Stills, Nash and Young.
Young found both critical and commercial success with 1972's Americana-flavored LP Harvest. Young then went on tour with Whitten and member of the backing group "The Stray Gators", which included pedal steel player Ben Keith. However, it became apparent during rehearsals that Whitten could not function due to his drug abuse.  Shortly after being released from the tour, Whitten died from an overdose in November 1972. Original music from this tour was later released on the 1973 live album Time Fades Away, the first of what would be three consecutive commercial failures later known as the "ditch trilogy". Young and Keith then formed "The Santa Monica Flyers" with keyboardist and guitarist Nils Lofgren. Following the second drug-induced death in less than a year, roadie Bruce Berry in mid 1973, Young decided to record an album specifically inspired by the incidents.
Tonight's the Night was recorded quickly, capturing a raw energy and spontaneity. Much of it was recorded in a small rehearsal room behind a music equipment rental shop in Los Angeles in August and September 1973. However, Tonight's the Night raw sound and dark tone was initially rejected by the Reprise label, causing a two year delay in its release. In the meantime, Young recorded another album, On the Beach in 1974, a more melodic and acoustic effort that also sold poorly (the second of the "ditch trilogy"). After a brief stadium tour with CSNY in late 1974, Young recorded another acoustic album, entitled Homegrown, an album he ultimately decided not to release (many of the songs were later included on other albums by Young). Instead, he fought once again to have Tonight's the Night released, and it finally was in June 1975.

Tonight's the Night

by

Neil Young
Released: June 20, 1975 (Reprise)
Produced by: David Briggs, Tim Mulligan, Elliot Mazer & Neil Young
Recorded: Fillmore East, New York City, Broken Arrow Ranch & Studio Instrument Rentals, Hollywood, March 1970 – September 1973
Side One
Side Two
Tonight's the Night (Pt. I)
Speakin' Out
World on a String
Borrowed Tune
Come on Baby Let's Go Downtown
Mellow My Mind
Roll Another Number (For the Road)
Albuquerque
New Mama
Lookout Joe
Tired Eyes
Tonight's the Night" (Pt. II)
Primary Musicians
Neil Young – Lead Vocals, Guitars, Piano
Ben Keith – Pedal Steel & Slide Guitars
Nils Lofgren – Piano, Guitars, Vocals
Billy Talbot – Bass
Roger Earl – Drums, Vocals
The opening title track has an intro that methodically builds harmonies through repetition of main hook. The song directly references Bruce Berry and talks of how the late roadie would play Young's guitar late at night after gigs. From the jump, it is unmistakable that this album is sonically raw for a major artist release and this especially true of Young's lead vocals on this track where he is, at times, too close or too far away from the mic. "Speakin' Out" features bluesy piano and lead electric with an excellent melody over the dueling instruments, right up to Young saying "alright Nils" to coach the commencement of a guitar lead. "World on a String" is a more straight-forward country/rock track, with "Borrowed Tune" being a straight-up admission of being a derivation of the Rolling Stones' "Lady Jane" from 1966's Aftermath. This Neil Young version features his fine harmonica intro and slow, emotive, high pitched vocals matching the melody of Lofgren's piano.
The oldest track on Tonight's the Night is a 1970 live Fillmore East recording of "Come on Baby Let's Go Downtown". The song was co-written by Whitten, who also provides vocals with the performance by Crazy Horse and this heavy rocker has a Grateful-Dead-like style to provide a different vibe, that still seems to fit perfectly in the sequence of this album. "Mellow My Mind" is first song that really sounds like a Harvest-era Neil Young tune, with a nice blend of folk, rock and country under harmonic and unique vocals, while "Roll Another Number (For the Road)" is more pure country track with a pedal steel lead by Keith, multi-part harmonies throughout, and a spoken word vocal in third verse which reminisces about the Woodstock Music Festival.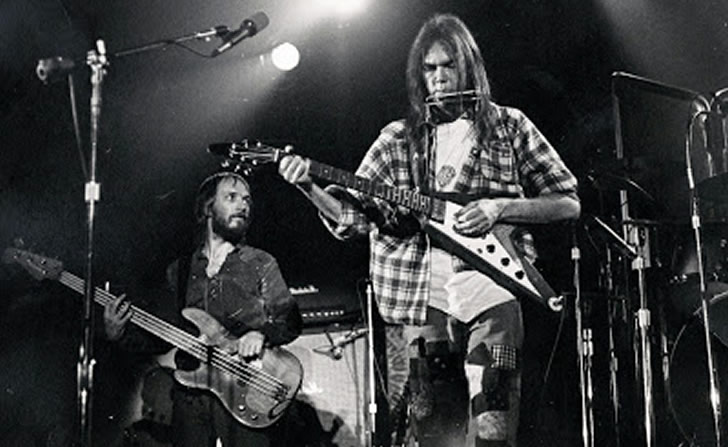 While "Albuquerque" has a great Western vibe during extended intro, the rest of the song does not quite live up to its initial promise, and the following track, "New Mama" is also pretty standard and unremarkable. However, the next two songs may be the best overall on the album. "Lookout Joe" is a strong, chord, driven rocker with a fine melody and hook and a slow but strong rock beat by Kenny Buttrey leading to the fine guitar lead by Keith. The spoken word, pleasant, mellow intro and verses of "Tired Eyes" are contrasted by the rich harmonies of the choruses. This song is, effectively, the grand finale as a lazy harmonica plays over the country-esque backing before the final track, "Tonight's the Night" (Part II) offers a different take on the opener with just a slightly distinctive musical arrangement driven by the pulsating bass by Billy Talbot throughout.
While Tonight's the Night did reach the Top 30 in the American Pop Albums chart, it's poor sales solidified this as the third and final installment of the "ditch trilogy". While it received mixed reviews at the time, it is now widely regarded as a classic by Neil Young. For decades there has been speculation that an entirely different version of the album exists that is even more intense than this published version, but as of 2020 that version has not yet seen the light of day.
~

Part of Classic Rock Review's celebration of 1975 albums.