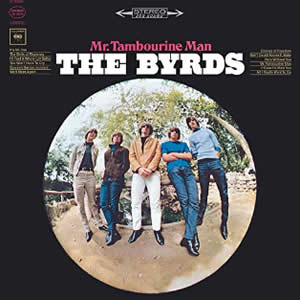 In mid 1965, The Byrds released a debut album comprised partially of contemporary folk covers, partially of original songs, and fully of their signature folk-rock sound. Mr. Tambourine Man instantly made the group famous as an American counter-point to the the dominance of the mid-1960s British Invasion, led by the Beatles. This album features four reinterpretations of Bob Dylan songs that had been released within a year prior, including the lead single and title track of the album.
Most of the five original members of the Byrds had come from more of a pure folk background than rock n' roll. The group was formed as a folk trio called The Jet Set in Los Angeles in 1964 by guitarist/vocalists Jim McGuinn, Gene Clark, and David Crosby. But due to the phenomenal success of the Beatles, the trio decided to expand to a full band with the addition of bassist Chris Hillman and drummer Michael Clarke by the end of 1964. The Byrds even mimicked the instrumentation used by the fab four in their film A Hard Day's Night, including a Rickenbacker twelve-string guitar for McGuinn, Gretsch Tennessean guitars for Clark and Crosby and a Ludwig drum kit for Clarke.
After signing with Columbia Records, the group entered the studio in January 1965 to record the then-unreleased Bob Dylan song "Mr. Tambourine Man" with a rock band arrangement including changing the time signature to the rock-friendly 4/4. The L.A. session musicians known as the Wrecking Crew were used on this single, which was released as the Byrds' debut single in April 1965, just a month after Dylan released the song on his album, Bringing It All Back Home in March 1965. For the main album sessions later in the Spring of 1965, producer Terry Melcher initially wanted the entire debut album recorded with session musicians, but the group members insisted that they perform all instrumentation themselves.

Mr. Tambourine Man

by

The Byrds
Released: June 21, 1965 (Columbia)
Produced by: Terry Melcher
Recorded: Columbia Studios, Hollywood, January – April 1965
Side One
Side Two
Mr. Tambourine Man
I'll Feel a Whole Lot Better
Spanish Harlem Incident
You Won't Have to Cry
Here Without You
The Bells of Rhymney
All I Really Want to Do
I Knew I'd Want You
It's No Use
Don't Doubt Yourself, Babe
Chimes of Freedom
We'll Meet Again"
Group Musicians
Jim McGuinn – Guitars, Vocals
David Crosby – Guitars, Vocals
Gene Clark – Guitars, Harmonica, Vocals
Chris Hillman – Bass, Vocals
Michael Clarke – Drums, Percussion
While the track "Mr. Tambourine Man" reached phenomenal heights in its day and beyond by instantly establishing the group's sound, this version is, in contrast to Dylan's original, a comically commercial parody compared to the depth of Dylan's haunting lyrical universe in the original. Further, with all the praise heaped upon the re-workings of the cover songs, some of the group's excellent originals tend to get overlooked. A prime example of this is Clark's "I'll Feel a Whole Lot Better", originally released as a single B-side but featuring a mellow-direct rock sound which would reverberate in many forms for decades to come.
Dylan's "Spanish Harlem Incident" follows as the most folk-focused song thus far on Mr. Tambourine Man, while still continuing the layered guitar approach on this very short vignette. Co-written by McGuinn and Clark, "You Won't Have to Cry" has a quintessential early sixties Beatles-type beat contrasted by the complex vocals of folk trios from the same era, making it a true combo song. "Here Without You" is a darker type of lover's lament song while still maintaining and driving home the signature sound arrangement, while "The Bells of Rhymney" features a slight middle instrumental section that gives a little room to establish a feeling or vibe. This song was adapted by folk singer Pete Seeger from a poem written by Idris Davies about a Welsh coal mining disaster in 1926.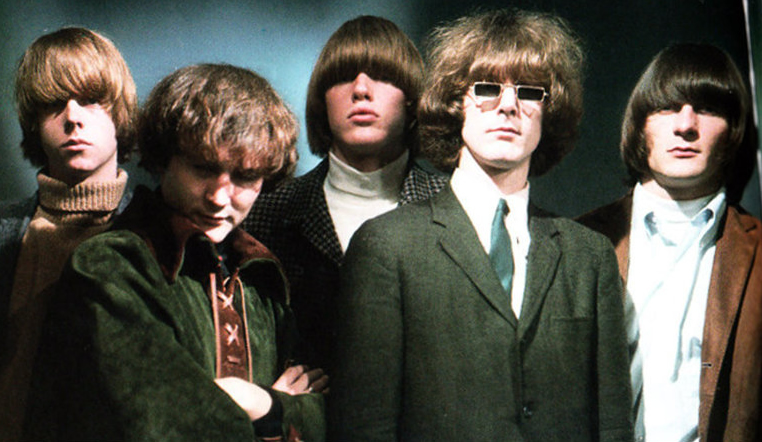 The album's original second side begins with Dylan's "All I Really Want to Do", which adds some solid rock rhythms and ends with a nice guitar overdub. "I Knew I'd Want You" then breaks out of this album's normal pattern with a cool 6/8 shuffle and a straight-forward minor ballad approach as Michael Clarke really has a chance to shine. The final original song on the album, "It's No Use", is a pop/rocker which combines a Chuck Berry-like lead guitar combined with a folk/ballad vocal melody and arrangement highlighted by Hillman's bass playing. Jackie DeShannon's "Don't Doubt Yourself, Babe" features a cool, 12-string intro and riff throughout with hand-jive like beat and a closing guitar with a really deep tremolo for a unique, slightly psychedelic effect. "Chimes of Freedom", the fourth and final Dylan composition on the record, features a more deliberate folk approach in order to highlight the lyrics more than the music, leading to the closing "We'll Meet Again", which while a little corny and out of character for the group, does offer a sentimental send-off to the album.
Mr. Tambourine Man reached the Top 10 in both the US And UK, establishing the band as an international success. The Beatles, who had influenced the group's arrangement just a year earlier, reflected the Byrds' sound on their late 1965 album, Rubber Soul. This immediate influence is perhaps the best tribute to the Byrds debut album's success.
~
Part of Classic Rock Review's celebration of 1965 albums.